Norway beat Belgium to go clear in their FIFA Women's World Cup qualifying group, the Netherlands left it late to breakdown Belarus.
Group A: Finland 1-2 Republic of Ireland, Slovakia 2-0 Georgia
Megan Connolly's early goal for Republic of Ireland put them ahead in Finland, Adelina Engman levelled in the second half but Denise O'Sullivan quickly replied with the decider. A first three points for Ireland then, likewise Slovakia after their defeat of Georgia.
Group B: Faroe Islands 1-7 Hungary, Ukraine 0-6 Spain
Spain made it three straight wins when hitting hosts Ukraine for six, Hungary went one better with a Fanni Vágó hat-trick, despite falling behind in the Faroes.
Group C: Belarus 0-2 Netherlands, Iceland 5-0 Cyprus
Lieke Martens and Danielle van de Donk scored in the last 20 minutes to give the Dutch victory away to Belarus, Iceland are second behind the Netherlands following a 5-0 defeat of Cyprus in which West Ham's Dagný Brynjarsdóttir netted their opener.
Group D: Latvia 0-10 England, North Macedonia 2-3 Luxembourg, Northern Ireland 2-2 Austria
England coasted to a double-figure win in Latvia where Ella Toone led the way with three goals. Northern Ireland came from behind to lead Austria with goals by Megan Connolly and Demi Vance, only for the visitors to equalise at the death. Luxembourg won 3-2 in North Macedonia for their first-ever points in a full qualifying group.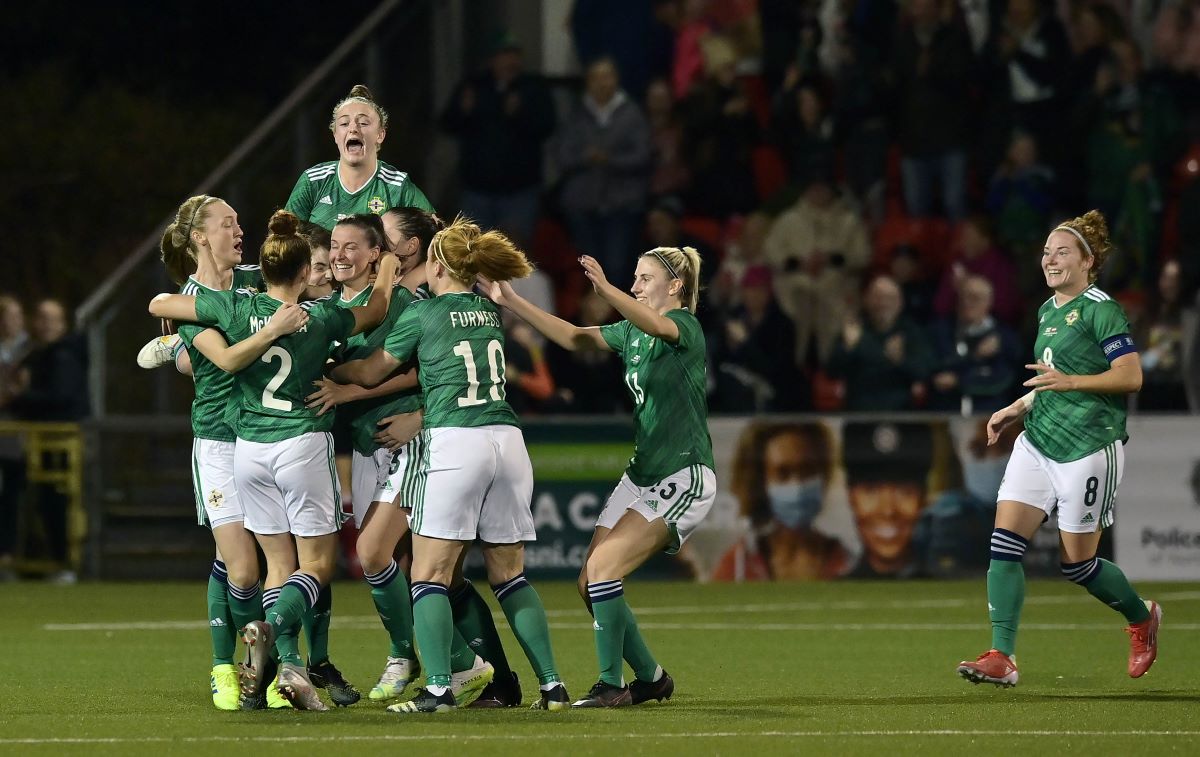 Group E: Azerbaijan 1-2 Malta, Bosnia & Herzegovina 0-4 Russia, Montenegro 1-5 Denmark
Clear away wins took both Denmark and Russia onto a dozen points, the Danes' Signe Bruun onto a competition leading ten goals with her effort in Montenegro. Malta enjoyed a rare three points from their travels to Azerbaijan.
Group F: Armenia 0-1 Kosovo, Norway 4-0 Belgium, Poland 2-0 Albania
Norway went clear at the top after stinging Belgium 4-0, Poland secured a victory over Albania late on to go second, while Liridona Syla got an 87th-minute winner for Kosovo.
Group G: Lithuania 0-5 Italy, Switzerland 5-0 Croatia
Italy and Switzerland both have 12 points from four games after Tuesday's 5-0 wins, Arsenal's Noelle Maritz on target to give the Swiss a 2-0 interval lead over Croatia.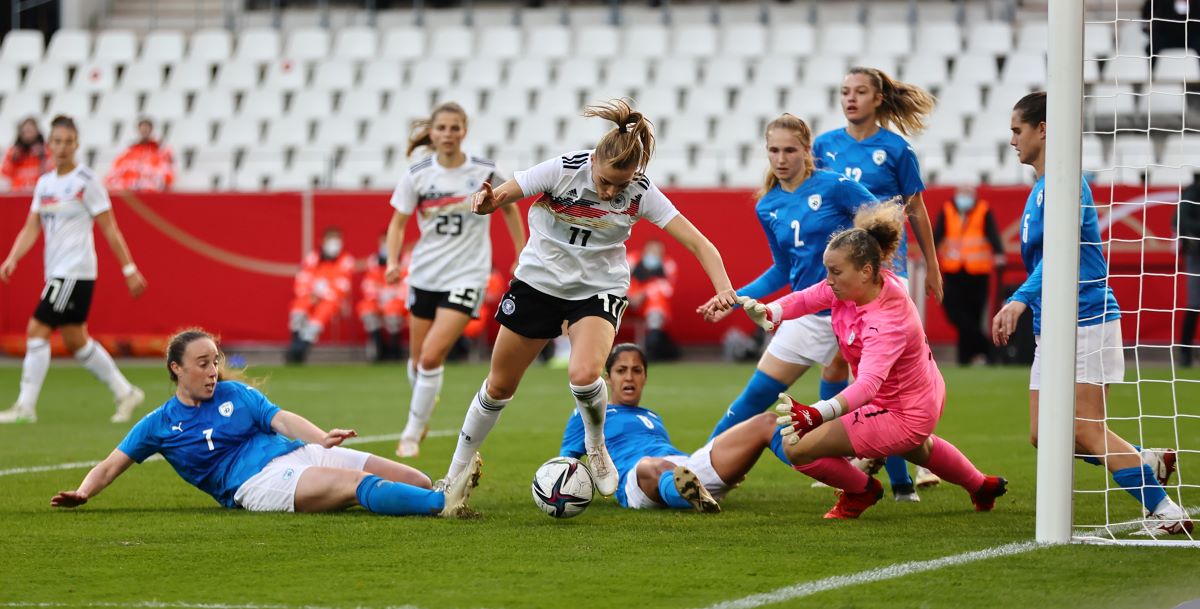 Group H: Bulgaria 0-5 Portugal, Germany 7-0 Israel, Serbia 2-0 Turkey
Jule Brand scored twice as Germany sank Israel 7-0, Diana Silva also netted a couple as Portugal scored five in Bulgaria to remain within two points of the Germans. Serbia got off the mark with a 2-0 result against Turkey.
Group I: Greece 1-4 Slovenia, Kazakhstan 0-5 France, Wales 4-0 Estonia
Marie-Antoinette Katoto and Melvine Malard bagged a brace each, Everton's Kenza Dali the other, in a 5-0 win for France away to Kazakhstan. Wales stay two points short of Les Bleues after Angharad James, Helen Ward, Natasha Harding and Sophie Ingle were on target against Estonia. Slovenia went third as Mateja Zver and Lara Prašnikar bagged braces in Greece.