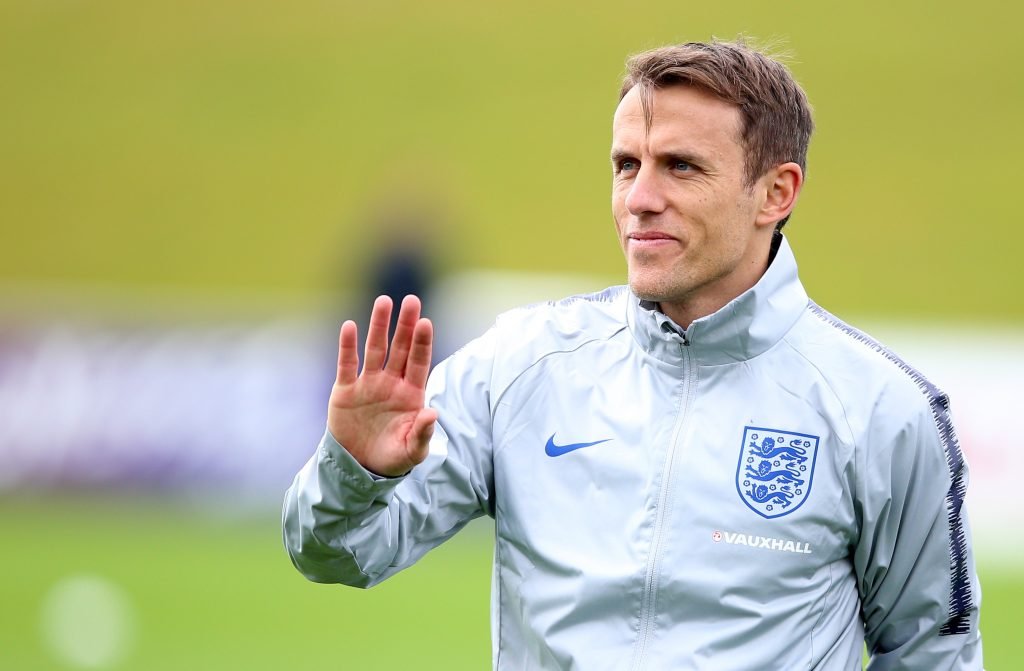 "It felt like 25th December when I woke up on Sunday," said England head coach Phil Neville as he prepares for his first home game in charge against Wales on Friday night, reports RICH LAVERTY from SGP.

"The worst thing about international management is the time in between, you go and watch your players but you can't coach them."
Many of Neville's players have been through a demanding schedule in the month since the SheBelieves Cup and the amount of games appears to be taking its toll on his squad. Jill Scott and Millie Bright have already pulled out and Neville admits two or three more are "massive doubts."
"Fran Kirby is a massive doubt to be honest with you, as are two or three others. The City and Chelsea girls have had a real tough period of times and that's why we only trained lightly this morning, we virtually haven't touched them.
"Beth Mead did some light training but she took a massive knock on Sunday and we'll assess her later. Leah [Williamson] was meeting up with us anyway, she didn't go to SheBelieves Cup and we had four centre-backs here but with Millie dropping out there was a chance. I wanted to pick Leah anyway because she's going to be a fantastic player but I could only bring four centre-backs."
While Neville does appear to be picking his squads more so on FA WSL form than his predecessor Mark Sampson, the head coach has very specific criteria when he goes to watch his players in their domestic leagues.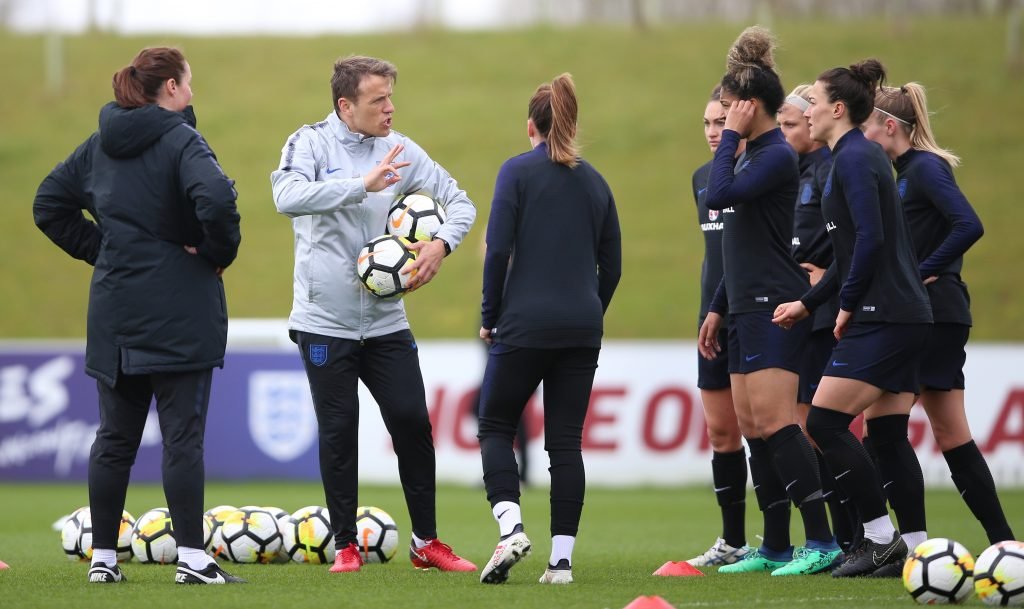 "I see something different," he said. "I look at the individual, I look at the way they warm-up, the way they walk off at half-time and their body language. An international footballer at FA WSL level should be head and shoulders above the rest.
"The result doesn't bother me in the FA WSL – whoever you're playing for. I want to see somebody who stands out from the rest, I want to see someone making an impact and maintaining the standard they show at international level. I think it's a big jump up from the league to a competition like SheBelieves and I told the players after the tournament I want to see you play with the same intensity whether you're 3 or 4-0 up or 3 or 4-0 down because you've set me those standards."
Two players who haven't joined up with Neville and the rest of the squad are Manchester City duo Ellie Roebuck and Georgia Stanway. The Under 20 pair are in La Manga preparing for the U20 World Cup in August and Neville has a long-term plan for both.
"Their plan is to go to the U-20 World Cup, both Ellie and Georgia knew that before SheBelieves. Ellie's No.1 at her club and Georgia is playing week in, week out ahead of some of my players and in theory they should be in this squad.
"But there's a bigger picture with those two, they need miles on the clock and they need to go through that major tournament with Mo [Marley] and Mo's someone I'd trust with my life. I spoke to them both individually last week and I said they've got to be the best, best on the training ground, lead from the front and take their experience from SheBelieves. After the World Cup in August I want them ready for the 12 months leading up to our World Cup."
With more big games coming thick and fast for the majority of Neville's squad post-World Cup qualifiers, Neville accepts his players are in a tough position but has quickly focused their minds on England duty.
"I've been in that situation where you meet up on a Sunday and you're still in club mode. England comes second and that's natural, I've been there, a lot of them will be wanting to get out and play that Champions League game or FA Cup semi-final.
"I told them Friday will be bigger than any game you ever play for your club. I was at Lyon vs Barcelona and there were 12,000, at WSL games there's 2,000 tops, on Friday there will be 30,000 and millions more watching at home. If you want to be a top player you have to be able to play Saturday and Wednesday and then go away with England. You should want that as a player, if you don't want that then you shouldn't be playing for England."
He added, "I learned that playing at Manchester United, we'd say by April we wanted to be going for everything so when you get there don't start moaning because Bristol and Yeovil would kill to have that type of problem."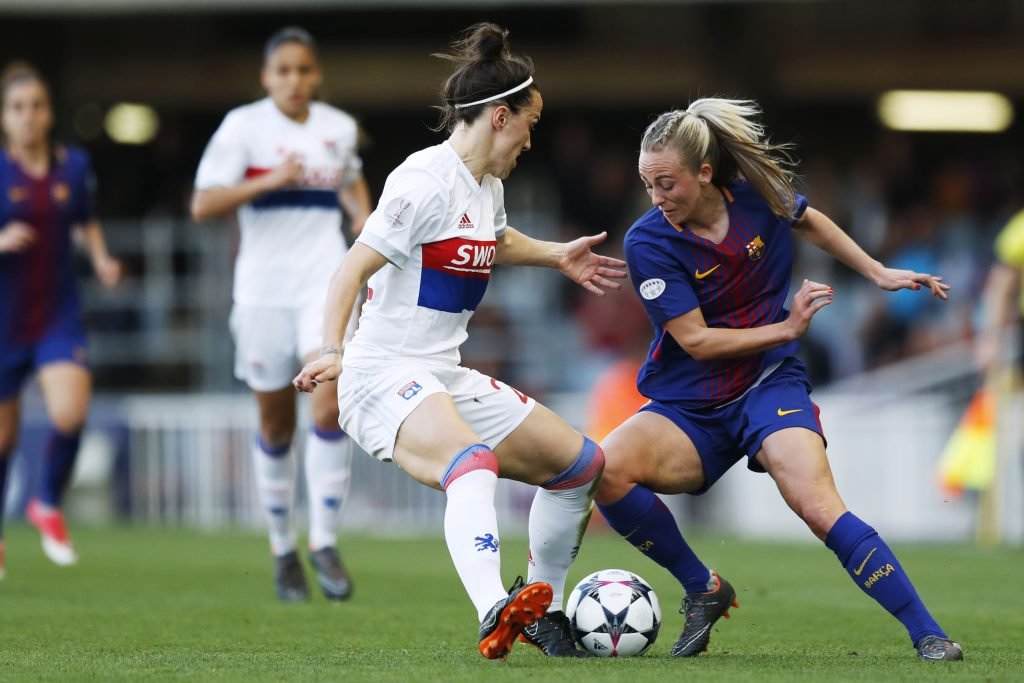 Neville also said he took "pride" in seeing two of his players go toe-to-toe during his trip to France last week.
"All the best players in the top international sides play for Lyon but I watched those two teams and two of their best are Lucy Bronze and Toni Duggan, that gives me immense pride and also to see how many are doing well with Chelsea and City. Maybe in recent years our teams couldn't take on Lyon or Wolfsburg but it wouldn't surprise me at all if we have an all-England final."
PHOTOS: PA IMAGES
England face Wales in a FIFA Women's World Cup qualifier at St. Mary's Stadium on 6 April (KO 7pm). Buy tickets (£10 Adult/£1 Under-18) at www.thefa.com/tickets or call 02381 780 780.