Congratulations to the USA, who claimed their fourth World Cup crown, in Lyon, yesterday. They were rightful winners of a tournament they dominated from the outset and although run close in knockout games by Spain, France and England, they proved with a 2-0 triumph against a spirited but out-powered Netherlands side that they are still simply the best. Better than of the rest.
Here's some initial reaction from the mixed zone, starting with a few words from the scorer of a tremendous goal in the final and a star of the tournament…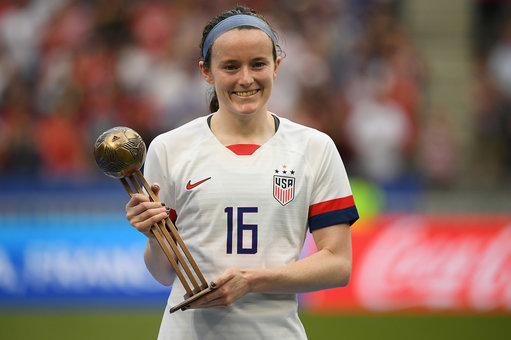 Rose Lavelle
On how it feels to be a world champion:
It feels surreal and I couldn't be any more proud to be a part of this group. I feel so lucky to step onto the field with them every day.
On when it hit her that she was going to be a world champion:
It hasn't hit me yet.
On her goal:
Yes, Sam [Mewis] played me a great ball in the midfield and I saw a lot of space, they hadn't really given us a lot of space leading up to that point so I saw the opportunity and then there was a shot at the top of the box and I took it and thankfully it worked out for me.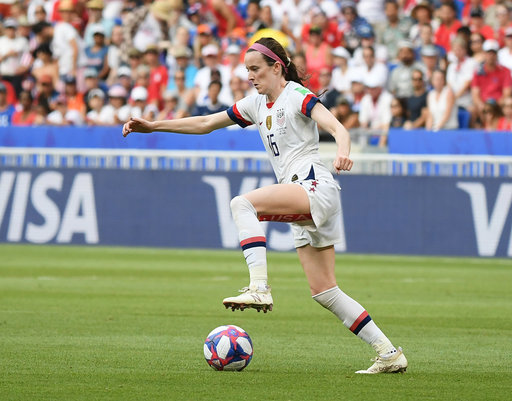 On being a part of a squad that as retained the trophy, something that even her heroes, the '99ers didn't do:
It's been different teams every time and it's testament to the legacy of this whole programme. The '99ers and even players before that kind of laid a foundation for us. They made this mentality up that it's 'never give up', 'never say die' and I think you saw that this tournament and I think you're going to continue to see this from the U.S.
On having seen the USWNT in 2004 when she was 9, and the fact that there will be kids in the crowd when they go on their victory tour, that will be inspired too:
It's crazy how it comes full circle and now I get to give back in the same way that players on this team had given to me and I feel so lucky to be in this position.
On what it means to be part of the history of the best team in the world, in women's football:
It's unreal. I grew up watching this team and idolising players that are even still on this team, now to be a part of it, it's so surreal. And we have such a close-knit group and I get to do what I love with people I love and it's awesome.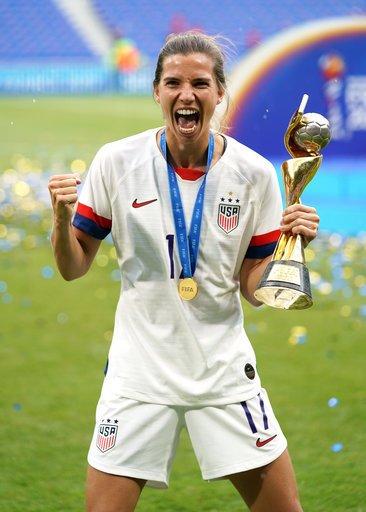 Tobin Heath

On her initial feelings on lifting the world cup:
It's just fantastic. I mean, it's been a long, long journey, we've been on the road for a long time, but this is what we set out to do. This was our mission, to defend the World Cup, obviously. So to be able to do what we set out to do feels very good.
On Megan Rapinoe's tournament and how she has handled the pressure and scrutiny:
We've got to celebrate these great, great sports moments and she had a fantastic tournament, she's an incredible player. Alex [Morgan] had a fantastic tournament, Rose [Lavelle] had a fantastic tournament. It's these special moments that only the World Cup brings around.
She's [Rapinoe] a fantastic leader for us both on and off the field and I think she's really led with a lot of grace and by action too, you know? It's not easy to speak up and then also to follow it up by action but she's done it so well, especially in this tournament, to stay focused and motivated on the task at hand but also be fighting a parallel fight as well. It's kind of synonymous with the US women's national team, you know, we fight to win games and we fight for things off the field too. But to see the momentum that this tournament has kind of pushed forth with all of those is just fantastic.
On whether the USWNT are tough to be and hard to like:
We're hard to like? You oughtta get to know us! [laughs]
On whether she cares whether they are liked or not:
I don't know, I've never really thought about it. I think we came here to win the World Cup. I guess like in anything, if you're really good at things, people aren't going to like you. It's alright man.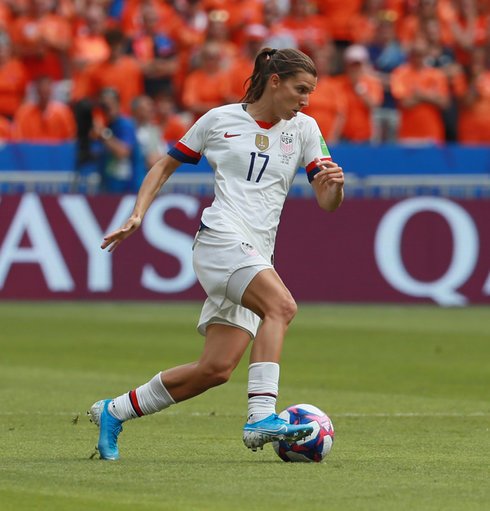 On suggestions of 'arrogance' amongst the squad:
I would replace it [arrogance] with confidence and I think that confidence comes from the fact that we've worked so hard for these moments. It's incredible the amount of work and determination. We literally pour our lives into these. So if that's arrogance, then that's arrogance but we'd die for things like these so I'm very proud of the group and the humility and togetherness of the group in order to accomplish this.
On the importance of the win in the fight for equality and equal pay:
Yeah it's cool because we've been fighting for this for a long time as a team and to be on this platform on the world and to see this or hear the stadium chanting for it, it was a really, really powerful moment and I hope that causes change. It's really cool to be not just winning and fighting for things on the field but fighting for things off the field and doing that through sport I think is really powerful.
On where she wants to go from here:
I think the only place to go is back and to try and do it again. It's going to be an incredible experience to kind of reflect on this. Obviously it's very raw right now but the amount of work that goes in to be able to do something like this and the tournament was very difficult. We played incredible teams, we didn't have much rest and it's been a journey and to stay united and together the way that we have and to be able to accomplish this mission was just, I don't know, it's awesome.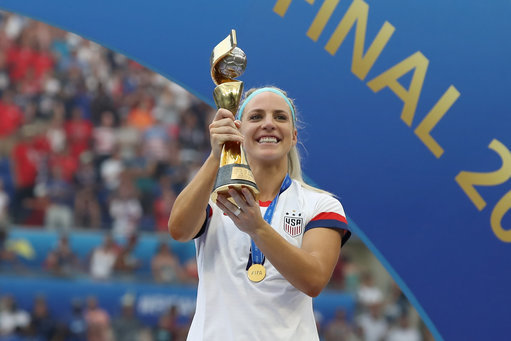 Julie Ertz
On how it maybe feels different for her, from their success in 2015:
The first one obviously was amazing and great. I think, where I am in my career, my perspective has changed in the past four years and this one means a little bit different. Obviously I was excited for both but this one means a lot. The understanding of the four year journey as well… I think being so young [in 2015] I was naive and I just enjoyed the experience. I've had more family here, had a different role, it's a second time around and I didn't want to take anything for granted – I'm so grateful for the opportunity to be in the final again and to put a fourth star on, truly means the world to me.
On the 2015 tournament being a breakthrough [as a defender] for her and now, being at the core in the midfield, and what has changed from a football standpoint:
Perspective and obviously, tactically as well. But at the end of the day it takes heart and the team had a ton of it. I'm just so excited to be a part… I was asked to do something completely different this world cup so I think that was also exciting and a new challenge, I'm absolutely exhausted. I'm SO tired! But totally worth it, it truly is a dream come true and we call each other 'me and 22 of my best friends'. So to win that with them is great.
Carli Lloyd

On her feelings about winning again:
To win another World Cup with this group is really special. It never gets old. This is my fourth world cup, every world cup is different, the journey is different but the winning feeling is always the same, so it's really special and I'm proud be part of the group.
On how her role has been different this time around:
Just trying to go out and closeout the game, help the team in any way I can and ultimately that's my job. It's great, the crowd was amazing, this has been an amazing world cup in France.
On Megan Rapinoe dominating the tournament in the way she herself did, four years ago:
Megan is one of my favourite players, one of the best players I've probably played with on this squad and to see her poise and fight and really wanting to win a world cup, I mean we all wanted to do it and she went out there and did it and got it done for us. Really special and here's to the next couple of days of celebrating.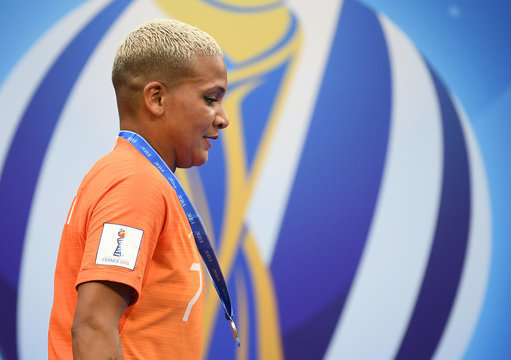 Shanice van de Sanden

On how she feels after the game:
Lots of emotions. Of course I'm disappointed because when you play a final you really want to win a final but of course we knew how good USA is. But I think we were really close at the beginning. It was 0-0 at half-time and of course they have some extra power and you saw that after the penalty, they brought more power into the game. But I think we can be proud of ourselves. Disappointed but head up and onto the next one.
On the gameplay having worked for 60 mins:
Yeah exactly, so I think we did something good but like I said, after the penalty they kept going and were fitter and that's how they won the game.
Reflecting on the tournament:
It was a tough tournament but tough stuff makes you stronger, so head up and onto another tournament. First I'm going to enjoy me holiday and I have to be proud of my team and myself because we have the silver medal and are second in the world.