Birmingham City Women kickstart their new Barclays FA Women's Super League season with a trip to Brighton & Hove Albion this Sunday (kick-off 2pm). For Blues, it has been an off-season of vast change, for squad and staff alike. This will be manager Carla Ward's first season in charge, with the former Sheffield United boss appointed as Marta Tejedor's successor less than a month ago. With captain/club stalwart Kerys Harrop and England midfielder Lucy Staniforth among the outgoings this summer, the rebuild so far has included the addition of Scotland defender Rachel Corsie on loan, and her national-team colleague Christie Murray.
One relative mainstay is young goalkeeper Hannah Hampton. This is set to be her fourth season of first-team involvement – and she is still only 19 years of age! As part of the round of FA WSL media sessions with representatives from each club, She Kicks were among those catching up with her to chat this and that, including her call-up to the senior Lionesses squad as a training player for this year's SheBelieves Cup in the United States.
Firstly, what are your thoughts on the season opener at Brighton?
Everyone can't wait. I think it's been a long time coming. It's going to set kind of like a foundation where we can build from the beginning of the season through to the end. It will be a tough challenge, like it was last year against Brighton, but I think with the way that we've been doing throughout pre-season, the players that have been brought in, and the new manager and the style of play she's implementing on the team, there's only positives from my point of view. It's one that I think we can really go down and get something from.
What about the style of play from the new manager?
It's definitely working on our attacking play more. We did lack that last year, within the coaching and the environment, but it's completely different this year and there's only positives. The defence was always quite well worked and quite together, it's just then building on from getting the ball from the defensive areas into our attacking third and creating chances.
It must have been a difficult pre-season to not have a manager appointed, but is it all positive going into the season?
I think it is difficult not having a manager for the first week of the season, first two or three, I don't really know to be honest; I lost count of pre-season already. But the girls were always already positive before that, and we were such a close group of girls that whenever a new manager came in and when the new players came in, they just slotted straight in and it's like they've been there for years and seasons. It's definitely going in the right direction and everyone is really positive and can't wait for the season to begin.
From your time in Spain, which included some of your early football experience, are there elements of that style and the things you were taught that are a part of your game today? Or were you encouraged to almost re-learn and do things differently once you were in England?
I think the Spanish philosophy has really helped my game now. Obviously their 'pass and move' philosophy, they're obviously passing the ball and manipulating the opposition and finding the spaces they've created. That's definitely helped me. I think as soon as I came back and went to Stoke, yes, you get taught a different style. Every manager is going to have a different style of play, but it's something that you don't lose, and you're always going to have as part of your game. I think then when progressing through the age groups and the competition gets a lot more competitive, you've got to win and you've got survival at stake really, in leagues. That's when you can really show your game and bring parts of your game to the team to help them out. Hopefully, I've managed to do that with some of my distribution and the passing philosophy that I was taught in Spain really.
Reflecting on last season with Birmingham, some really valuable experience for you again, getting those games in the WSL, but with some of the tougher results in that time, what was that like for you as a young keeper? Did you get better at moving on to the next one and brushing it off?
I think everything is a learning opportunity. It's never nice being beaten by just one goal really, but I think going into short turnarounds, you've got to learn to review the game the next day, sometimes the same day on the coach on the way back, but you've got to learn from your mistakes and learn different situations that you get put in and use that experience in future games and try and limit the same style of goal really. But you definitely can't dwell on it because otherwise it's just going to keep affecting all your performances, and it's just going to go downhill from there.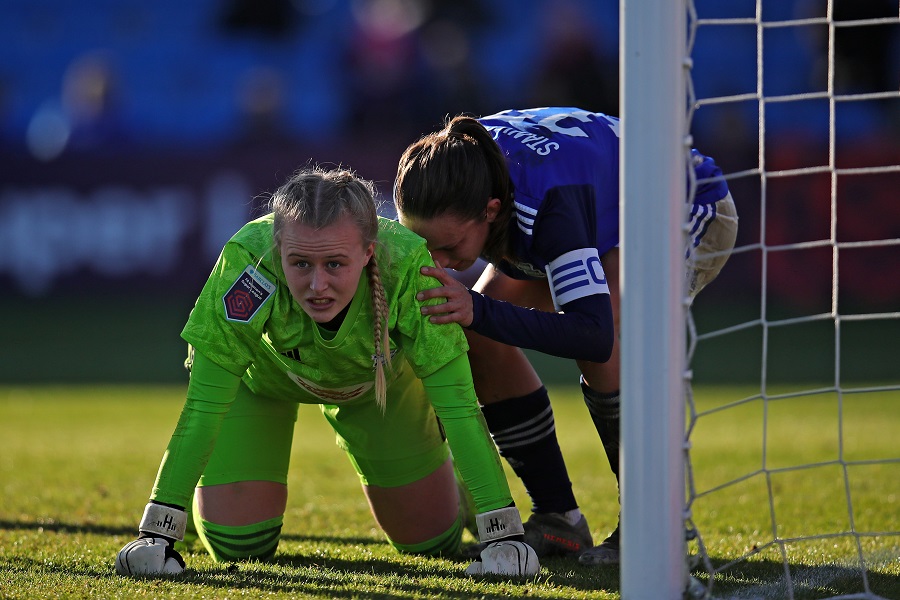 With some of the players you know from being with England at different age groups, who are you close with in the WSL? And will you talk about the games during the season or prefer instead to keep that separate?
There's so many players that you get to know in the leagues, and you do chat quite a lot regularly. I'm in a lot of regular contact with one of the Liverpool players, because we've been roommates at England since Under- 17s, so you can never not have that competition really; you have the game against each other and then the next week you're going to be in the same team as each other. You're always going to have that close rivalry, but as soon as you get on the pitch, you play the game, and off it, you probably discuss it once or twice and that's it, you move on. You just go back to having a little bit of banter.
Are there specific challenges for a keeper to get into a senior team; different challenges to outfield players?
It's mainly to do with your mentality, like what was discussed before. As a goalkeeper, you kind of take a lot of the blame for yourself if you get a goal conceded against you, and you try and avoid 'oh, it's come through the attacking third, maybe we should have pressed here, maybe we weren't tight enough in the midfield.' But you always think 'oh, it's my fault, I've caused that goal.' So I think being a keeper at a young age, you've got to realise to move on and learn from the mistakes. It might not have been your mistake, but if you learn from it, you can always communicate, going, 'look, we need to get tighter, it's what's caused a previous goal, let's get tighter.' I think that's mainly the only difference. Other than that, if you're good enough to be in the squad, then you're good enough to be there. Your age shouldn't come into it, really. I think that's what players nowadays, especially at youth age groups, there's a lot last season that really took their opportunity and they've done amazing from it.
Earlier this year, you travelled with the England senior squad to the US and were part of training for the SheBelieves Cup. What do you remember about getting that call-up?
I remember it like it was yesterday, really. It was honestly incredible. I was at home packing, ready for a trip to Sunderland, and I just got a phone call off Phil (Neville), and it didn't come up with his name or anything. I just answered it going 'hello' and he was like 'Hi, this is Phil Neville', and I'm a bit like 'oh my goodness.' When he told me that I was going, I did cry on the phone, I'm not even joking, I was so amazed. As soon as I finished the call, I called my brother. He was at uni, he was in a lecture, and I called him. He was saying that apparently everyone in the lecture just looked and stared at him because apparently he jumped up and screamed and all this lot. It was quite surreal, to be honest. I think I didn't take a smile off my face the whole trip.
How unexpected was it? Was it something you hadn't thought was on the cards at that point?
No, I don't think so. My performances last year were nowhere near where I wanted them to be, so I got it in my head like, 'look, it's not this season, you know you can do a lot better.' I think the coaches knew that because they'd seen me the whole time, like I've come through the whole age groups, but a lot of the times on 21 camp, (Neville) would pop down, and he would look at you and watch you training. I just never thought it would ever happen. I thought I'd have to wait another year, maybe two. I had just got a phone call out of nowhere really, so it was incredible.
That experience, training with top England keepers, how much did you learn?
Massive, loads, really. I think being around top-end players every single day on and off the pitch, you learn so much. It's always going to be a valuable experience. There's things that you didn't realise you needed to do. They would come along and just help you out straight away and kind of like take you under their arm and just guide you around and show you the ropes, kind of thing. It's quite weird being shown around by the likes of Carly Telford and Steph Houghton, for sure. I mean, I just got used to playing against them, let alone training with them. That was amazing, to be honest.
You're still young, were some of them your idols?
Most of them, really, to be honest. It's just one of those things where you're like, 'oh, imagine if I played for England one day.' You're there and you're playing with them; it was surreal. I do remember looking up to Carly Telford so much, just the way she shows herself, against everything, really. She's definitely someone that I was kind of fan-girling, not gonna lie! It was incredible. Honestly, it was amazing.
Back to your club career, Ann-Katrin Berger's departure to Chelsea (in January 2019) opened up an opportunity for you at Birmingham. Were you even expecting to get that?
Not a chance. Stepping in at 16, nearly 17, I did not expect that one bit. I owe everything to (previous Blues boss) Marc (Skinner) and (goalkeeping coach) Tony (Elliott) for putting their trust and faith in me and believing in my ability more than I believed in myself. I think if I didn't get the opportunity then, then I don't even know where I would be. Would I still be moving clubs? Would I still be on the bench somewhere? Everything has a knock-on effect. Would I have gotten a call-up to England? So, I pretty much owe everything to Marc and Tony.
You're now quite experienced, and strangely, one of the most established players in the dressing room, with the squad changes we've seen. Is it a bit of a strange scenario?
No, it is. We were discussing that a couple of weeks ago, to be honest, all of us. I think no matter how young you are, if you've got experiences from international, you've got experiences from other clubs that you feel like you can bring into the squad and can really help out, then you've got to voice your opinion. It doesn't even matter if you're 16 coming into the squad, or 28 who's been at different clubs. You've got to do everything you can to help the team that you're at, at the minute. Every single opinion from everyone, everyone takes into account and tries and changes the style if they need to.