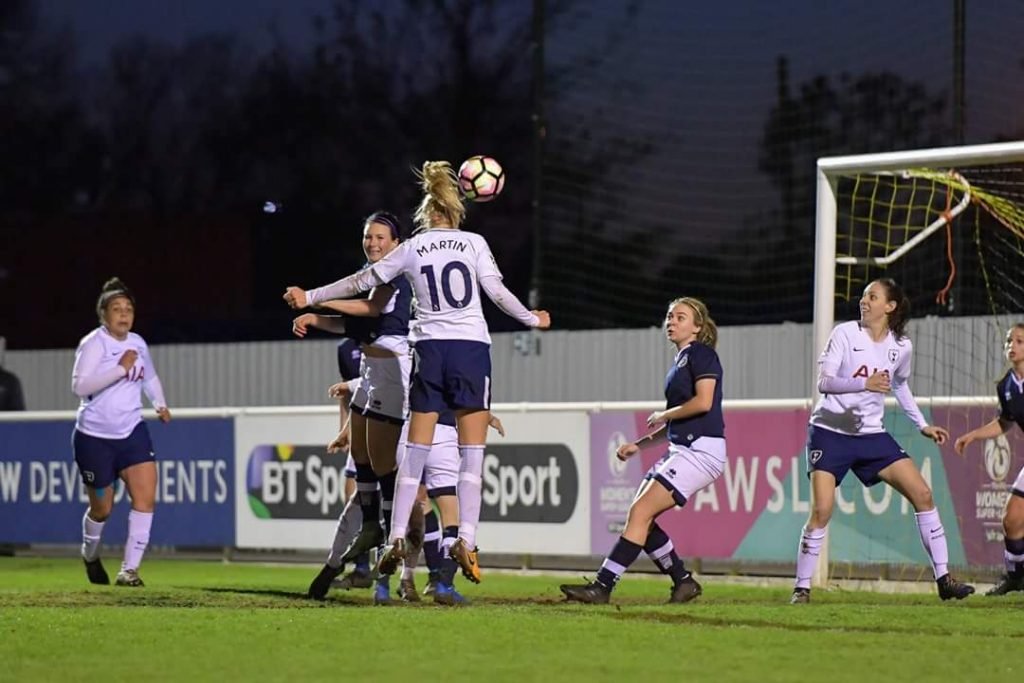 Billie Brooks' equaliser rescued a point for Millwall Lionesses in their 1-1 draw with Tottenham Hotspur, but the result seriously damages their hopes of winning FA Women's Super League 2.
It is now make or break for the Lionesses on Sunday, when they face Sheffield FC, in desperate need to close the five-point gap between them and leaders Doncaster Rovers Belles.
At one point it looked like being even worse on Wednesday when Wendy Martin opened the scoring for Spurs midway through the second half, but Brooks responded almost immediately to earn a share of the points.
KEY MOMENTS
Millwall goalkeeper Sarah Quantrill produced an unbelievable save to deny Tottenham an eighth-minute opener when she somehow kept out Sarah Wiltshire's close-range header with her foot.
Early in the second half, a poor back pass by Renee Hector almost let Bonnie Horwood in, but Tottenham keeper Toni-Anne Wayne came out and made a perfectly-timed challenge.
Charlie Devlin then shanked a shot well wide, as Millwall's frustrations began to grow, before Wendy Martin shot just off target after being played in by Coral Haines.
Martin broke the deadlock for Tottenham with 17 minutes left when she sent a superb header from Bianca Baptiste's corner sailing into the net.
The Lionesses equalised just three minutes after falling behind to Martin's opener when Brooks beat Wayne to a long ball pumped into the box to head into an empty net.
Tottenham captain Jenna Schillaci almost restored her side's lead when her free-kick from the right was clawed out from under own bar by Quantrill.
Millwall had their own chance to win it when Megan Wynne's cross was met by Rianna Dean, but Wayne was able to do just enough to prevent the ball from crossing the line.
Tottenham striker Wendy Martin said: "We did feel like we were the better team out there tonight.
"We had three goals disallowed and when we went 1-0 up we thought we would be able to see it through to the end, but in Millwall's defence they never gave up.
"They kept coming at us and they got the equaliser and unfortunately we haven't gone on to win the game.
"We've had one cleared off the line towards the end, so we do feel disappointed we haven't got the three points, but we would have taken a point away from that."
Millwall midfielder Bonnie Horwood said: "It was a frantic finish to that match – we like to do it the hard way sometimes.
"It was sort of end-to-end all game, but the Millwall attitude is we don't give up until the end and we managed to nick a goal and were unfortunate not to get another one at the end.
"It did feel like the Aston Villa game again when we got the equaliser and we had a couple of chances from right up close at the end, but we just didn't quite get that bit of luck."
By Sportsbeat
To buy tickets to an FA Women's Super League match near you click here: www.fawsl.com/tickets