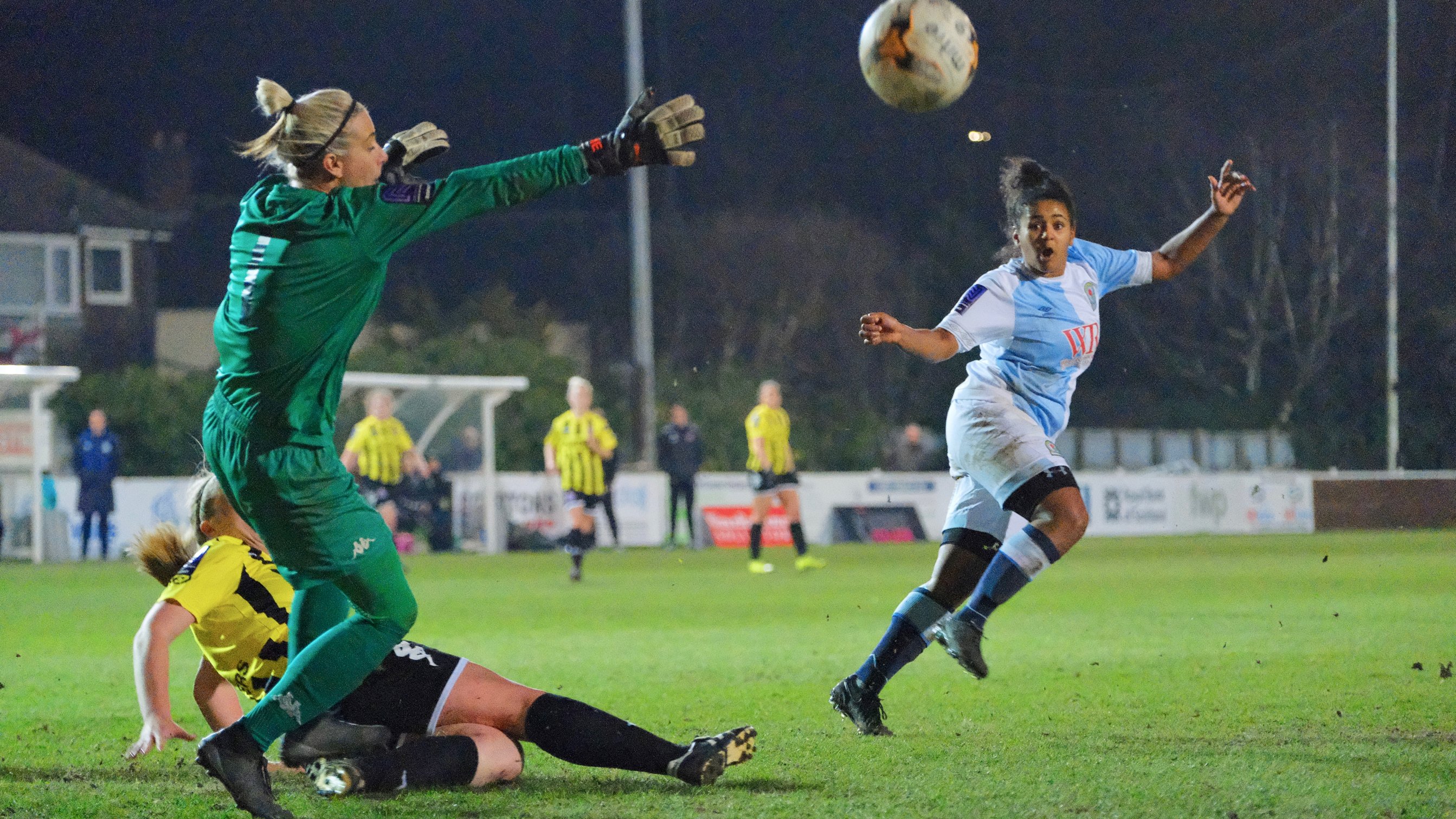 Blackburn Rovers and Coventry United won again to increase their chances of becoming champions in the FAWNL Northern Premier and Southern Premier respectively.
FAWNL results for Thursday 14th February 
NORTHERN PREMIER
Blackburn Rovers 3-0 Fylde (Att: 287)
Derby County 2-1 Stoke City (Att: 81)
Sheffield FC 1-2 Nottingham Forest
SOUTHERN PREMIER
Gillingham 5-3 C & K Basildon (Att: 60)
Loughborough Foxes 0-2 Coventry United (Att: 57)
SOUTH WEST DIVISION 1
Keynsham Town 6-0 Brislington (Att: 75)
Southampton Saints 1-7 Southampton WFC (Att: 54)
Jordan the hat-trick hero
A crowd of close on 300 saw Blackburn win the local derby with Fylde 3-0, stretching their 100% record to fourteen games and moving eleven points clear at the top. 
Saffron Jordan struck a first-half hat-trick with the opener coming  moments after Lagan Makin had hit the bar.
Rams catch Black Cats
Derby leapfrogged Stoke into fourth place and just goal-difference behind Sunderland in third, with a 2-1 defeat of the Potters in a game that saw Nicole Ledgister make her 200th appearance for the hosts. 
City's Hannah Keryakoplis and County's Jodie Redgrave were both denied by the cross bar before Stephanie Smith fired home the opener for the Rams from 25-yards and Andi Bell took advantage of a defensive mix up to double the lead by the break.
Stoke were back in it with 11 minutes left when Emily Own's effort went in off Redgrave and might have levelled late on but missed a couple of chances and had a penalty shout waived away. 
Edwards recovers from penalty miss to net Forest winner
Nottingham Forest were 2-1 winners at Sheffield FC, who had halved the deficit in the latter stages.
Forest's Katie Middleton won a penalty which Ashleigh Edwards put wide but the visitors were soon ahead anyway, Aimee Hickingbotham the scorer.
The lead was doubled after possession was conceded, even though Elizabeth Hobson saved the intial shot, Edwards forced the rebound home.
Rhema Lord-Mears replied for Sheffield FC but with only 7 minutes remaining.
Coventry pile pressure on Chichester
Coventry United are two points off leaders Chichester City with three games in hand following a 2-0 result away to Loughborough Foxes. 
Amber Hughes won the ball by the half way line to go on an impressive run and slot past the keeper. 
The visitors won possession again for the second goal, Amy Wathan doubling the advantage.
Gills see off battling Basildon
Gillingham won an eight-goal thriller with basement side C&K Basildon to climb into ninth position.
Alice Bussey got them ahead via the post but Courtney Clark levelled with only 4 minutes played.
Gemma Abella scored from 25 yards to put Basildon in front but Ellie Manning equalised by half time.
Grace Seely and Daisy Monaghan both struck to put the Gills in control but Hollie Turner pulled one back before Sammy Booker fired home the hosts' fifth goal from 25 yards.
Southampton Women put seven past Saints
Southampton WFC maintained a six-point lead in South West Division 1 with a big win at local rivals Southampton Saints, who were withiut a recognised keeper.
Roxy Lee-Stewart's opener was followed by a double from Emma Pinner, who hit the bar in-between.
Saints replied before the interval but Manu Naprta made it 4-1 straight after, then Pinner completed her hat-trick, Jane Yeates and Laura Da Silva later adding one each.
Keynsham hit six
Second-placed Keynsham still have three games in hand on the leaders with which to bridge the gap after sending Brislington to a 6-0 defeat.
Laura Williams netted half that tally, with Kerry Bartlett and Kelly Aldridge chipping in with one apiece, the other being an own goal.