Chichester City's 2-0 defeat of Gillingham saw them takeover at the top of the Southern Premier, while Blackburn Rovers went clear in the Northern Premier with a big win over Nottingham Forest.
Results Sunday 4th November
FA WOMEN'S NATIONAL LEAGUE
NORTHERN PREMIER
Blackburn Rovers 7-0 Nottingham Forest (Att: 220)
Bradford City 1-3 Hull City (Att: 53)
Sheffield FC 1-2 Guiseley Vixens
Stoke City 4-1 Middlesbrough (Att: 130)
SOUTHERN PREMIER
Cardiff City LFC 1-1 Oxford United (Att: 150)
Chichester City 2-0 Gillingham (Att: 105)
Plymouth Argyle 0-4 Loughborough Foxes (Att: 33)
MIDLANDS DIVISION 1
Bedworth United 2-1 Wolverhampton Wanderers (Att: 80)
Birmingham & West Midlands 7-1 Steel City Wanderers (Att: 17)
Nettleham 1-2 West Bromwich Albion (Att: 70)
Sporting Khalsa 2-2 Burton Albion (Att: 20)
The New Saints 4-3 Long Eaton United (Att: 21)
NORTHERN DIVISION 1
Brighouse Town 3-1 Newcastle United (Att: 25)
Chorley 2-3 Chester le Street Town (Att: 40)
Crewe Alexandra 1-3 Norton & Stockton Ancients (Att: 40)
Liverpool Feds 5-0 Bolton Wanderers (Att: 50)
Morecambe 1-4 Leeds United (Att: 35)
SOUTH EAST DIVISION 1
AFC Wimbledon 4-2 Norwich City (Att: 50)
Actonians 0-2 Enfield Town
Billericay Town 0-2 Crawley Wasps (Att: 123)
Cambridge United 1-0 Luton Town (Att: 75)
Denham United 1-2 Stevenage (Att: 56)
Leyton Orient 2-2 Ipswich Town (Att: 62)
SOUTH WEST DIVISION 1
Cheltenham Town 0-1 Chesham United (Att: 79)
Maidenhead United 2-5 Keynsham Town (Att: 10)
Poole Town 3-5 Brislington (Att: 20)
Southampton Saints 0-2 Buckland Athletic (Att: 20)
Swindon Town 0-0 Larkhall Athletic
Northern Premier – Eight straight wins for Rovers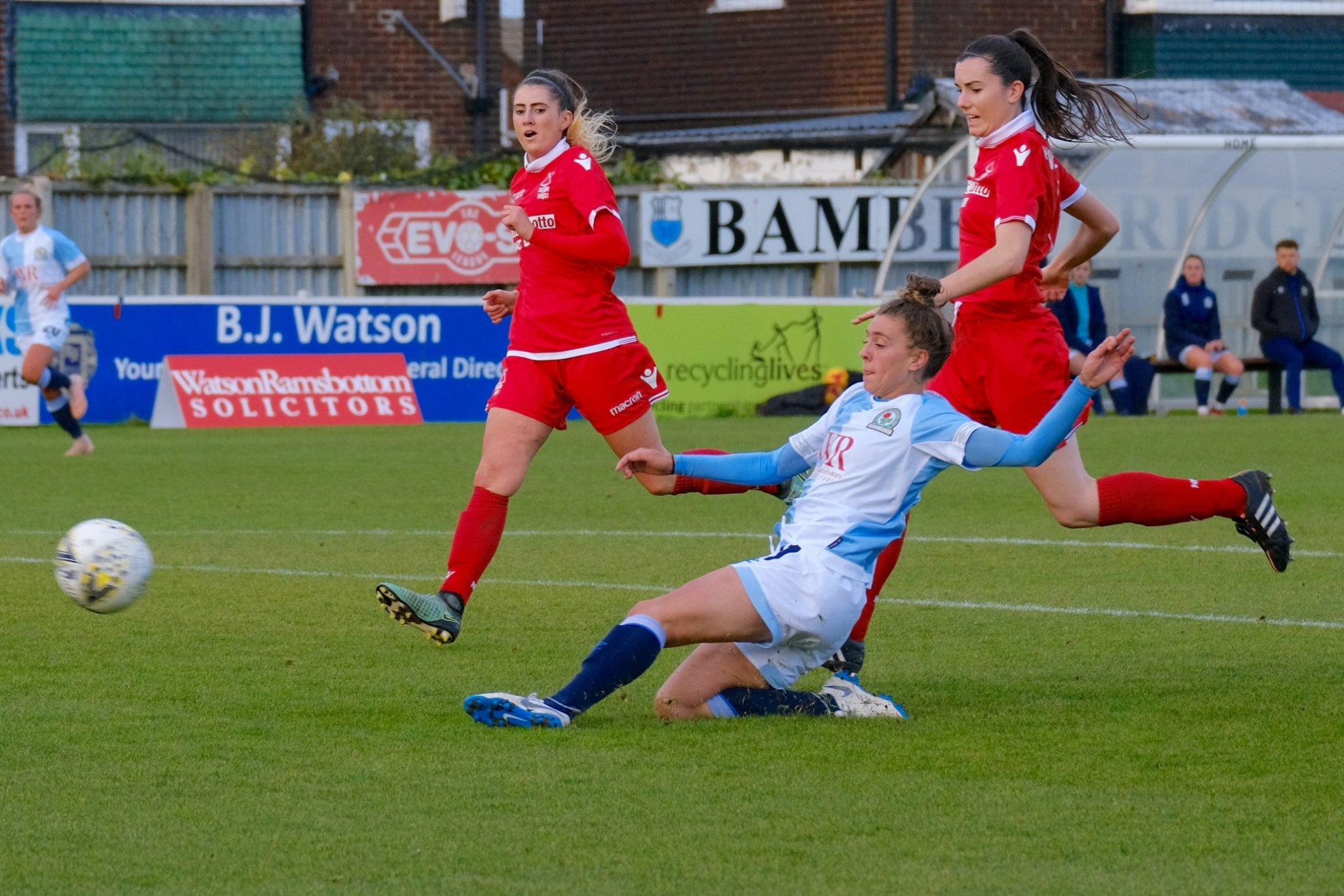 Blackburn went 3 points clear of Sunderland with an eighth straight win and seven goals against Nottingham Forest. Saffron Jordan and Lagan Makin both got a couple of goals, while Natasha Fenton celebrated her 100th appearance for Rovers.
Stoke are fifth following 4-1 defeat of Middlesbrough, Hannah Keryakoplis, Amy Hughes and Cassie Hyde among the goals for the Potters, Emily Scarr having levelled for Boro.
Guiseley climbed to seventh when winning 2-1 at Sheffield FC, who had led through Ellie White and had an Olivia Auker effort disallowed. Alana Fuller scored 4 minutes before the break for the Vixens, substitute Ellie Casper finding the net for the winner 4 minutes from the end.
Hull sent Bradford to a ninth straight defeat, Amy Kay, Rachel Ackroyd and Hope Knight getting on the scoresheet before the hosts pulled one back.
Southern Premier – Chichester go top
Chichester replace Coventry United as leaders by beating Gillingham, Cherelle Khassal's opener added to by Molly Clark 2 minutes into the second half.
Loughborough Foxes are now just 2 points behind fourth-placed Plymouth, whom they hit 4-0 away from home. All the goals came after the interval and featured three belters by Becky McGrother.
Cardiff and Oxford finished all square at 1-1 in their mid-table meeting. Kylie Nolan gave City the perfect start with a first-minute goal but United replied 20 minutes from time through Georgia Timms.
Midlands Division 1 – Bedworth beat leaders
Newcomers Bedworth sent Wolves to a first defeat with an 89th-minute goal from substitute Kirsty Farnsworth. This allowed West Brom to return to the top with an eighth win on the trot, 2-1 at Nettleham where Reia Henry and Hattie James made for a dramatic turnaround with stoppage-time goals. TNS rose to seventh when edging a seven-goal thriller with Long Eaton, Sarah Jackson netting a last-minute decider. Birmingham & West Midlands sunk Steel City 7-1 with Steph Weston and Charlie Fisher contributing two apiece, Sporting Khalsa and Burton stay close after Albion led a 2-0 lead slip in a 2-2 tie.
Northern Division 1 – Proud Brighouse in pole position
Brighouse took over at from Burnley at the top with a 3-1 result at home to Newcastle, Charlotte Proud twice on target. Chester le Street beat Chorley 3-2 away with the help of a Nichole Havery double to leapfrog them into third. Liverpool Feds jumped up to fifth with all five goals in the game against Bolton, Jennifer Rogers with two of them. Leeds moved into the top half with a 4-1 result at Morecambe where Hannah Campbell scored twice. A Bianca Owens brace for Norton at Crewe helped send the hosts to a ninth loss in nine.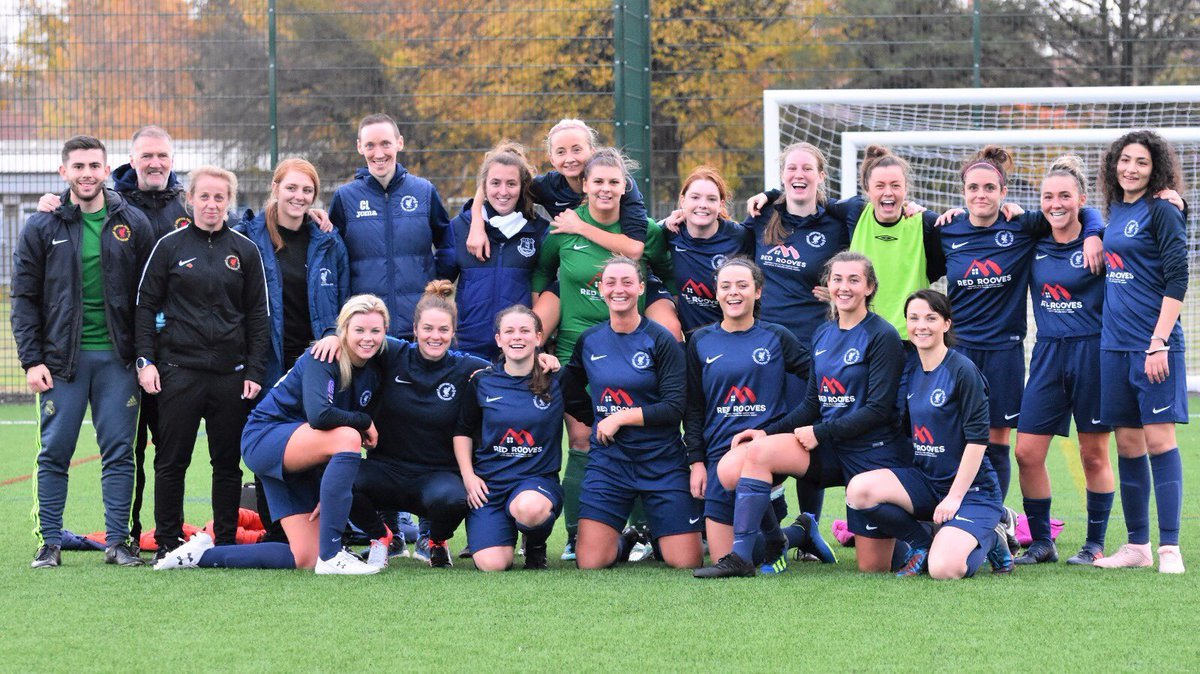 South East Division 1 – Wasps win top-two tussle
Crawley Wasps came away from Billericay 2-0 victors as they took their perfect start to eight matches, Emma Plewa and Naomi Cole with the goals in the last 25 minutes or so. Enfield won 2-0 at Actonians where Katherine Long came off the bench to break the deadlock. Cambridge United edged Luton by the only goal, Becky Shephard with a first-half penalty. Orient scored twice in the last 9 minutes through Egle Trezzi and Hayley Barton to rescue a point against Ipswich. Wimbledon's Jenny Nagle scored twice in the first half-hour in a 4-2 win over Norwich. Stevenage got the points 2-1 at Denham, Ashleigh Deacon and Amy Makewell their scorers.
South West Division 1 – Keynsham new leaders
Keynsham jumped from third to first with a 5-2 score at Maidenhead, Cristina Vega Leandro with two of their goals. Chesham won by the sole goal at Cheltenham, Natasha Smith netting on 65 minutes. Buckland scored twice in a minute in winning at Southampton Saints, Sarah-Louise Stacey and Laura Gough netting early in the second period. Brislington recovered from a 3-1 deficit to run out 5-3 winners at Poole with Abbie Kirby at the double, while Swindon versus Larkhall ended goalless.