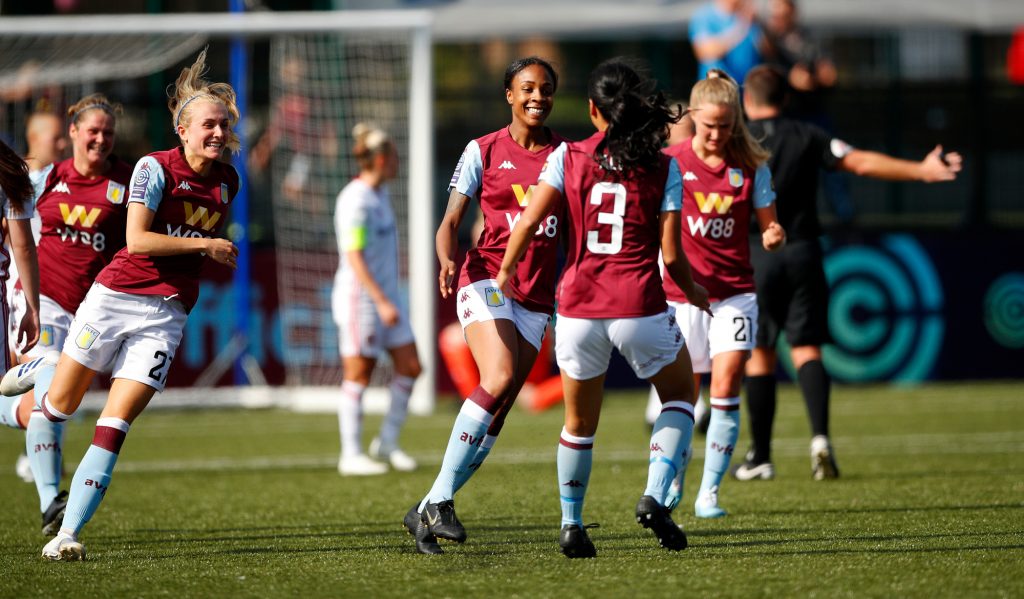 MATCH DETAILS
Aston Villa 3-2 Sheffield United Women (Boldmere St Michael FC, 3pm, 18th Aug 2019)
Goals: Villa: Mel Johnson (42, 54, 66); Sheffield: Olivia Fergusson (10), Katie Wilkinson (22, pen)
Att: 500
MATCH SUMMARY
There was plenty of excited anticipation ahead a mouthwatering encounter between two of the league's big guns, on a blustery Sunday afternoon in Sutton Coldfield. And though moments of true quality were limited, there were plenty of goals, flashes of individual skill, hearty challenges and competitive passion on show.
Villa were outmuscled in the early stages and were behind by two goals – scored by two former Villains – in the first 25 minutes. Olivia Fergusson, who joined the Blades from Yeovil, slotted in the opener, making her run into the box from the left, but it was all about Katie Wilkinson's fantastic footwork, composure and vision that provided the chance for her. Wilkinson (whose twin brother Ben was a midfielder with the Mikes for a season in 2015), later foxed defenders in the box and was tripped by Marisa Ewers. She tucked her resulting spot kick in the bottom corner with little fuss to extend Sheffield's lead.
A tactical shuffle saw Villa come into the game more towards the half-hour, though they'd already gone close and been thwarted by goal-saving blocks from Leandra Little on more than one occasion, and then on 42 minutes new girl Melissa Johnson finally made the breakthrough, stabbing under the on-rushing Becky Flaherty, pulling them a deserved goal back.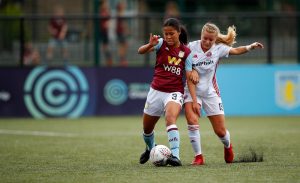 Displaying improved levels of composure and confidence, Villa were a stronger proposition in the second half, though the game was still end-to-end until Johnson turned and unleashed an unstoppable strike to level the game 2-2.
Johnson went close to netting her hat-trick on the hour mark. Having burst free, she put her effort agonisingly wide but the home side did not have to wait too long before they were finally in front. Sophie Haywood hared down the left, squared smartly to Johnson and the striker finished with ease.
The visitors kicked into life, in response, and two or three brave saves were required from Villa's no.1 Sian Rogers to keep her side's advantage. One from a first-time Naomi Hartley effort in particular, a shot that arrowed through a crowd of players from a corner, drew 'oohs' from the stands.
Villa held on and earned a very important opening day victory for a side eyeing the prize of promotion. Sheffield, though somewhat off-colour for their high standards and seeing their run of seven wins in a row [which ran to the end of last season] come to an end, have the experience and players to bounce back and will be up there too. It remains to be seen how vital this result may turn out to be, as the months and games tick by. But one thing we can all be certain about, is that the Championship is back.

What was the reaction after the game…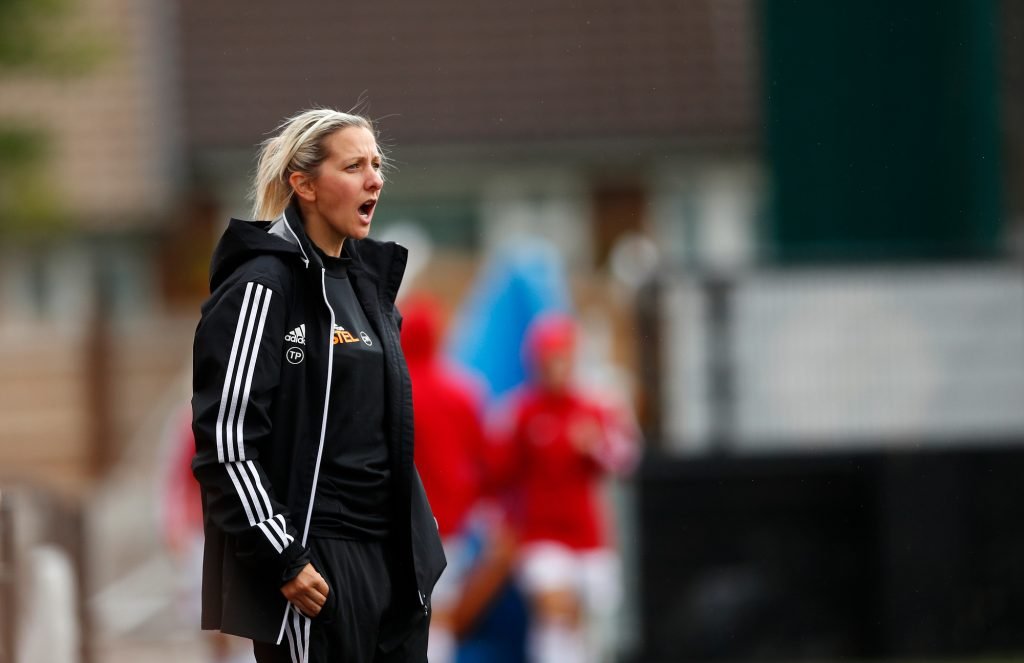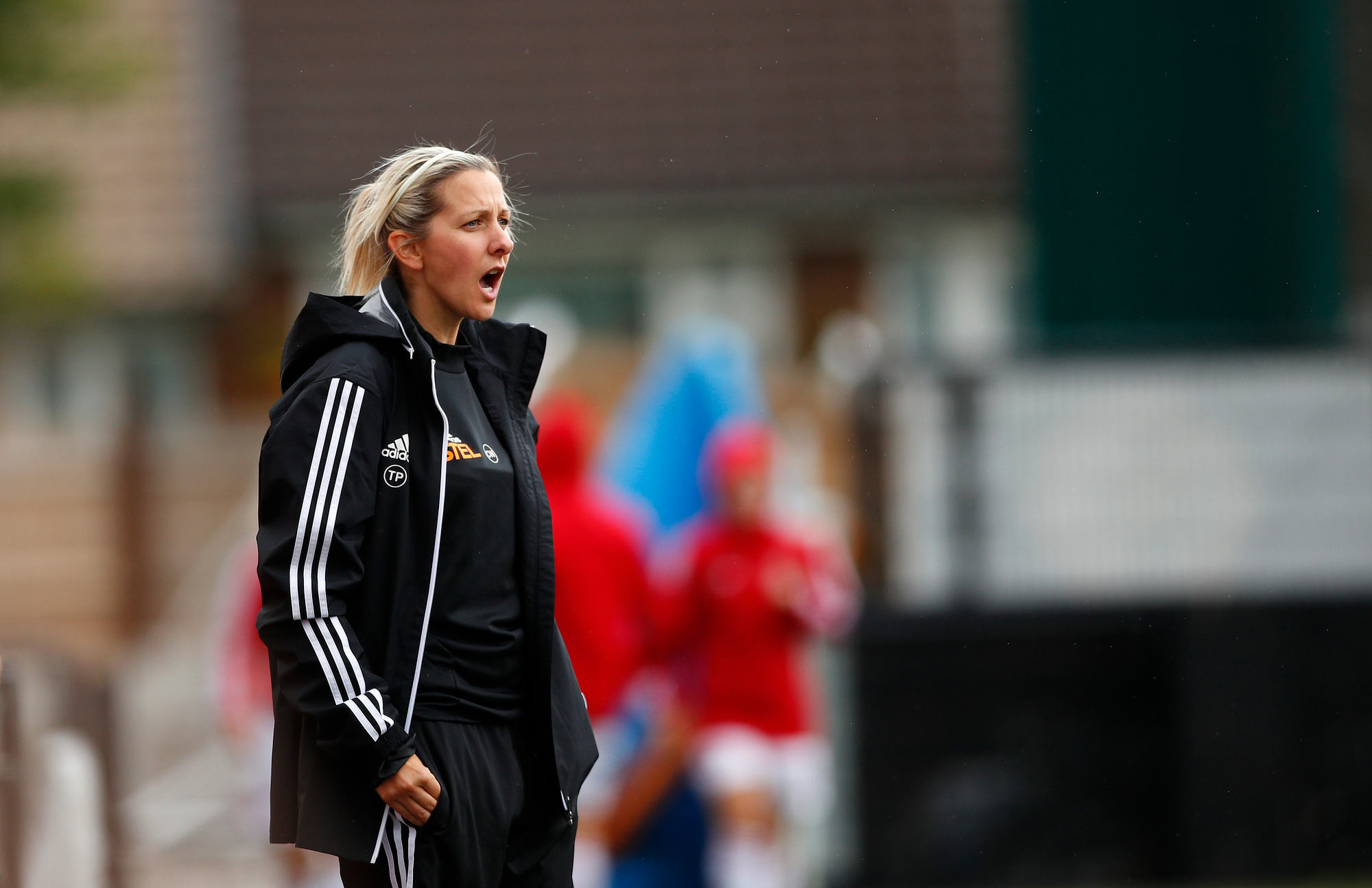 CARLA WARD
The Sheffield United coach cut a frustrated figure as she exited the field and explained her disappointment with their performance:
We didn't get out of first gear. I said to them at half-time, 'I don't know how we're 2-1 up.' I don't think we started playing until 75 minutes. We didn't execute the game plan, we were poor – I can't put my finger on it – and we didn't deserve to win the game. Had we been on it, like we were in pre-season, it would have been a very different affair because we worked so hard in pre-season. We had a couple of late changes this morning, which didn't help but we had a team good enough out there to go and give it a right go and I don't feel like we did.
On her confidence that the team will bounce back:
As much as we are disappointed, I think now it's a case of 'that doesn't happen again'. It won't define our season at all.
We came into this game with a lot of people talking about Villa, and not us, and I quite liked that because we came into it as underdogs, which is probably a little disrespectful to our girls because we've got a good squad…but this won't define our season. We just have to work hard and make sure we put it right next week against Leicester. They're a group that are determined and they'll work hard for each other. Just listening to them in the cool down there, they want to fight and to get things right.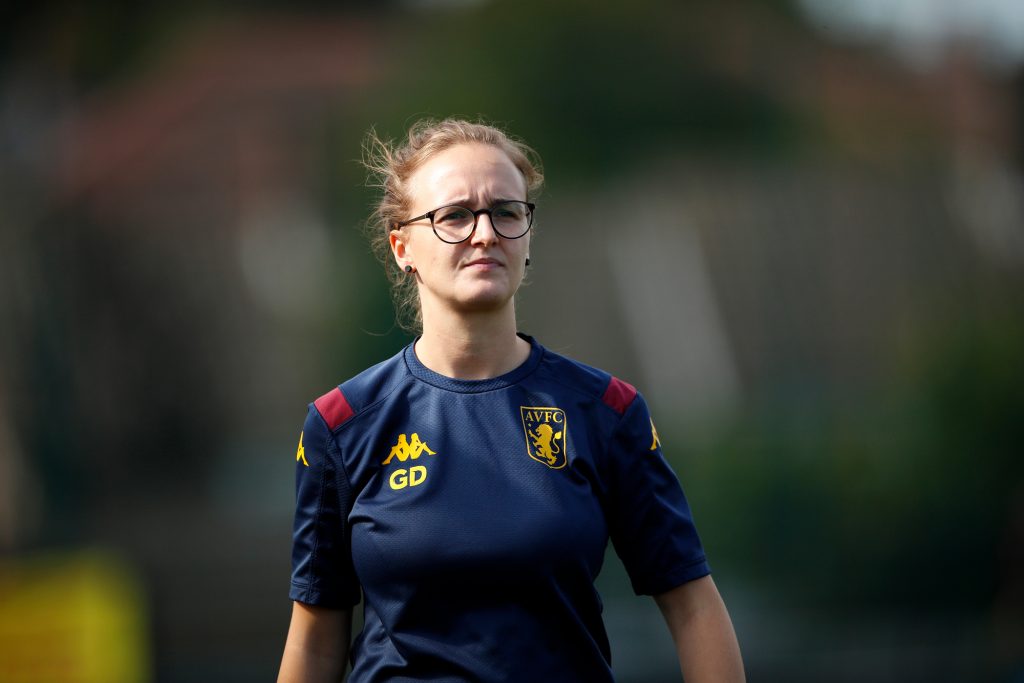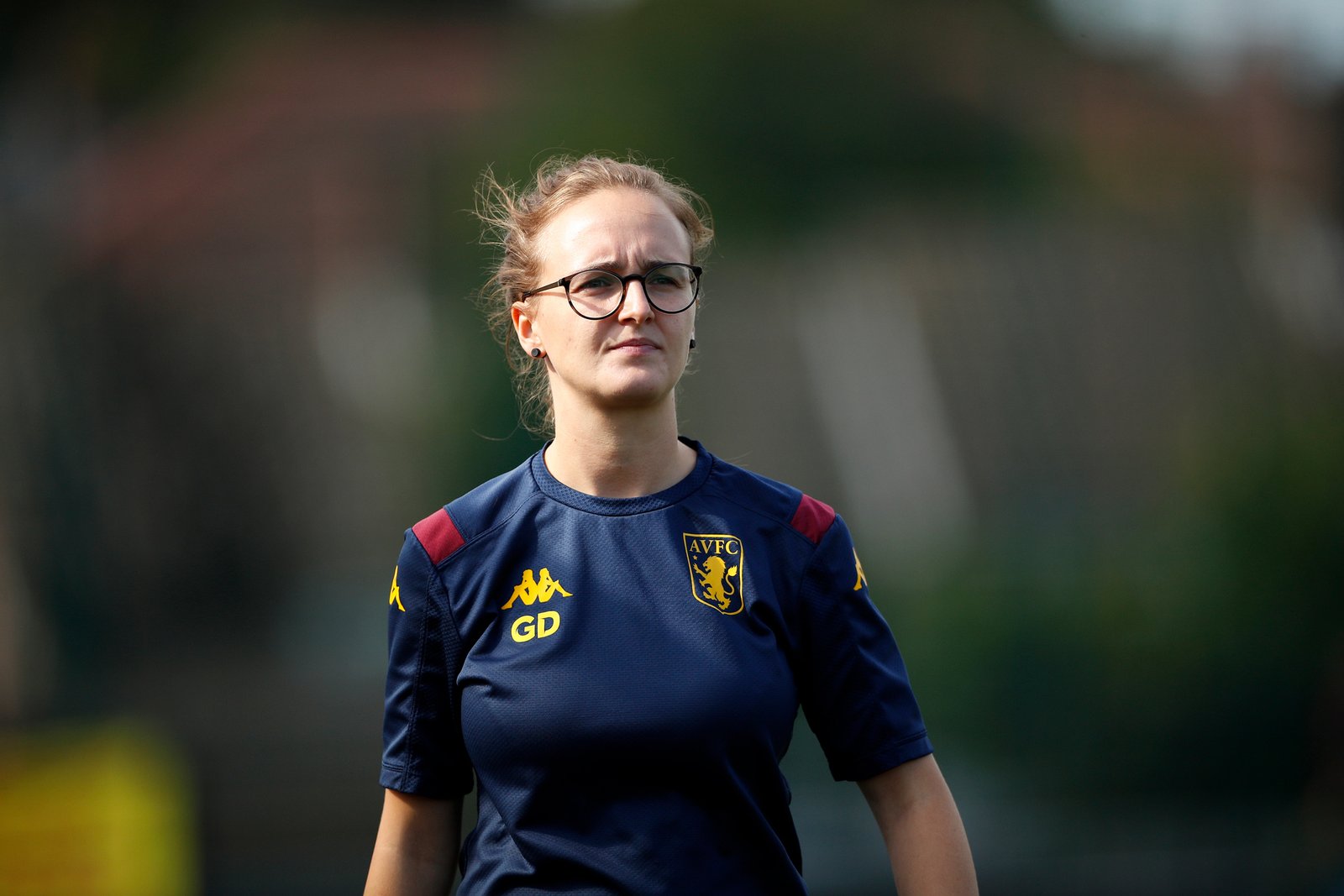 GEMMA DAVIES
Aston Villa Women's manager was certainly more pleased with the result but was also less than content with her team's overall showing:
Definitely happy with the result but performance-wise it was poor, it just wasn't good enough for us and we knew that. We went in with a particular game plan and had to change that about 20 minutes in and it definitely helped, we got our key players on the ball in better areas. Just quality in possession, we weren't combative enough – when you play Sheffield you've got to compete with them because they're such a physical team and like to dominate and I felt we just didn't do that. We changed shape and move a couple of bits around and that helped us, we secured the ball better. So, I'm pleased with the result but not the performance.
On having openings in the first half-hour but hesitancy and lack of conviction in front of goal saw them come to nothing:
We had a number of chances in that first 25 minutes, we probably created more in that spell than we created in previous games but it's just that little bit of quality, that final ball or run into the box, we didn't have.
On the team's slow start:
We prepped them for a frantic first 15 because we genuinely thought – whenever we play Sheffield there's such a good rivalry, it's almost like a derby game – that it would be frantic but it wasn't like that. It actually took us about 60 minutes to get into the game and start dominating.

On the importance of the three points against a potential title rival, even so early in the season:
It's a huge three points for us. It marks the start of a mammoth, ten-month journey for us. When we saw Sheffield was our first fixture, we thought 'Bloody hell', what's with us and first fixtures? [Having faced Manchester United on the first day, last season.] Because it's a tough fixture to have, so to have got three points off them is really, really important.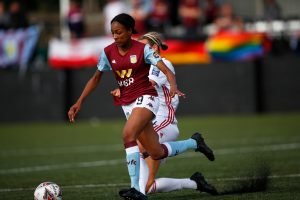 On one of her new signings [Mel Johnson] bagging a hat-trick:
Yeah, it's not bad and I think we're only just seeing the tip of the iceberg with her, there's a lot more to come from her.
And goalkeeper Sian Rogers made a couple of big saves when 3-2 up:
Yeah there were times when she really kept us in it – she's a very good 'keeper, very talented.
On the mention [from General Manager Amber Wildgust] in the programme notes about 'not wanting to make up the numbers' and wanting to challenge etc and managing that expectation:
We talk about it and it's important that we talk about the pressure because there is pressure but it's how we spin it and I think the girls' mindset on that is week-by-week, game-by-game, we'll take every training session as it comes and we're working towards an outcome. I think it's important that we know what our objective is and we don't shy away from that and use it in our language everyday.
On what happens through the week now:
We'll review the game tomorrow with the staff and then with the players on Tuesday, ready for kind of the unknown really its London City. We know very little about them.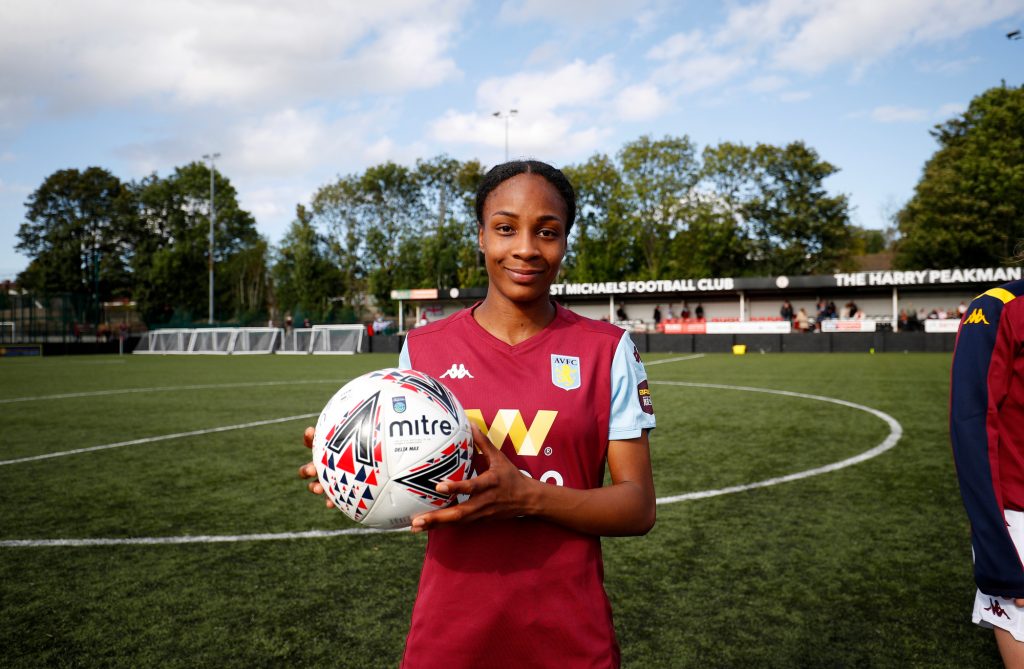 MELISSA JOHNSON
Villa's hat-trick heroine was making her competitive debut after joining from Leicester during the summer, was as pleased with the outcome as she was with her goal haul:
It was a really difficult game and we struggled in the first half but it was nice in the second half to actually get out there and put some goals away. We're glad to win the game.
On whether she gets to keep the ball:
Yeah I'm going to get a ball, definitely! And I'll get all the girls to sign it, I always do, and I'll keep it in a nice box at home.

On the team failing to convert openings in the first half:
I think we created the better chances in the first half, we were a bit unlucky not to get more than one in the first half but we knew in the second half we obviously had to come out stronger and put in a better performance.
On why it maybe took them a while to get going in the game:
I think maybe it was nerves a little, because we've been quite dominant and played good football throughout pre-season, so I believe it was more nerves and we settled towards the second half.
On how she is settling in and she's almost half-way towards last season's total of 8 goals, after just one match:
It's going really well, I'm really enjoying it. The girls are lovely, everyone is lovely, so I'm really looking forward to next week now. And I'm definitely looking to improve on that, so we'll see how things go.
📷 MATCH GALLERY:
GALLERY: #FAWC Aston Villa Women 3-2 Sheffield United Women (18.8.19)