So, the day began with Kick It Out posting a pretty strong message to The FA, raising concerns over the appointment of new England manager Phil Neville and also some of the now 'infamous' tweets.
Following the appointment of Phil Neville as the Head Coach of the England Women's Senior Team, Roisin Wood, CEO of Kick It Out, has made the following statement: https://t.co/2fM0ePiHtv pic.twitter.com/YcRuXghs7V

— Kick It Out (@kickitout) January 24, 2018
Late in the afternoon, The FA's Chief Exec Martin Glenn responded to Kick It Out CEO Roisin Wood with the following letter outlining the processes and developments in the appointment of Neville to the Head Coach role: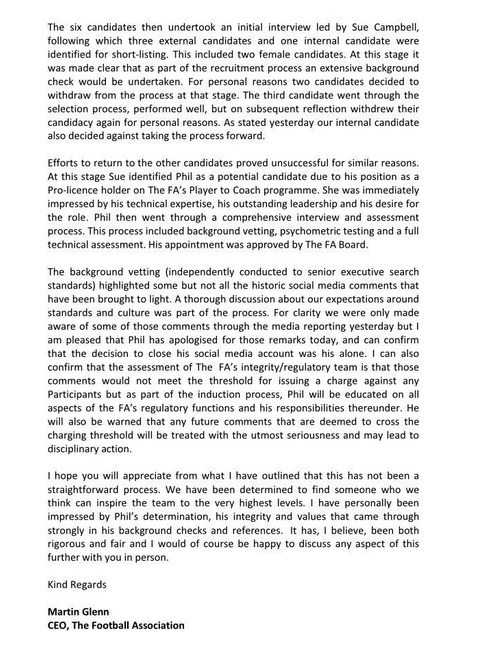 Glenn's well-meaning letter has sparked some interesting reactions and deductions on social media but didn't quite cover all areas:
FA go into some depth about @Lionesses manager recruitment process in reply to @kickitout
-147 candidates from more than 30 countries
-long list of 45 reduced to shortlist of 6 (4 men, 2 women)
-further reduction to 4 (presumably Marley, Harvey, Herdman, Cushing), all withdrew https://t.co/PKMkT7ecge

— Paul Saffer (@UEFAcomPaulS) January 24, 2018
FA statement clarifying process on England women's coach appointment omits the part in the selection criteria requiring successful candidate to have 'a track record of consistent and successful management', and that about talent ID. pic.twitter.com/vPvHhg6W5u

— Glenn Moore (@GlennMoore7) January 24, 2018
W/rt Neville's tweeting, apparently the FA's vetting, "conducted to senior executive search standards," somehow missed tweets that the public found immediately. Great.

— Fitzcamel (@fitzcamel) January 24, 2018
It seems that The FA expect the disquiet to settle soon – Neville will face no formal charges for his historic tweets – and following a press conference (probably early next week) to properly introduce him and to allow some questions to be asked and answered, then he will simply get on with the job (and we will willingly support him and the team on that journey).
But it does feel like there are still some areas that require further explanation if this is to become the transparent process and The FA accountable for their decision-making. This a story that just seems to keep on serving up extras, so watch this space…
Oh, here we go. Exhibit A (just in):
Now the government has waded in on Phil Neville's tweet storm..
After Allardyce & Sampson, the FA simply had to get this appointment right. No controversy. Full transparency. Proper due diligence. Seems unbelievable that yet again, they're in the mire. pic.twitter.com/C6HeeSX3Ah

— Dan Roan (@danroan) January 24, 2018
(Remember when the women's game wasn't being picked over repeatedly by the national press? When the football was the focus. We miss those days…hopefully more aren't too far away in the future.)