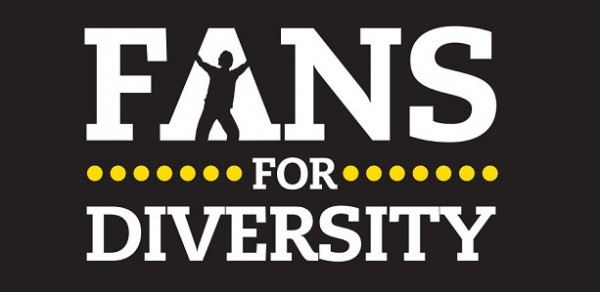 The FSA and Kick it Out are inviting you to the Fans for Diversity Conference on 20th September, for an afternoon celebrating fans who make a difference in the game. So get the date in your diaries.
Where? Amnesty International, New Inn Yard, London, EC2A 3EA – directions here.
When? Friday 20th September 2019 (12pm lunch, 1pm start, 5pm close).
Bring your club colours, flags and scarves for the opportunity to meet with fellow supporters who want to make a difference, to welcome all to football, to share your ideas and show that no matter your faith, gender, background, sexual orientation or disability we can and should all be able to enjoy the game together. She Kicks Editor Jen O'Neill will be there too and would love to meet you.
The event will take place at Amnesty International UK's headquarters at New Inn Yard, London, on Friday 20th September, and feature panel discussions and Q&As with leading figures from the football industry, as well as playing host to the first ever Fans for Diversity Awards.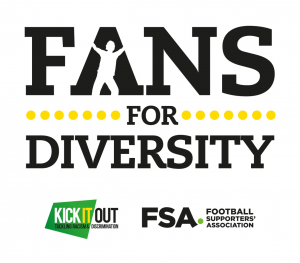 Fans for Diversity Awards
For the first time Fans for Diversity are creating a series of awards to recognise what fans are doing to share the joy of football to those who may fear it's not for them and who go the extra mile to challenge perceptions and discrimination.
The awards are your chance to show your appreciation for the individuals and groups that have done outstanding work to celebrate and support diversity and inclusion in the game at every level throughout the pyramid, as well as – and this is where YOU come in – in the women's game, in the 2018-19 season.
The FSA & Kick It Out are seeking nominations of individuals, groups or projects that you feel deserve some special recognition now – if you know someone who fits the bill, or you've benefitted from the efforts of other fans, simply fill in this quick form here.
DON'T BE SHY – it's ok to nominate yourself if you've done work that you feel deserves a wider audience, be it starting a group, encouraging new supporters along to your local club, campaigns, events or creative use of social media.
Nominations close on 31st August with shortlisting taking place shortly afterwards. Those individuals or groups who are shortlisted for the awards will be notified in the first week of September to allow them to make arrangements to attend the awards, where possible.
There will be more information on guest speakers and the order of events on the day in the coming weeks but if you require more information on the Conference, or have a question about the awards, email anwar.uddin@thefsa.org.uk or maria.horner@thefsa.org.uk.