109 players, coaches and parents boarded two coaches (of the bus variety) in Ross-on-Wye and headed to the Netherlands to have a kick about with some local girls and cheer on the #Lionesses. They had a brilliant, trip of a lifetime (helped by the fact that Birmingham City skipper Kerys Harrop travelled along with them!) and here's a mini diary of travels and their ace support for the England team: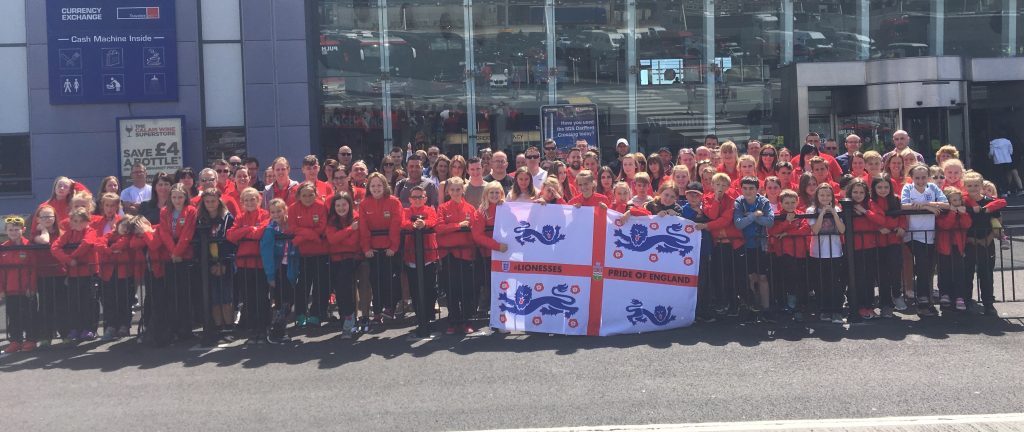 Day 1 (by Amelie)
It was the middle of the night when my mum woke me up, no one should have to wake up this early!
I was feeling excited though because today was the day and my teammates were going to Holland for the Women's Euros.
It was great to see Kerys Harrop, captain of Birmingham City Ladies on the coach, she looked as tired as I did at 6am in the morning,
We were all given copied of She Kicks Euros 17 magazine on the coach, it kept the girls quiet for a while. Then the cries of "are we there yet" became louder as the sugar intake took over.
It seemed to take ages to get on the ferry, then I felt sick so was glad to get off ferry. Everyone was getting excited as we got back on coach now just France and Belgium to go through before Holland.
At 7pm we finally arrived after a long day of travelling the girls jumped into the outdoor pool in the rain and the Euros were here!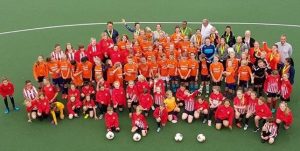 Day 2 (by Eva and Violet)
In the morning, we played teams of girls and boys from Breda, the games were fun and close. The Dutch children were very nice and looked after us very well. Their clubhouse and pitches were amazing. The under 15's were the luckiest as Kerys managed them, we got our usual grumpy old coach!
We then walked to the Fan Zone, the Dutch rain is worse than ours. It was like a party in the Fan Zone once the rain stopped. Lots of people wanted to take photos of us. We left our parents to party more and walked to the stadium.
We started singing England very loudly, everyone stared at us and beeped their horns. Then the dream took over, we went into the stadium and on to the pitch. We practiced flag waving and escorting volunteers out, it was very serious but fun. Karen Carney spoke to us about Ross Juniors and Hannah our goalie was star struck with Karen Bardsley and has not washed her hands since!
After being given new kit we walked into the tunnel and out, Eva got to walk with Steph Houghton and Violet got hattrick hero Jodie Taylor. The atmosphere was out of this world, we walked out with our heroes, we were on tv, was this real. The national anthem was spine tingling and we ran after this to get changed back into our clothes and join our noisy parents in the stands to watch the game.
Our friends in the stands told us that Mary Earps came along with Lowri from The FA when we were practising, to say, 'Hello,' and have selfies with us, how cool,
We missed the first goal it was so quick and we were getting changed. We did see the second goal and celebrated very loudly. This was the best day ever.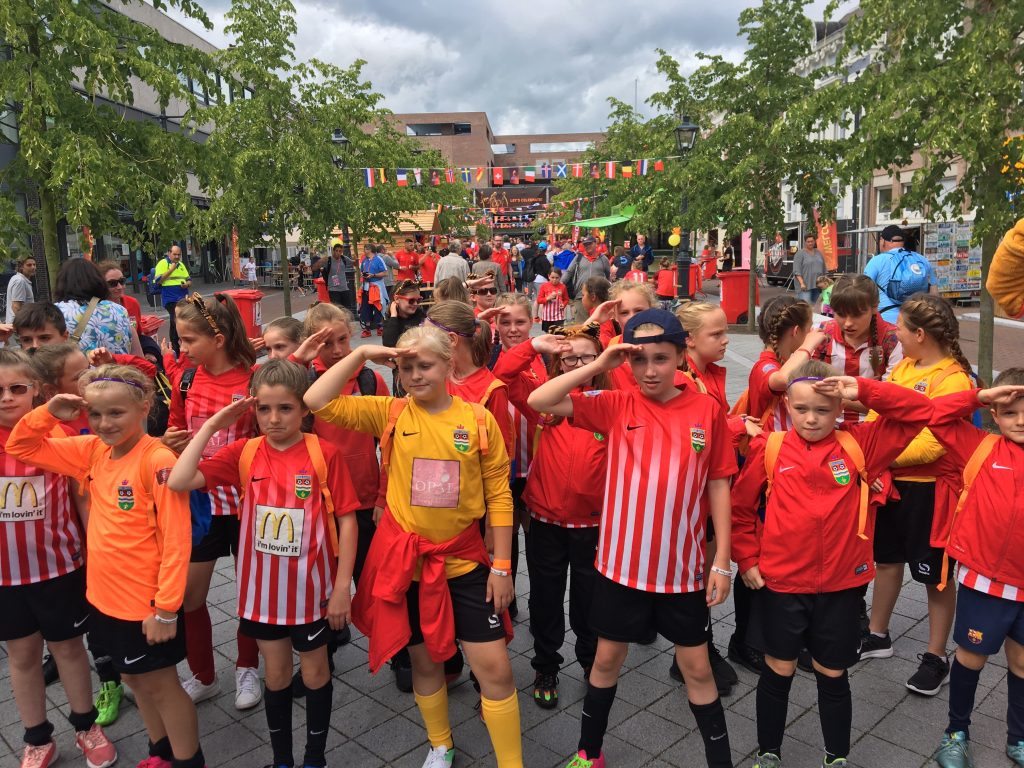 Saluting the Lionesses, in the Breda Fan Zone!
Day 3 (by Lara)
We got the coach after the game to France where we were staying. Next morning everyone was up and again ready to go.
The daytime activity was a visit to Bruges which was lovely but we spent most of it talking about last night. Family and friends had sent videos and pictures of us as mascots and flag wavers. Megan who walked out with the Spain team dabbed during the anthem!
Bruges was so pretty and calmer than noisy Breda, it was lovely to see but our heads were still buzzing from yesterday. Then we got a tweet from England Manager Mark Sampson thanking us for coming to support them and we were so happy.
In the evening we went back to France and our parents played football with the coaches… badly, they were no Lionesses!
Day 4 (by James)
I am so tired! We went to a war cemetery to put down some wreaths, that was nice. Then after Boulogne we headed home.
We got home elated but very happy, I had made new friends and had fun. The stadium was amazing and when I got home I saw myself on TV with Millie Bright talking to me at the game. I want to be a Lioness!
#WEURO2017
Well done Ross Juniors Girls & thanks to Paul Flitney for arranging their tour & this ace blog.