Ahead of the FA Women's Premier League's resumption on 7th January, we have a look through the divisions to see who is pushing for promotion and which teams are in danger of relegation.
Better second time around
Whereas the two promoted sides to the Northern Division from two years ago now sit first and second, last season's elevated teams occupy the bottom two places.
Middlesbrough hold a six-point lead over Leicester City WFC, with two teams currently being in a position to catch them. Fifth-placed reigning champions Blackburn Rovers and also Fylde in seventh both have five games in hand.
Boro's position has been aided by Emily Scarr, who has netted a dozen goals in as many games, one of those being a late winner away to Leicester.
Wolverhampton Wanderers and Guiseley have managed just a single victory between them since coming up and the former are presently five points from safety, behind local rivals West Bromwich Albion. Wolves drew 2-2 away to the Vixens in September and host them late in April.
Northern Division top scorers:
12 – Emily Scarr (Middlesbrough)
9 – Rosie Axten (Leicester City Women)
8 – Emily Heckler (Huddersfield Town)
7 – Kate Mallin (Huddersfield Town)
Local rivals in Southern top two
The Southern Division summit is contested firstly by South East London neighbours Charlton Athletic and Crystal Palace but with C & K Basildon level on points with the latter – five points behind the Addicks. Lewes are also there or thereabouts, a couple of points back from two games more and Coventry United are just as well positioned and have the joint second best goal-difference.
Chichester City have settled in well since stepping up, suffering just the four defeats in thirteen outings, compared with Gillingham's nine points from eleven matches.
Queens Park Rangers are in the drop zone but from five games fewer than West Ham United, whom they trail by five points, while Swindon Town struggle at the foot after twelve straight defeats.
Southern Division top scorers:
20 – Gemma Bryan (Crystal Palace)
13 –  Charlotte Gurr (Charlton Athletic)
12 – Kit Graham (Charlton Athletic)
12 – Cori Williams (Cardiff City Ladies)
11 – Charley Wilson-Blakely (Chichester City)
Students shadowing Saints
The New Saints have a fragile two-point advantage as Midlands Division 1 leaders, with unbeaten Loughborough Foxes on their tails and with a couple of games in hand. They have still to meet this term and their second head-to-head is scheduled to be the penultimate game for both sides.
Burton Albion and Sheffield United are the other nearest challengers, despite both having come out of the Regional Leagues at the end of last season. The Brewers have forced more wins, the Blades scored more goals and lost less, including a 5-1 defeat of Albion on 3rd December.
Leicester City Ladies are last having lost all eleven matches and Rotherham United bagged six points recently – including a 3-2 victory at Leicester – after a similarly tough start but remain in the bottom two, three points short of Long Eaton United.
Midlands Division 1 top scorers:
13 – Emily Ridge (TNS)
11 – Jordan Atkin (Burton Albion)
11 – Lois Jefferies (Solihull Moors)
11 – Taria Marsden (Sheffield United)
9 – Kimberley Bebbington (TNS)
9-  Natalie Shaw (Sheffield United)
Brighouse Town lead tight trio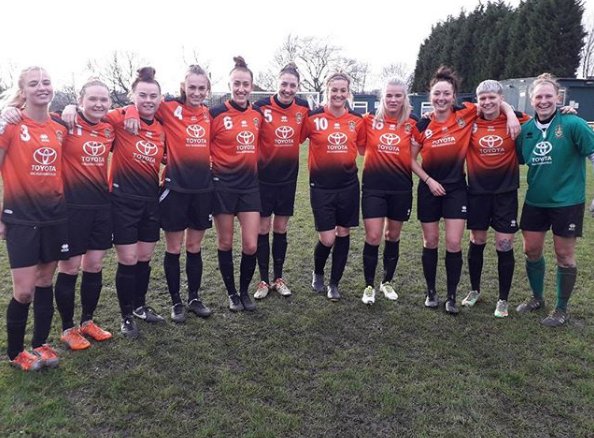 Just two points separates the top three in Northern Division 1 and Brighouse Town lead in only their second season at this level. Both they and Hull City have only failed to win on one occasion and the Tigresses have a game in hand, while Liverpool Marshalls Feds are behind City on goal-difference. Hull beat Brighouse 1-0 away and will host them at the end of April.
Bolton Wanderers' Premier League debut campaign has begun well with five wins in eight as they go into the new year in fifth. Barnsley are a couple of places lower but have found the new challenge a little harder, with just four wins from thirteen.
Mossley Hill are three points adrift in last place with eight defeats in nine but from three games less than Leeds United, who themselves are four points behind Chester le Street Town.
Northern Division 1 top scorers:
13 – Jodie Redgrave (Brighouse Town)
8 – Demi Pringle (Barnsley)
8 – Yasmine Swarbrick (Morecambe)
6 – Carla Lee (Liverpool Marshalls Feds)
6 – Safron Newhouse (Bolton Wanderers)
Rival Dons separated by O's
AFC Wimbledon have stepped up from last season's third-place finish to lead the South East Division 1 table, while their rivals Milton Keynes Dons – as well as Luton Town – are again involved at the top end.
Sitting in second though are Leyton Orient, five points off the leaders following their promotion from the London & South East League. They might have cut the gap before the festive break but were beaten 3-0 by Wimbledon.
Haringey Borough's introduction has been a hard one though, with eleven defeats in a row and plenty of goals conceded. Norwich City are also in danger and sit eight points short of Denham United and safety.
South East Division 1 top scorers:
14 – Alessandra Barreca (Actonians)
9 – Sophie Le Marchand (Leyton Orient)
8 – Sarka Stryhalova (Leyton Orient)
7 – Zoe Cossey (Ipswich Town)
7 – Joanne Rutherford (Luton Town)
7 – Rebecca Sargent (AFC Wimbledon)
7 – Kelly-Jade Whelan (AFC Wimbledon)
Perfect pair trail Keynsham   
Although newcomers Southampton WFC as well as Plymouth Argyle have won all their matches to date, it is Keynsham Town who hold the South West Division 1 top spot with a better goals record than the former but from additional games.
Keynsham also boast the top scorer across all divisions, with Kerry Bartlett (top right in team pic)  already having bagged an impressive 26 goals.
Southampton Saints are also title contenders in fourth, four points being all they have dropped to date, while Poole Town's first season in the FA WPL has them mid-table with a point per game so far.
Battling in the basement are Basingstoke Town on two points and St Nicholas, whose only win came against them in the last fixture of the calendar year in the eleven-team division. Rhian Robbins, joint fourth top scorer in the division, hit a hat-trick as St Nicks came from 3-2 down at half-time to win 6-3 away.
South West Division 1 top scorers:
26 – Kerry Bartlett (Keynsham Town)
22 – Natasha Knapman (Plymouth Argyle)
11 – Emma Pinner (Southampton WFC)
7 – Jodie Arkell (Brislington)
7 – Rhian Robbins (St Nicholas)