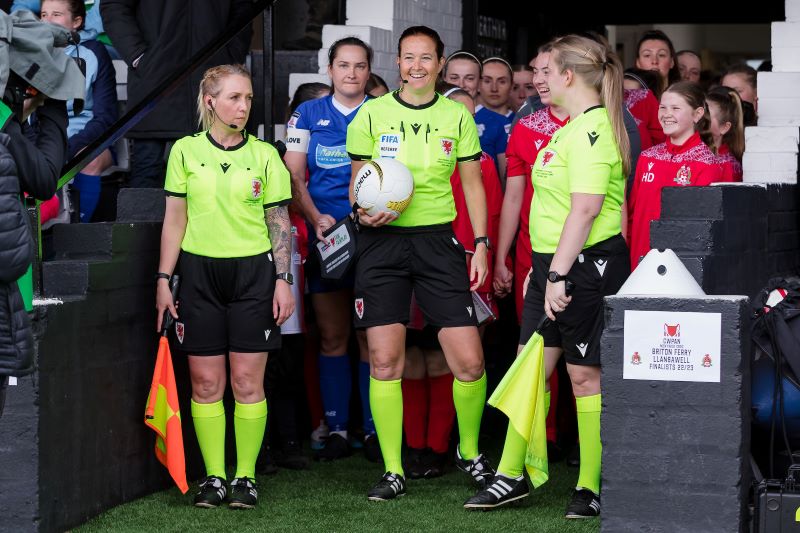 An internal survey to understand the experiences of match officials in Welsh football has revealed that 1 in 4 Referees have experienced physical abuse.
The survey conducted by the Football Association of Wales, which received responses from 282 match officials, detailed that 88% of respondents have also received verbal abuse whilst officiating at some point in their refereeing career, with more than 50 percent of match officials feeling that the behaviour of football participants towards Referees was getting worse.
Many match officials in Wales are therefore making the unfortunate decision to not continue refereeing due to the negative behaviour aimed towards them.
Referees taking the decision to leave the game has an incredibly detrimental impact on the whole of Welsh football, as there are currently not enough active Referees to provide a match official at every grassroots game in Wales.
The FAW and Area Associations are therefore introducing initiatives which aim to reduce incidents of abuse, improve discipline across the country and consequently increase the number of active Referees.
These initiatives include a trial of Temporary Dismissals, commonly known as 'Sin Bins', in a bid to reduce dissent towards match officials and the introduction of Yellow Arm Bands for Junior Referees to wear to signify to players, coaches and spectators that the Referee is under 18.
All match officials have also been provided with a comprehensive guide on how to report Additional Misconduct if this was to ever occur when officiating. Additional Misconduct includes Misconduct by a Club Official, Spectators or a Player, before or after the match, or after having been sent off.
Welsh Referee and FAW's first ever Women's Referee Development Officer, Ceri Williams said: "Refereeing in general has a really poor retention rate, which isn't something specific to Wales, it's across all the countries. This is due to the general abuse that you can receive as a referee. But I think the dropout rate is significantly higher in women for that reason, that's why introducing initiatives that offer support and aid retention are so important.
"I would often receive comments such as 'go back to the kitchen' or 'go home to your husband.' Psychologically I think personal comments were sometimes harder to deal with as they were targeted at me due to being a woman. We see a lot of girls walking away from the game because of that reason and this highlights the importance of having a support network that the Adran Leagues Referee Academy will provide, and an opportunity to learn from those who have experienced this."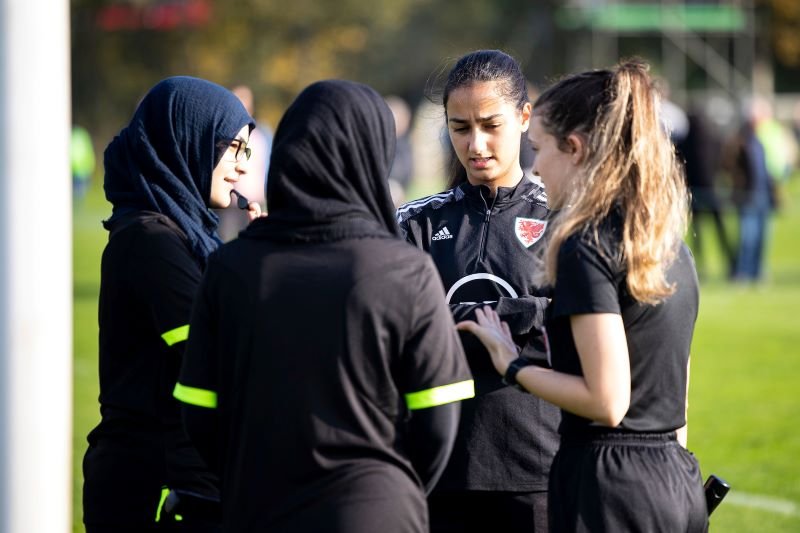 Through FIFA funding, the FAW have introduced the Adran Leagues Referee Academy, a targeted programme that will recruit and develop referees to effectively service the rapidly growing women's game with match officials, with so far over 130 women and girls having signed up to the induction workshops.
There are currently only 50 women registered as Referees in Wales and the high numbers of women and girls signing up to this initiative highlight the importance of having bespoke programmes to encourage more women referees into the game, in addition to visible role models, like Referee and former Wales international, Cheryl Foster refereeing at the FIFA Women's World Cup 2023.
To further support the FAW's vision for Welsh football and its culture, the FAW have created 'PAWB Values', a campaign which highlights the FAW's core values of 'Respect, Excellence and Family". The FAW's guiding principles form the acronym 'REF' and this iteration of the #PAWBValues campaign highlights the importance of respecting everyone across the Welsh football family to support the development of excellence.
These three key principles are in place to guide all aspects of the FAW's work and are values which are key to growing and developing the game in Wales and will continue to feature prominently across the FAW's upcoming initiatives.