After being delivered the news that sadly Spurs' Anna Filbey had withdrawn from the squad, following an injury sustained in the North London derby in the WSL at the weekend, the media were joined in the 'Zoom room' by Wales Women coach Jayne Ludlow to chat ahead of tomorrow's crucial EURO 2022 qualifying tie v Faroe Islands at Rodney Parade (16.30 kick off, watch it on BBC Wales online), with an eye also on Tuesday's follow-up match against group leaders Norway.
Check out the FAW Match Hub here: https://www.faw.cymru/en/news/live-match-hub-cymru-v-faroe-islands/
This is what a calm and upbeat Jayne Ludlow had to say the gathered scribes and broadcasters…
On having the two games to prepare for:

It's great to be back together with the group. Having two games in the one camp is a bit different for us but it's something we look forward to. Players always prefer games to training, so they are really looking forward it and enjoying it. Obviously we are in a strange situation with the COVID protocols but the way they are performing so far they seem very happy and hopefully they will do the same tomorrow.
On the possibility that there may be changes made in personnel in the two games against very different opponents:
For us it's important that we put the best team on the pitch every time we can and we have a big squad and I've been impressed with what they've done so far in training and obviously those who get the opportunity to start tomorrow I hope they enjoy it and do their best. Yes, potentially we are looking to use a big chunk of the squad within tomorrow's game and then obviously looking ahead injury-wise – hopefully no new problems there – then start prepping for the next game.
On the Faroe Islands team:
Obviously the results haven't gone their way and  they're a very small nation but the way they play doesn't necessarily show those things. They're a team that want to come out and compete. They're not a team that just sit back on the edge of their box. When they get the ball they put bodies forward and do try to attack. Obviously they have a limited competitive environment on the island and they have a limited player pool but they do come to compete, which is great and we enjoyed playing them last time. At times it opens them up, which we need to exploit but they do have one player in particular who can be very dangerous on her day [SK – we're assuming it's captain Rannva B. Andreasen their all-time record appearance holder and the all-time record goalscorer].
On whether the advances and developments in the women's game have happened in the Faroe Islands too:
When you see them play you will see how much they love to play the game and it's fantastic that they have the opportunity to do that. That's how I look at it, irrelevant to how small they are as a country. They put a national team out there and they're backing the nation team and they want them to develop, irrelevant to their start point [limited player talent pool etc]. It's an interesting one. Back in my [playing] career we'd be struggling to beat them 1-0. So you could say, 'Have we pushed on further, have we developed further?' Every nation has different challenges and they should have the opportunity to play, so we're looking forward to playing against them.

On the fact that the Faroe's had a few moments where they caused problems for Wales in the previous game:
Yeah and they will. International football, senior level, they will and whatever ranking you are and like I said there are a couple of players in the Faroes team who are decent players. But they are bottom of the group and one we are expected to win but for us it's a bigger situation than that we want to go out and perform well and hopefully we can enjoy that 90 minutes as well.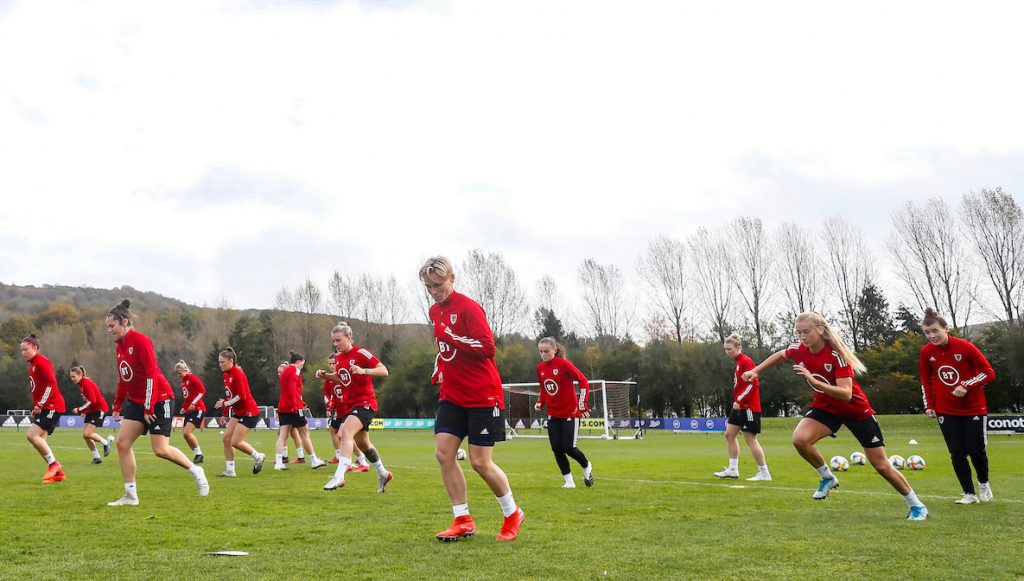 On how excited she is for the games:
I love having games. It's a 'kid in the sweet shop' moment when games come around because it is that moment that, you put so much time and effort into prep away from the girls a lot of the time and then you have the opportunity to put it there for them on the grass, get them ready and hopefully put them in a place to compete so yes, I'm looking forward to these two games.
On how awkward it can be going into a game that you are expected to win:
It's an interesting one and obviously we are speaking about it now…but come game time you focus on your game plan and 'are things working?', 'are we doing the right things when we need to?', 'have the opponents changed something, do we need to adjust?' So it becomes very much you're in the moment, which is great when you get early goals because you can relax. Though that's not necessarily a good thing at times because you can relax too much. So for us, it's very much reacting  in the moment. We have our game plan but we know from previous experience, at times those things have to change. We have to be adaptable and respond to what the opponents bring on the day.
And a final cheeky(ish) question from SK Editor Jen:

Snippets from Sophie, Hayley Ladd, Angahard James and keeper Olivia Clark to follow…