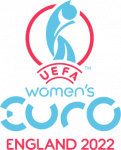 WHAT: Northern Ireland are competing to make it to their first-ever major international tournament. They face Ukraine in a two-legged play-off for a place at EURO 2022. It's a MUST WATCH!
HOW & WHEN TO WATCH:
Ukraine v Northern Ireland, Kolos Stadium, Kovalivka
Fri, 9th April, 5pm UK time, live on BBC iPlayer, BBC Sport NI website + via the red button

Northern Ireland v Ukraine, Seaview, Belfast
Tues,13th April, 7:30pm UK time, live on BBC Two NI*, BBC iPlayer and via the red button
*the first time a Northern Ireland women's game has been broadcast live on BBC NI television.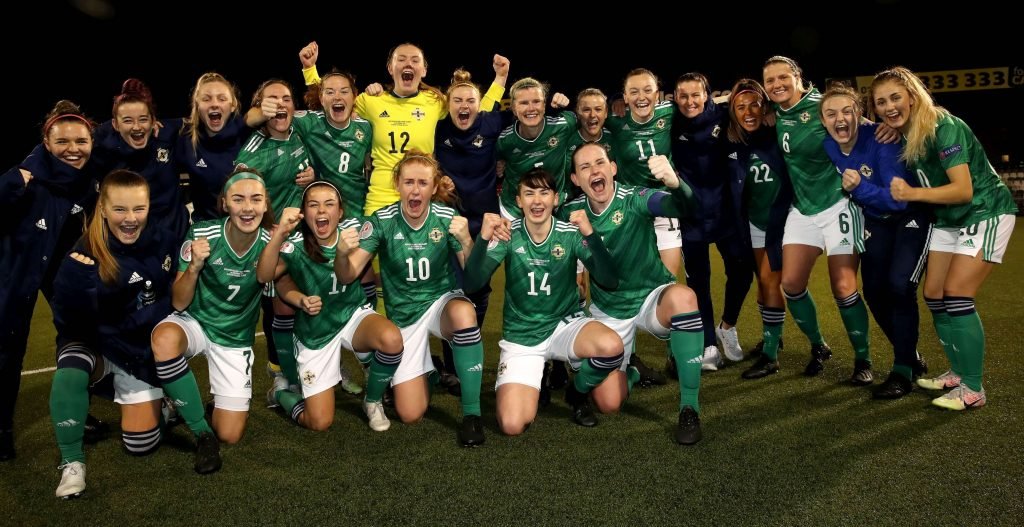 Northern Ireland's preparation has been far from ideal in the build-up to these massive ties against Ukraine. On top of the squad suffering several injuries (seven major players are out, five having had operations) they were also denied permission to play training games against male youth sides to provide vital match conditioning opportunities for their out-of-season home-based players (the 2021 NIFL Danske Bank Women's Premiership doesn't kick off until 28th April). Despite this being one of the biggest games in Northern Ireland's football history.
"That hurts us the most," coach Kenny Shiels admitted candidly, as he chatted with the media before the team flew out. "One of the most significant assets of a sports team is the preparation and that has been taken away from us."
Quick as a flash though, Shiels accepts the frustrating reality of the situation and swipes any sense of a 'poor me' attitude aside. You can be certain that his players and back-room team do likewise, when faced with any negative scenario. 
By the way, this may seem small-fry just hours before the biggest game in their history but we thought we should allow the manager to quickly remind us all of the context in which the green and white army have been preparing.
Here is Shiels on the discipline and fastidious conduct of his home-based players and staff over recent months: "We've had 3000 visits to our training ground, at least. And we haven't had one COVID positive on our watch. Not only have we been preparing for a massive game, we've been preparing with the threat of COVID-19 as well. I'm so proud of everybody that we've got to this juncture, having an impeccable record. It's been fantastic, what we've achieved, never mind the football."
Now, let's get you in the mood for the big match. Here's a mix of comment and insight from manager Kenny Shiels about his side's mentality, the challenges ahead and the magnitude of their achievements so far…
On how preparations have gone since the girls came into camp at the start of the week: "Our preparations for the game tomorrow night have been good. We have been doing good things on the training pitch all week.
"We have been drip-feeding information on the opposition to the players. They now have lots of knowledge on their opponents.
"They know about the mission of what we want to achieve and they are very much together in that."
On the health of the squad: "There are a few niggles here and there. Simone Magill (Everton Women striker) sat out training yesterday as she has a bit of an issue with an achilles, however it was just precautionary and I expect her to be available."
About the reality of Ukraine as an opponent, with a much higher ranking (24, to NI's 49): "Ukraine are at home first and therefore have not had to do any travelling. They will be thinking they will do well.
"It's a very difficult opponent. Look at the player pool and their population of 44 million. Ukraine's coefficient tells you how far they're ahead of us. They beat us 4-0 in Spain [Pinatar Cup in March, 2020] but there are certain areas we might get an edge on them. And if we can do it, say, at a psychological edge, then we will maybe get a little bit closer to them.
"It's gonna be mega tough but the girls will play until they drop. Believe me, these girls are fantastic."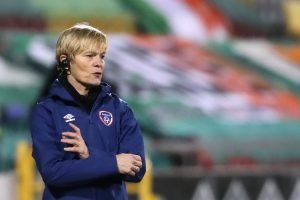 On having spoken to Republic of Ireland coach Vera Pauw, whose side faced Ukraine twice in qualifying and what he expects around the first leg: "All the old Eastern European chestnuts are there. We arrive on the Thursday and then we'll get back out again on the Saturday morning. I've spoken with Andy Crosby, who has been a help because Northern Ireland U21s played in the very same stadium, flew into the very same airport. Our game is on a Friday at seven o'clock their time and we have to go through enormous traffic, right through Kiev, right out to this middle-of-nowhere wilderness, where the stadium is.
"There's all these little things that maybe irks some of the players and takes us off our guard. We've got to be professional and deal with these trials and tribulations as they come our way.
"But they can't take away the pride that the players have and the determination to do well. And we've got that in bucketloads."
On the level of detail and innovation in their in-house preparation (given they were unable to play games): "If they have prepared with more detail than us I would be astonished. All you can do is educate the girls on how the other team plays, how we play against it, with and without the ball.
"We've got bibs with Ukrainian colours and corresponding numbers to the Ukraine players: 17, an attacking midfield player [Daryna Apanashchenko], she's scored 60 goals for Ukraine. We've got the numbers replicating their team, so that they've got a visual. We've done penalty shoot-outs. You name it, we have done it in our preparation. I even know the manager's middle name."
On the 'David and Goliath'-style magnitude of what they are on the verge of potentially achieving: "I think it's it's quite a big miracle. If you look at all of the details of what's happened. Throughout our campaign we've played against players from Chelsea, Arsenal, Lyon, Barcelona, all the top nations, players from the top clubs in the world. And most of our squad is made up of players from Glentoran, Linfield, Crusaders, Cliftonville, Sion Swifts. So if you would think of it that they're the men from Glentoran, Coleraine, Ballymena and they're going to play against Liverpool and Manchester City and those types of players, you would say it's impossible. But everything is possible in life if you go in with the right attitude, and you know, you look at David and Goliath, which is the biblical example. This is right up there with that.
"If we were to get through it would be an unbelievable achievement and that's down to the girls, and their commitment levels and their attitude to being better. Everything we do is to get better."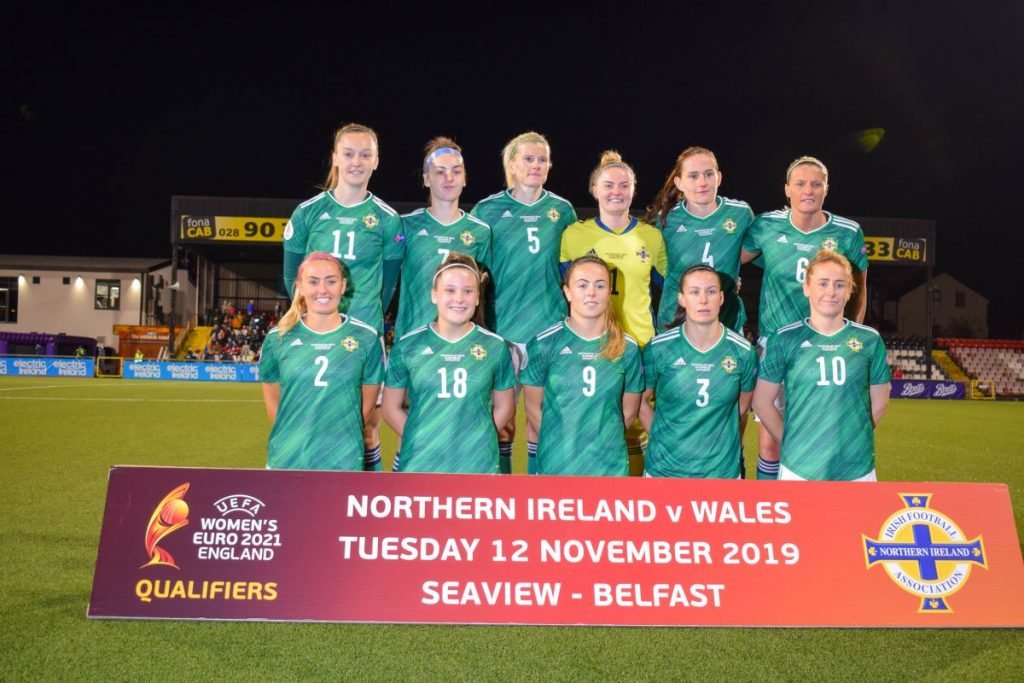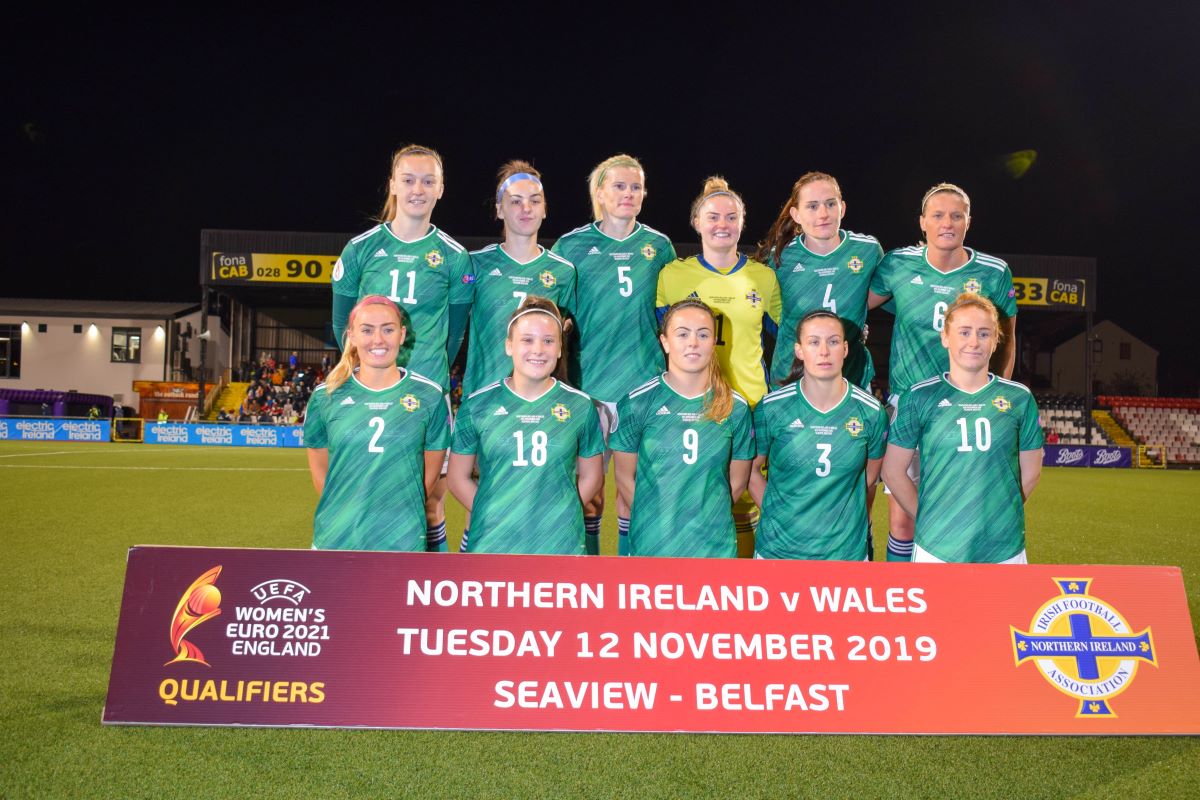 On the #GAWA's positive 'play-to-win' attitude and how trying to take the play-off tie by 'the scruff of the neck' is the only way they know: "I think we got through [to the play-offs] because we played every match to win. Our closest rival Wales played every match not to lose. We played every game to win and that gets you rewards. And I have to say we were very proud of that.
"We are going to try and win the match. You can't go out there and try to defend. It's not us. We've taken that mentality away from the players. We are asking people to be positive. If then we say in the next breath, we want you to keep it tight, sit deep, don't be too risky, then we're mixing the messages. So we go there, we try to win. If we do win, fantastic and if we don't win, let's take a look at the goals for and against and see what we need to do in the second leg and we will do everything we can to qualify.
"We speak about trust and integrity, high moral ground, and all those sorts of things. Those are all parts of our make-up. And we can't deviate from any of them. It's written up on the board behind me: trust, integrity and flow state. So we want to take the girls to flow state. And if we can do that, we're doing our best, we really are."
On the extra motivation of doing it for the players who are missing out through injury: "We have girls who have been injured who we want to do it for. Megan Bell, Caragh Hamilton, Caitlin McGuinness, Abbie Magee, Rachel Newborough, Demi Vance, Lauren Wade…we want to create an opportunity for them when they come back that they're straight into the finals. Wouldn't that be an unbelievable present, that we could give those girls who have worked so hard to try and get ready for this? To me, that's the biggest motivation tool that we have."