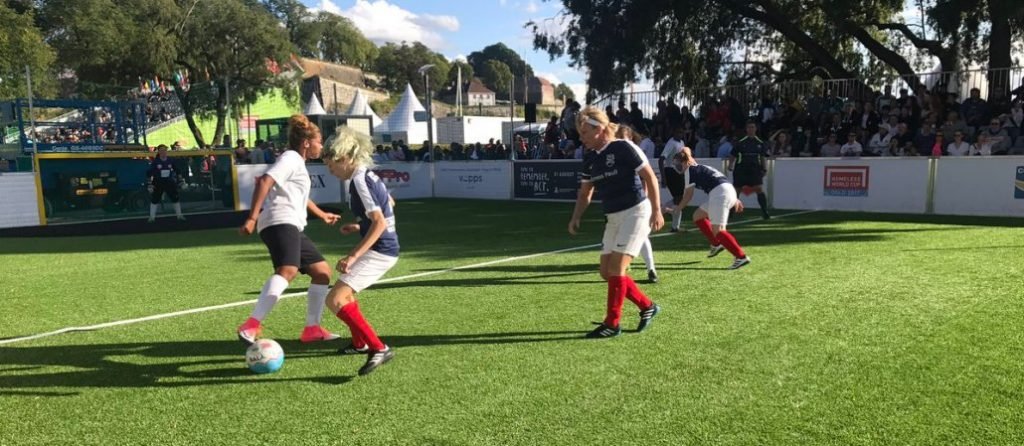 England trail Mexico on goal-difference only in Group A at the Homeless World Cup, following a 3-2 win over Scotland, who had earlier defeated France 5-4 with a late winner. 
Chile beat Kyrgyz Republic 5-3 in the top of Group B clash, while Kenya posted two victories on Saturday and Republic of Ireland hit double-figures against Norway.
Northern Ireland crashed 10-1 to the Netherlands in Group C, as the Dutch matched their points tally with a game in hand. Irish captain Claire Masterson got her side's goal and has now scored in all seven games.
Hungary made it two wins from as many Group D games when beating Sweden 3-1, with Wales finally picking up their first points at the tournament, in a 6-4 success over the USA.
Sunday brings the final rounds of fixtures in the Stage 2 groups.
Fixtures for Sunday 3rd September
12:00 : Group A – Scotland v India, Greece v France, Mexico v England
12:20 : Group B – Norway v Chile, Egypt v Republic of Ireland, Kyrgyz Republic v Kenya
14:00 : Group C – Netherlands v Belgium
15:40 : Group A – Mexico v Scotland, England v France, India v Greece
16:00 : Group B – Kyrgyz Republic v Norway, Kenya v Republic of Ireland, Chile v Egypt
17:40 : Group D – Sweden v Wales, Hungary v USA
Click here for a choice of live streams
Pictured – Anglo-Scottish action. (@streetsoccerSCO)