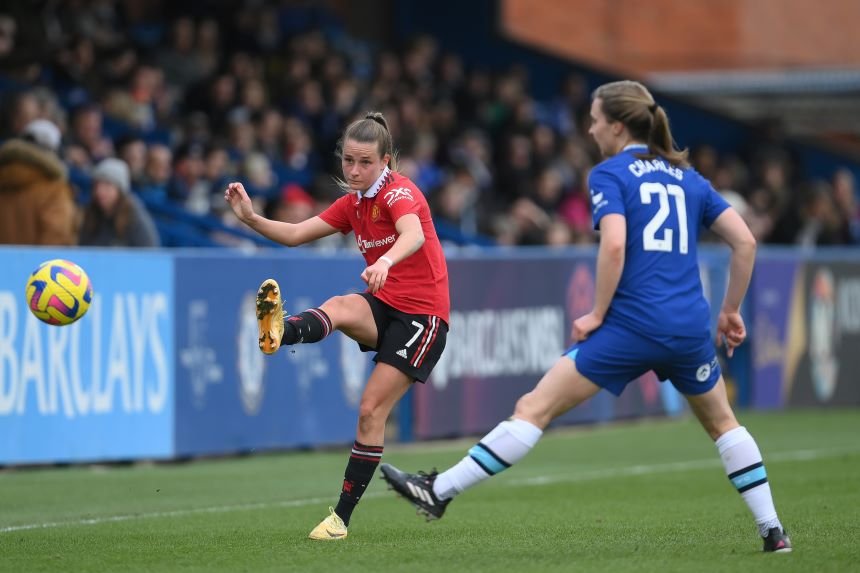 Ella Toone spoke to UTD Podcast ahead of Man Utd Women's match with West Ham at Old Trafford on Saturday 25 March.
So talk to us about when you first started hearing rumours that maybe there might be a Manchester United first team that you could be a part of?
Yeah, I think my dad rang me. I don't know how he saw it or whether my mum saw something on Facebook – mum loves a Facebook scroll. They were like, there's rumours that there's going to be a women's team and I thought, wow like, this could be perfect for me right now in my career. I need to go and play and yeah it's home and it's the club that I love and support. So for that little girl who had that dream to one day play for Manchester United it's now coming true and yeah hopefully the manager wants to sign me and yeah, that was it. I think it was quite a quick turnaround. There was a rumour and the next minute there was a team.
Did you reach out to someone? Did you think, oh just in case I'll make sure everyone knows that I'm interested, I'm a United fan, or was it Casey Stoney and she wanted to get you in?
Yeah well I was on a dual contract with Blackburn and City and then I was at City, then just City. So I wasn't at Blackburn anymore, so I wasn't playing. So I said to my agent, I said, I just need to go and play. I love football too much to be sat on the bench and in that transition I was talking to clubs and then Casey [Stoney] came in. I had one conversation with her and yeah, I thought, I want to go home. I want to play for Manchester United and yeah, that was it.
There were seven of you that returned to the club, that must have been really special?
Yeah, very special, players that I played with growing up and seeing all those dreams come true as well that we had finally got a women's team and we had finally been able to come back and yeah all play together. So yeah that was definitely special and there's still a few of us left.
Also you got to be United's Number 7. How did that come about? Was that something you were able to be involved in? Because I guess you're a United fan, were people aware of that? Did they know how special that would have been for you?
I don't know if they were aware of it. But I remember it was one of the first times we'd all met. I think we'd met Casey at Old Trafford and she was talking and there was a few of us in the room and she handed us this – it was like a box – and I opened it and it was a shirt with 'Toone 7' on the back. So I just thought, "Wow, that's amazing. Number 7!" And then I was like, "What does the 7 mean? Is this my number or what?" I didn't think it would be my number, but I said, "Is this my number or what?" And she was like, "Yeah, you're the Number 7 for Manchester United." And obviously for me that was so special. Like growing up, supporting the club, Ronaldo being my favourite player. Wearing the Number 7 shirt whenever I had a kit. So yeah, I don't know if they knew that that was special for me but at the time that was unbelievable and yeah I couldn't wait to get home and show my mum and dad.
Yeah, a really special moment for all of your family. Did you feel like you were really part of something historic the first time you represented the club?
Yeah, and I still think that now. I think we're making history every single day. Obviously at the start it was history. It was the first Man United women's team. So yeah every day is obviously special playing for such a big club and putting the shirt on every weekend is still so special to me and the same as it was five years ago now. So yeah it will always be a special thing for me.
You can listen to more of the interview with Ella Toone on at manutd.com and on The Official Manchester United Podcast, which you can find by searching for UTD Podcast on any of your favourite podcast providers.
Tickets for Manchester United v West Ham at Old Trafford on Saturday 25 March can be purchased by visiting manutd.com/en/tickets-and-hospitality/mu-women