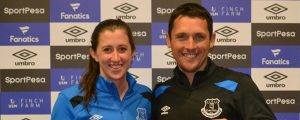 Goalkeeper Lizzie Durack has rejoined Everton after completing her studies at Harvard University.
"It feels like I'm coming home," she told evertonfc.com. "It's familiar but, at the same time, the Club has come such a long way that it feels like a new environment. It's a nice balance of both.
"I was playing soccer and studying over in America at Harvard University as a student athlete. I successfully graduated after four years and now I'm looking forward to coming back and playing professionally.
"I'm very excited to be joining the WSL 1 league. I've had my sights on it for the last couple of years and I've been lucky in terms of the timing of the season and Everton's promotion. It was perfect timing.
"It's great to be reunited with Andy Spence, too. His first season here was also my first season here. It's nice to have a coach here who believes in me – it gives me a big confidence boost."