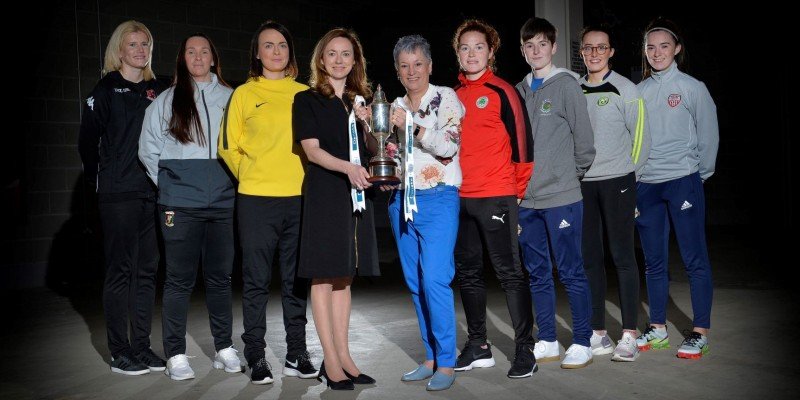 The 2019 Danske Bank Women's Premiership season was officially launched at the National Football Stadium at Windsor Park on 10 April, with representatives and players from all seven teams in attendance.
Last year's reigning champions, Linfield, will be looking to win their fourth consecutive league title with new challengers Comber Rec joining the league this season, alongside Cliftonville, Crusaders Strikers, Derry City, Glentoran and Sion Swifts. Chairperson of the Women's Premiership Committee Sue O'Neill told nifootballleague.com:
"We are extremely excited about the 2019 season, and are delighted to welcome Comber Rec Ladies to the Premiership. The partnership between NI Football League and Danske Bank continues to allow us to shine a light on the best of women's football in Northern Ireland, through the Danske Bank Women's Premiership. As our league continues to grow, we have a huge opportunity to raise the profile of women's football, and with Danske Bank's support, we're looking forward to a really exciting season of football."
Vicky Davies, Managing Director of Strategy and Corporate Development at Danske Bank added: "This is now the fourth season in which we have been the title sponsor of the Danske Bank Women's Premiership. As we approached the 2019 season, we've already seen 11 Danske Bank Women's Premiership players represent Northern Ireland on the international stage, and just last week, 14 stars of the Premiership were selected for the Northern Ireland under 19 women's squad for the elite stages of qualifying for the Women's Under-19 Euros.
"That is testament to the talented players in this league, as well increased media coverage and more players joining our Premiership clubs at youth level. We hope that over the course of this season, we can offer our clubs further support, and we see it as a great opportunity to give Northern Irish women's football at all levels the status and recognition it deserves, helping to grow the game and develop the next squad of international footballers."
The season kicks off on Wednesday 17 April with the following fixtures:
Crusaders Strikers v Derry City
Glentoran v Comber Rec.
Linfield v Sion Swifts