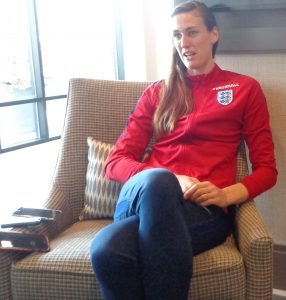 Experienced England and Manchester City midfielder JILL SCOTT had a relaxed natter with the press after breakfast, the day before the Lionesses face France in the opener of the #SHEBELIEVESCUP Here's some of what she had to say…
On games against France being generally eventful, with them grabbing late winners (last second header last year in this competition) and also in the historic win in the Euros quarter-finals (when Jill picked up a significant yellow card meaning she missed the Euros Netherlands semi-final)…and if she is looking forward to it:
When you talk about that game the yellow card doesn't even come into it for me, I was just so happy to finally beat them after however many years (43), so the games are always really competitive. We know them inside out, they know the same about us and I've definitely been on the pitch when there's been some last minute winners from them but yeah I'm excited. Fantastic opportunity to play against three of the top teams, so excited to being here.
On whether she's looking forward to another tussle with Amandine Henry:
Yeah like I say it'll be competitive a game. Not sure of who is playing yet, obviously we've got a squad of 23 out here and a few young players as well so it would be great if they got some experience against the top teams as well. You very rarely get three games in a row against this level of opponent so these experiences are really important for young players' development and also for the senior players to carry on getting that experience against the top teams.
On being one of the senior players and if it's their duty to look after the younger players:
I was saying before that I kind of went from being a youngster and then suddenly I was an old player. Where was the middle part?! I think I can relate to them quite a lot because I'm still like a lot of them mentally but being at the club and sharing our experiences with the younger players coming through…the game has changed a lot. There's no getting away from it. Our journey's not going to be anything like the journey that these youngsters are going to get now so it's just about keep telling them our morals and our values and sharing parts of our journey but respecting that theirs is going to be a lot different and listening to them as well along the way but I'll always be here to help, always have a bit of banter with them, make them feel at ease but at the same time, pushing our standards and making sure that they know that it's not easy being a senior international.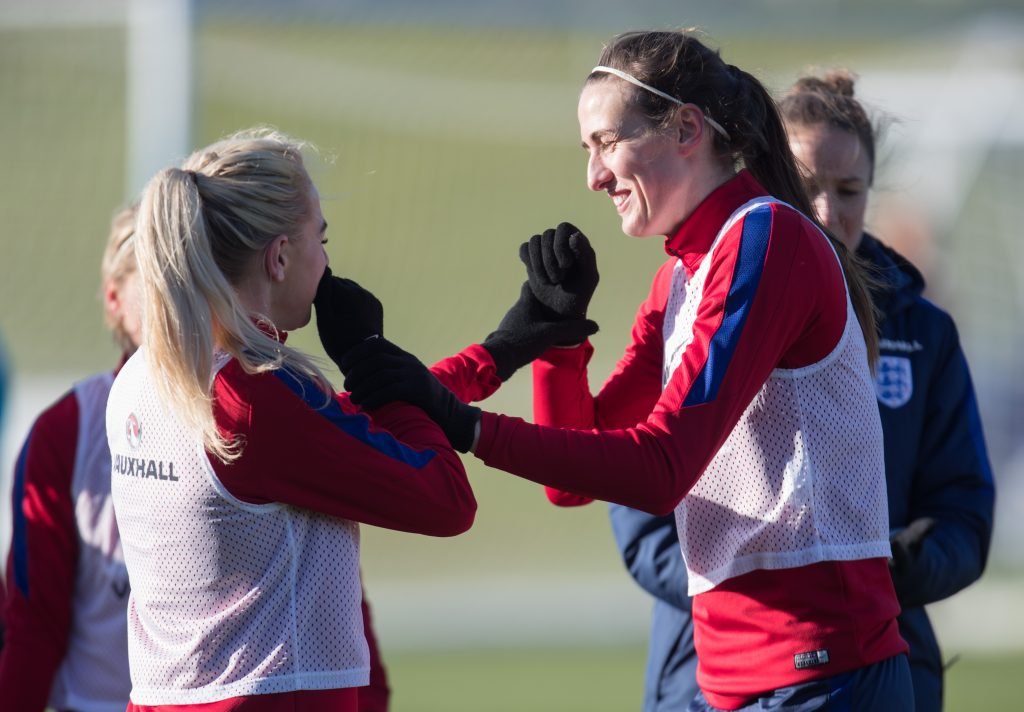 On it being a bit like a Man City away trip (nine City players are in the squad, plus GK Ellie Roebuck):
Yeah there were a few called up last minute. It's great and they've been performing at club level but once we get here I don't really look around at people and think 'there's a City player, there's an Arsenal player' we're one team and I think that's something that's always been instilled since the days of Hope Powell, Mark Sampson and now Phil Neville. We're just one team, we're very together, we leave our club hats at home. The last two England trips we've played Chelsea the day that we've joined up and I've got good friends on the Chelsea team but for 90 minutes you're kicking each other – you want that win so badly – but afterwards you're in the car together travelling to England camp and that's just the way it's always been. We switch that mentality and we've always been good at that.
On City manager Nick Cushing being concerned that his players have played a lot of football matches over the past year, perhaps being a little fatigued, and how she feels in herself:
You know what, it's the best job in the world. If you took me back ten years ago and said I'd have this opportunity to play full-time…so you don't want to be complaining you're playing too many games. But then I'd be lying if I said it hasn't been busy and we've had to ensure that we do everything right. Our days off have literally been lying in bed or recovering because there's been a lot of travelling too. But if you want to play at this level that's what you've got to do and you've got to be able to prove that you're fit enough to do that and again coming off the back of three games last week, one going to extra time which didn't really help, it was a lot of minutes of football. Noe we go into another three games but if you want to win tournaments there are six games at that level and intensity and so, yeah it's been busy and it's been a lot but if you want to win things you've got to prove that you can do it.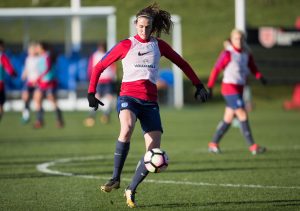 On still getting some down time, going to the mall yesterday, for example: 
Yeah we're still getting that and we got time to go for a coffee as well, which I was glad about otherwise I don't think I could cope! We went to the mall yesterday, the girls looked around and bought some presents for people at home. It's just nice to be out after training and to switch off. Some girls might even choose just to stay in and contact home but I think we've got to the point where we respect each other's decisions and trust that players know how best to get themselves mentally right come game day.
On the record the England team has at big tournaments now and how hard the next step to winning things, will be:
That next step will be the hardest. We can talk about the improvements the team has made but now getting to first in the world, which is what we want to do, is massive. We have to make sure that everything we are doing is right, leaving no stone unturned, making good decisions away from this environment and yes it will be tough but I look at this squad and the players at home ho are injured and haven't been able to make it over and it's exciting. There is fierce competition for places and that's how successful teams get there because of how strong their squad is, so it's exciting for that world cup next summer. There'll definitely be an expectation going into that tournament – as there was last summer – and in the past we may have struggled handling that but hopefully we're starting to show that we can and with another 18 months of preparation we will be in a good place.
On Phil Neville's appointment and how she's found working with him in the very short time he's had to actually work with the team (just 2-3 days, and two training sessions, in fact):
There was a lot of speculation about who was going to get the job and if I'm being honest, I just switched off from it, until it was announced who was going to get it because there was so much talk around it.
I was excited by his appointment. You look at his history of playing, the managers he's worked under, the players he's played with, he's going to bring a vast amount of experience into the environment. I was at Everton for seven years and really looked up to him as the captain and a great player there.  We were part time then but he would always make an effort, come over to speak to us, whether it be at an awards ceremony or training, he did always make an effort and that's something that's always stuck in my mind. As a professional you should always take time out for other people and he really did that and so he had my respect straight away, in that sense. He seems really honest and down to earth. Obviously he will be judged on games, results and performances but it's been a good few days – I'm not just saying that – and I'm excited to see what he brings.
Personally, I really enjoyed yesterday's session. We did a lot of technical work, which is good because as footballers you want to be touching the ball you don't just want to be running around working on the shape all session, so it was good, well structured and then we went off and worked in our specific units. So for me, it ran very smoothly. It wasn't massively different to before. Obviously you're going to find that different managers, be it ex-internationals, ex club managers, they're all going to have their different philosophies and ways of doing things but it's more the detail that changes in sessions.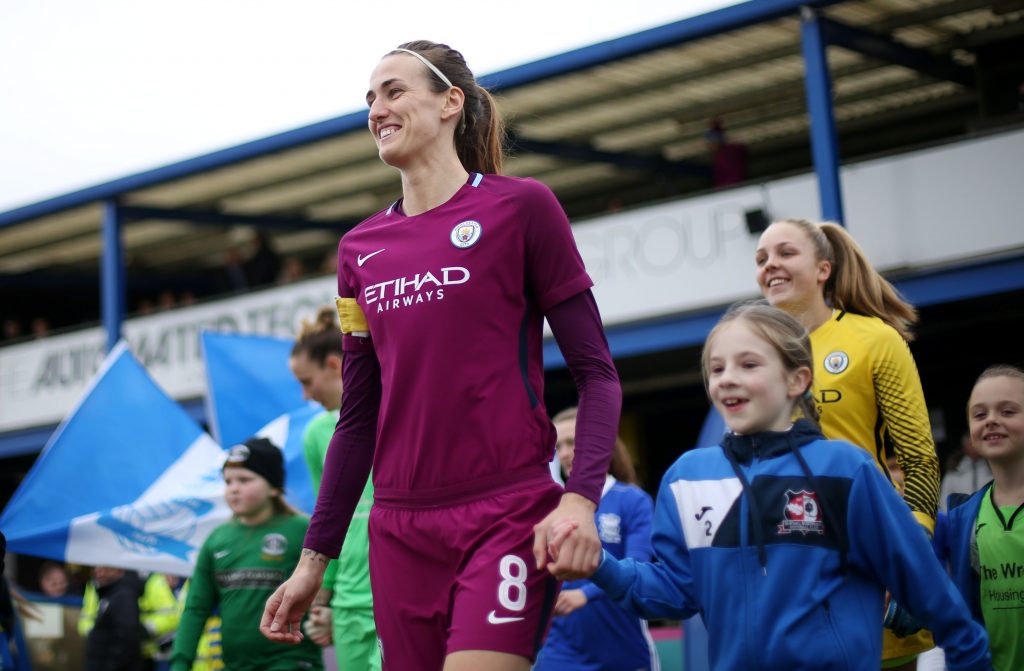 On Lucy Bronze being named the captain for the tournament – in Steph Houghton & Jordan Nobbs' absence – and what she will bring to the team:
You see that whenever Lucy takes to the pitch she is very determined, hard-working and I think she will lead by example in terms of her work rate and how she likes to play. I've played under many different captains. You can compare the likes of Faye White who would say a lot in the changing rooms, always be there for you off the field but then you'd have Kelly [Smith] take to the pitch and you just wanted to win for her! So, it'll be interesting to see what kind of captain Lucy is but I'm sure we'll all be wanting to mirror her hard work and determination once we get on the pitch.