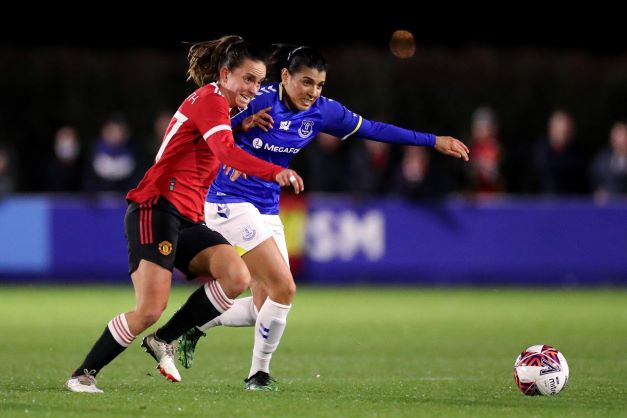 The FA Women's Continental League Cup's group winners have been confirmed but not yet the best runner-up who will also qualify for the quarter-finals.
Group A: Aston Villa 0-1 Blackburn Rovers
Sunderland 0-0 Liverpool (Sunderland won 4-2 on pens)
Group B: Everton 0-2 Manchester United
Leicester City P-P Manchester City
Group C: Watford 0-5 Charlton Athletic
Coventry United 2-3 Tottenham Hotspur
Group D: Lewes 1-1 Reading (Lewes won 6-5 on pens)
Crystal Palace 0-0 Bristol City (Bristol City won 5-4 on pens)
Group E: London City Lionesses 2-2 Birmingham City (LCL won 5-4 on pens)
West Ham United 3-0 Brighton & Hove Albion
Liverpool, Manchester United, Spurs, West Ham and Bristol City topped their respective tables but with the game between Leicester City and Manchester City postponed due to Covid cases, the best runner-up is still to be decided.
Liverpool went through despite Sunderland banking the bonus point against the Reds on penalties, in the same group Blackburn pulled off a victory at Aston Villa where Ellie Leek got the only goal 20 minutes from time.
Manchester United won Everton 2-0 with two first-half goals, a Danielle Turner own-goal followed by a Martha Thomas finish.
Spurs needed a last-minute winner to take maximum points at Coventry United, who had fought back from 2-0 down at the break. Tottenham's advantage gained through Esther Morgan and Angela Addison was wiped out by Destiney Toussaint and Rio Hardy, before Rachel Williams grabbed the late decider. Also in Group C, Charlton netted five at Watford as Ella Rutherford scored twice, with Mia Ross and Elisha Sulola also on target.
Both Group D games went to shoot-outs, Bristol City coming out on top after a goalless draw at Crystal Palace,  Lewes edging top-flight Reading following a 1-1 scoreline in which Natasha Dowie cancelled out Rhian Cleverley's opener for the hosts.
Here's the winning penalty 🎉 pic.twitter.com/FFboHyAycN

— Michael Kennard (@CompostMichael) December 15, 2021
West Ham went through with a 3-0 beating of Brighton, Mel Fillis bagging a brace after Kate Longhurst's opener. London City got the extra point on penalties against WSL side Birmingham City but had led 2-0 with ten minutes left. Karin Muya and Amy Rodgers got the goals for the Lionesses, before Eleanor Ryan-Doyle replied with a late double.
Goodnight, Pride. We'll leave you with this match-winning save from our Shae. 😍

🏆 @shaeyanez 🏆 pic.twitter.com/dtPbx70tv2

— London City Lionesses (@LC_Lionesses) December 15, 2021