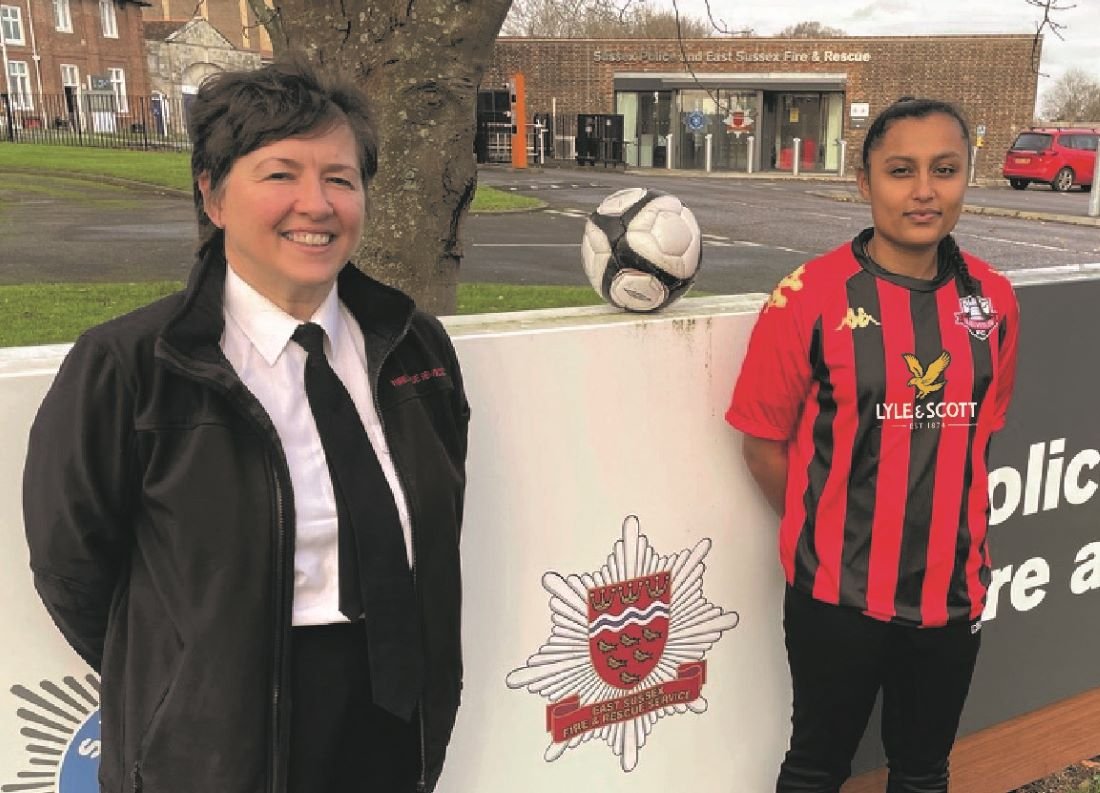 Following East Sussex Fire & Rescue Service's decision to join the Lewes FC's 'SisterShips' programme earlier this year, CFO of ESF&RS Dawn Whittaker has now sponsored young forward Simran Jhamat.
The SisterShips are predominantly local women's organisations associated with the club because they empower women and/or girls in some way. The club and the member organisations mutually support and promote each other.
Jhamat joined Lewes in August 2020, having represented England in the U17, U18, U19 teams, only making her professional debut in January 2019.
Both Lewes Football Club and East Sussex Fire and Rescue Service are committed to changing stereotypes around women working in traditionally male-dominated environments. ESFRS now have over 6% of women in their operational workforce but believe that figure is still too low to be truly representative of the community they serve. It's a documented fact that many women don't even consider a career in the fire service and ESFRS are keen to address that.
CFO Whittaker said, "Although I admit to being more of a rugby fan (I am Welsh!) than footie, I have been inspired by what Lewes FC have done to support women, the first club to pay their women professional team players the same as men and to be recognised by the United Nations for raising the issue of inclusion. On a personal level, I was very pleased to sponsor striker Simran Jhamat. It was great to meet her and hear more about her journey and passion."
Jhamat said, 'I'm really happy to have Dawn's support – hoping I can put one in the back of the net in the name of sistership!"
Lewes director Karen Dobres added, "One thing we need to do is show that footballers and firefighters are not necessarily male, and that gender doesn't dictate who can kick a ball and who can keep our community safe! It's brilliant to join forces with the Fire Service and keep busting those myths."
Everton Women boss Willie Kirk is aiming high after signing new contract