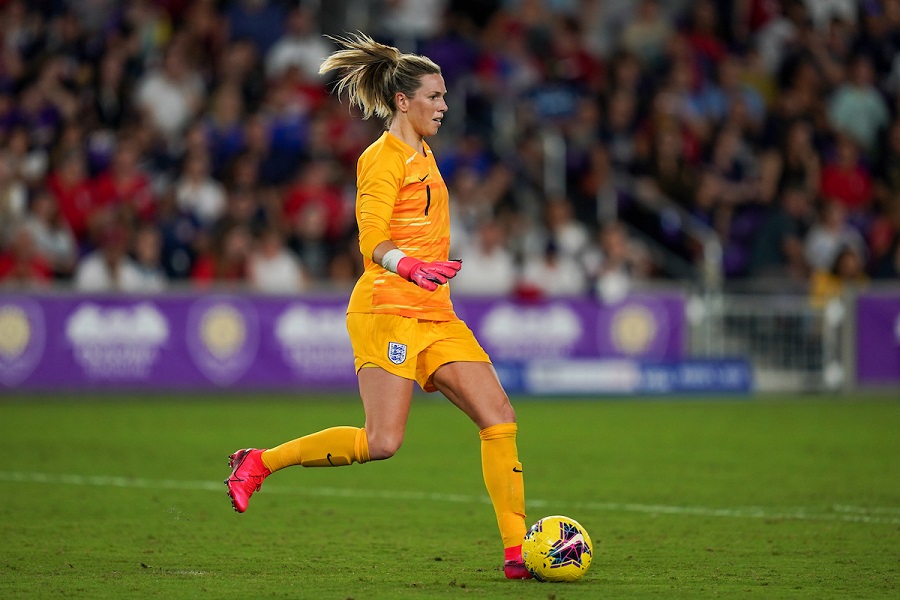 The arrival of another season in the career of Carly Telford, set amongst a fresh group of teammates, a newly-formed club, and over 5000 miles from home. For the England goalkeeper, it is the adventure that almost certainly would not have been, if not for the global chaos of the past two years.
January saw the curtain come down on a Chelsea spell steeped in success and sentiment, with a move to NWSL newcomers San Diego Wave. Her appearances, however, might well be in TV studios instead by now, with fitness testing, pre-seasons and ice baths all firmly consigned to history.
"Sarina (Wiegman) pulled me in the first camp (after taking over as England coach) last year, and she was like, 'What's going on, what are your ambitions?'" she recalls. "I said, 'If I'm honest, COVID screwed my plan up, because I was going to do the Olympics two years ago, I would have done the EUROs last year, then I would have chucked up the deuces and said 'I've had a great time, thanks for the memories.''"
"Everything got bumped forward a year, which meant that I didn't really know what I wanted to do."
The 27-cap Lioness would sign a new contract at Chelsea last February, which would have concluded this summer, just over five years after her return to the club. Providing competition and cover for Ann-Katrin Berger and Zećira Mušović, the extension also came with a part-time coaching role with the Blues' Under-16 and 18s' keepers.
Over a year on, it is Canada's Kailen Sheridan and U.S. Women's Beach Soccer international Melissa Lowder she is competing alongside and offering tutelage to in the San Diego Wave goalkeeping ranks. Led by revered ex-England captain and Manchester United boss Casey Stoney, the club had not even been officially announced yet when she signed her last Chelsea deal.
One of two Californian expansion teams in this season's NWSL (with Los Angeles' Angel City FC), the Wave had their regular-season home opener last weekend, with four goals from Alex Morgan sinking NJ/NY Gotham FC. Carly has featured twice so far, in the Challenge Cup games at OL Reign and Portland Thorns, and despite the undoubted challenge of leaving her close ties behind, she is relishing life on the West Coast.
"I've actually loved it. I think I'm quite lucky that I've spent a lot of my career living away from home.
"Obviously, going to the other side of the world would seem a lot different, but it's funny that when I had my first conference call with the staff, a lot of them are British. I absolutely love it, and the club have looked after us so well, the facilities are brilliant.
Welcome to San Diego, @carlytelford1! Wave FC has acquired Carly in a transfer from Chelsea. Our GK unit looking good 👀 pic.twitter.com/tF1E4Mvxjq

— San Diego Wave FC (@sandiegowavefc) January 24, 2022
"There's stuff getting built around us, so it's only going to get bigger and better. The crowds and the support in the city has been fantastic; we've sold out every game so far we've played at home.
"(Chelsea manager) Emma (Hayes) warned me that she'd been part of a new franchise in America (Chicago Red Stars) and it can be messy, but just roll with it. I think having someone like (ex-U.S. Women's National Team coach) Jill Ellis heading it up (as club president), she wasn't going to let anything stop this team from being on the front foot.
"I feel very blessed to be here, I've enjoyed every second."
It comes some 18 years after visiting colleges in Kansas and Arkansas ahead of potentially taking up a scholarship. Aside from a loan at Australia's Perth Glory almost a decade ago, this is the only overseas chapter of the Jesmond-born player's club career.
Telling how the team have been spending ample social time together, she describes it as 'like a new family'. Anywhere she went, though, would have had quite the act to follow, after four-and-a-half years at a club that truly was that.
As this conversation began, Chelsea's FA WSL home game with Tottenham Hotspur was drawing to a close, and with every win crucial in securing the title, she paused to nervously check they had seen the job through.
"I'm just checking now…yeah…2-1! We're training here every time they play on a night time.
"I walked to the changing room the other day, I think we'd just finished a game, and it was 1-1 (in a 3-1 win at Spurs), Ann had just been sent off, and I was like, 'They can't let Arsenal win, please no!'"
The tussle with the Gunners had its conclusion last weekend, with a third successive championship for Chelsea secured. Winning is always likely to enhance an experience somewhere, though as any seasoned player will attest to, lasting friendships with those you work with in football are anything but guaranteed.
Meaningful connections have been made throughout Carly's career, but Chelsea overall just managed to hit upon something deeper.
"With Chelsea, I'd been through so much, personally and playing-wise, and I got to share some of those moments with a lot of my best friends, so that also made it harder (to leave). Just being part of a winning side as well, you can't take away those journeys of Champions Leagues, FA Cups, even the COVID times where you've just simply got each other – we had nobody else!
"We literally just had to survive week to week, going to games, in and out of sessions, players missing family and couldn't go home, players being really sick, but you managed to find a way to fight through it and still win trophies, and take something from it at the end of the season. The trophies are great to have, and the bottles of champagne that I have, they look great on my shelf, but the best thing I have when I look back is the photos and the memories that I shared with those girls and that group of staff.
"The fans as well, from my first stint at Chelsea to my second. I'm so proud that everyone's fanbases in the WSL are growing, but that group of Chelsea fans, it's relentless."
Once a Blue…

Thanks for everything over the years, @CarlyTelford1! 👏💙 pic.twitter.com/jndwO6dcCJ

— CHAMPIONS OF ENGLAND! 🏆 (@ChelseaFCW) January 24, 2022
Asked if she is missing anybody's jokes in particular since moving away, there is one trio she cannot help but come back to first.
"My closest group was Erin (Cuthbert), Millie (Bright) and Sam (Kerr); we set up a group in COVID times, mainly because we knew Sam couldn't get home (to Australia). I miss going in and seeing them.
"You would never know Sam has a down day; you've seen what she's like on the pitch and she's just as happy-go-lucky off it. Millie I'll always miss, because she was my confidant, the person that I leant on, and then Erin's just Erin, there's no one like her that I'll probably ever meet again.
"I'm looking forward in the summertime to supporting the likes of Mills in the EUROs, Erin's going to come and visit me, and then I think Sammy might go home, but I might get out to see her, or she might get out to see me towards the end of the summer. They managed to let me stay in the Chelsea player group (on WhatsApp) anyway – because I'm not a rival, I got to stay in!"
While mentioning supporting England defender Bright in the upcoming EUROs, the obvious question is whether she might yet be there herself as a squad member. Ellie Roebuck (Manchester City), Mary Earps (Manchester United) and Hannah Hampton (Aston Villa) appear best placed at present to fill the goalkeeping slots, with the likes of Sandy MacIver (Everton) also contending.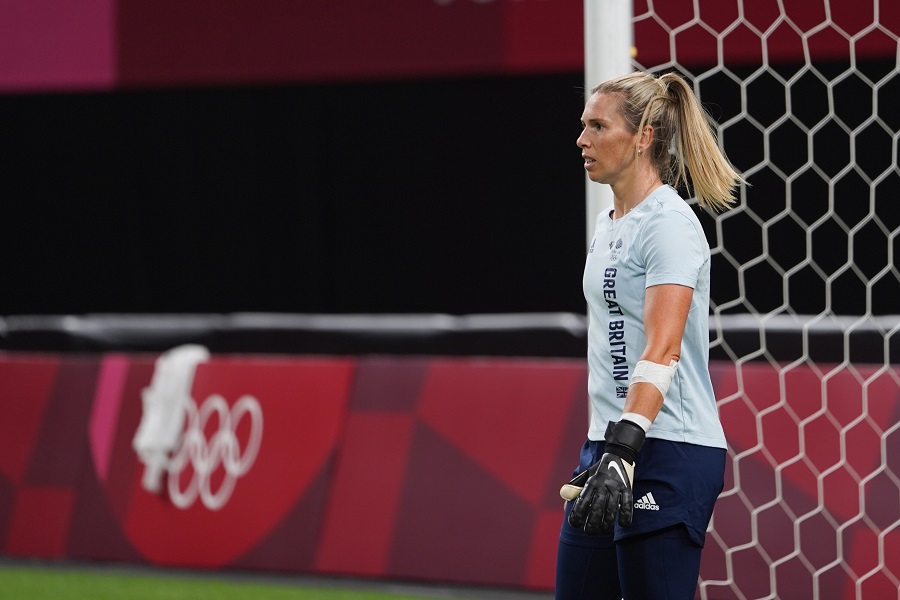 Carly was part of Team GB's Olympic squad in Tokyo last summer under Hege Riise, having been called in to replace the injured Karen Bardsley. Although she may see herself as an outside bet at this point, current Lionesses coach Sarina Wiegman has certainly been keen to see her stake her claim since officially taking over last September.
"I said to Sarina, 'When I agreed my new contract at Chelsea, I was quite happy to be third choice.' I didn't really envisage playing a lot of games, I was there as an emergency, I was doing a lot more coaching.
"She just said to me, 'Well, I really want to see you play, so if you could just…get out on loan maybe?'" she laughs. "She'd ring me before each camp and be like, 'Ah, you're not playing still, so…' – 'You don't need to keep ringing me, Sarina, I understand!'"
"I did try to get out on loan a couple of times but Chelsea weren't having anything. You can see what happened sometimes with COVID, and they said, 'While we're in Champions League and every cup, there's no chance we're just having two keepers', which is fair enough.
"Then this (San Diego offer) happened, and we'd just got knocked out of the Champions League. Emma was like, 'Carls, I'm not holding you back, you can go.'
"Sarina rang me the next day saying, 'This is good! I'm looking forward to watching you!'
"I said, 'I don't know how many games I'll play but you just do what's best for the group. If you think I'm good enough to be involved, then I'll be happy to be involved, but I understand that the girls are doing so well at the minute.'
"I'll always be ready for my country if needs be, but I'm excited to see what this group can do in the summer, for sure."
Prior to last year's Olympics, she was part of four tournament squads with England. It was the fourth of those before her debut in a major competition, in the 1-0 group win over Argentina at the 2019 World Cup, where she would start again in the 2-1 semi-final loss to the United States.
There is huge prestige in simply making a tournament squad, to be considered worthy of such a select group representing your country, but self-worth gets seriously tested in a football career, especially when you are overlooked for a starting place for so long. For Carly, were there times when she was left painfully questioning 'why not me?'?
"Yeah, oh, 100 per cent. I remember when I got left out of a tournament the first time and how much that hurt.
"Some of my friends, like Jill (Scott), were there, you're talking to them and listening to some of their experiences, and you just think 'I would take being the third-choice keeper in a tournament over sitting at home any day of the week.' When it comes to tournaments, people will argue about form of players, but you've got to remember you're putting a group of women together for 40/50 days, and you need that group to be harmonious and everyone pulling in the right direction.
"I think that generally gets overlooked when squads are picked, from fans and maybe media, they just look at the stats and whatnot. There was a point in my career, Mark (Sampson) was manager, I was playing at Notts County and Shiv (Siobhan Chamberlain) was second to me, I think she'd been released from Arsenal, I think KB (Karen Bardsley) was injured, and I was like, 'Surely now this is my turn!'
"I was still second choice and I thought 'I don't know what more I can do!' When a coach or manager knows who they like and what they like, sometimes that's really hard to change.
"You have to just keep your head down and work through those patches, because I could have caused a bit of carnage and maybe knocked on his door more, but maybe he would have just thought then that I was a problem and moved me on. Yes, I had conversations, but he was the manager, he made his choice, so I just thought 'right, what can I do next?'
"That was to make sure I supported the group and that we were successful, and that I played my part in some way."
It was worth the wait ❤️🏴󠁧󠁢󠁥󠁮󠁧󠁿..
.
Honoured to have made my world cup debut, and so proud to be part of this team! Fans were class, felt like a home game 👏🏻🏴󠁧󠁢󠁥󠁮󠁧󠁿 #Thankyou #Lionesses pic.twitter.com/EEprnKgj7p

— Carly Telford 💙 (@carlytelford1) June 15, 2019
This switch to Southern California reunites the jovial Geordie with someone who was at three of those tournaments with her as a teammate – the aforementioned Casey Stoney. Having taken Manchester United from the Championship to the cusp of Champions League qualification as their inaugural manager, becoming a leading contender in the NWSL is the obvious on-field aim now in San Diego.
Currently playing at the University of San Diego's Torero Stadium, the Wave will move into San Diego State University's new, 35,000-capacity Snapdragon Stadium this September, on its Mission Valley campus. In the meantime, there is already considerable vibrancy about the club to bask in for Carly, with the freshness and hope of a new team, and in a part of the U.S. where arguably any player would love to take their career.
Chuckling in agreement at the suggestion that she might have to keep a lid on the banter with her former teammate now she is in charge, in case she finds herself dropped from the squad, Carly speaks of wanting to repay the belief she has shown in her.
"When she recruited me, it was really funny because I didn't actually speak to her; I got a call to say they wanted me, and the only person I spoke to was Molly (Downtain), who's the GM. We agreed everything, and Casey introduced herself and her staff about three weeks later, and she was like, 'Carly, I'm really sorry I haven't got round to speaking to you, it's not how I work, but I know you and I wanted you, so I just told Molly to get you.'
"That was really nice to hear. I've only ever heard the girls from Man United who I've worked with for England say good things about her as a coach.
"I knew her as a player; she was honest, she was humble, she was hard working. This group of players, she's recruited very good people, and some absolute winners if you look at the roster, whether it's been at college level or on a world stage.
"Such a positive person, such a positive manager. I want to further develop myself as a coach in the game later on, so I'm perfectly placed to watch and learn how she's changed herself in how she interacts with the girls.
"She's got such a winning mentality but she just wants people to do well, and I can't speak highly enough of how that makes everyone in this group feel."
Despite time as a kid working with Simon Smith, who later became Newcastle United's head of goalkeeping, Carly did not have a full-time keeper coach until the age of 30. Drawing regular praise from teammates over the years for her ability with her feet, she credits Chelsea's Stuart Searle as 'one of the best goalkeeping coaches in the female game in the world', noting how he and her fellow Blues keepers 'elevated' her skill set.
She comes from a time in the women's game when ground-breaking TV deals, constant access to live matches and social-media fame for players were far off in the distance. While so much of what we see now is what was desired and worked for all along, there remains a warmth and grounded charm about those who remember exactly what yesterday was like.
With the benefit of all she has achieved and been around since, is there anything she now knows, that she wishes she did back then?
"I'd like to think I'm a nice person, but maybe in my career I've been too nice. I think for any young, ambitious goalkeepers or players out there, my advice would be: if you feel like you're doing well and you warrant a conversation, knock on the door, don't ever be afraid to go and ask a coach.
"I think multiple times, I probably should have and didn't, and maybe that looked like I wasn't that bothered, and I was easy to kind of keep on the backburner. Don't be afraid to pick up the phone, because managers and coaches appreciate that, if they feel like a player's hungry.
"Other than that, my advice would be: just be a good damn teammate. Keep your emotions and your disappointments away from the changing room, away from the pitch, because that will bite you in the bum.
"I feel like Casey brought me here because she knew I was a good teammate who was really going to help this group. I think if I hadn't been that in the past, I don't think I'd be here."
Interview/article by @chris_brookes