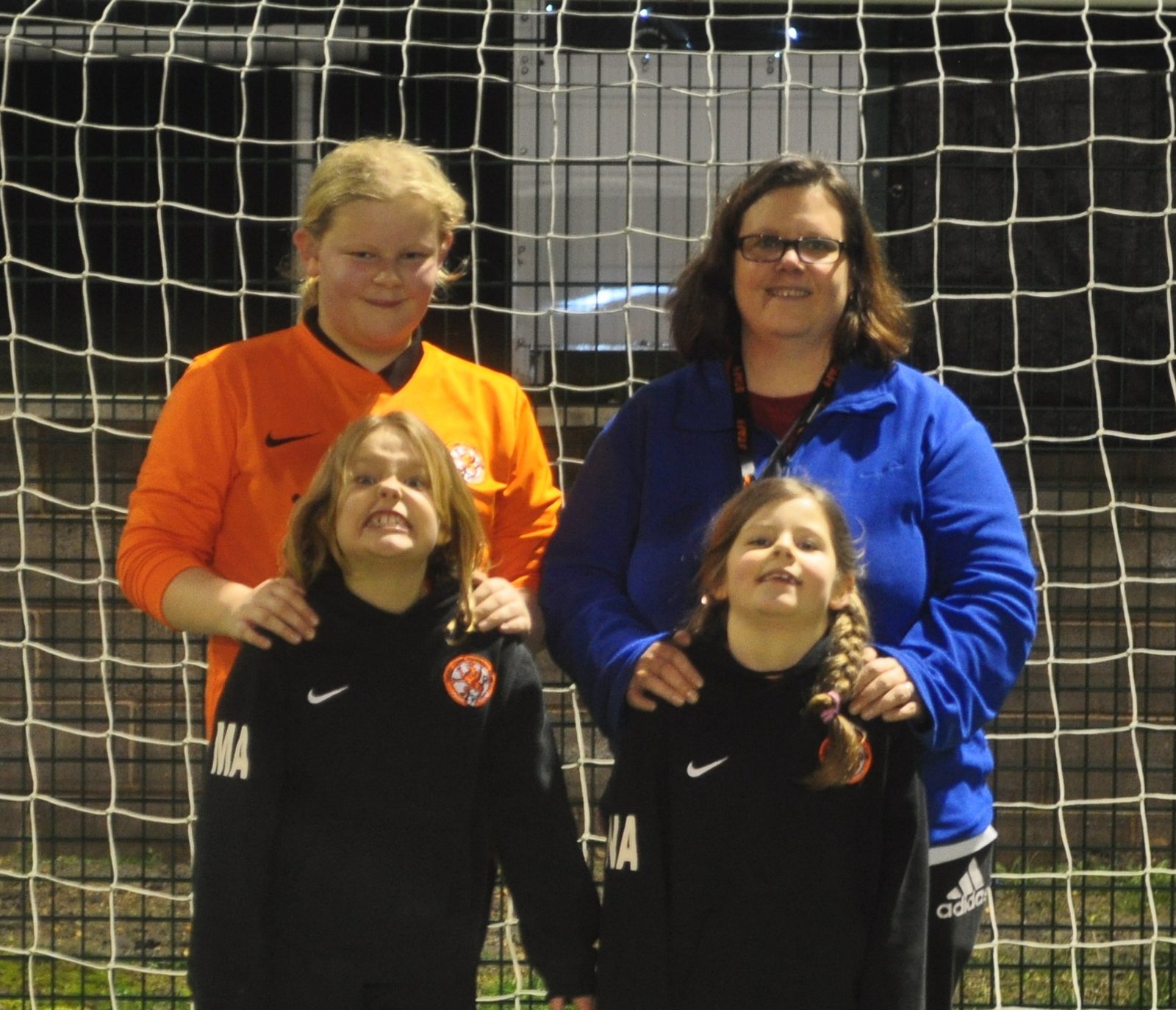 An unfit 40-something woman with no previous coaching experience and limited footballing ability helped save a girls' side, did an FA level 1 coaching qualification with an FA Grow the Game grant and two years later the team are crowned champions of their league.
Claire Angus tells her story of a successful venture into coaching with Rugby Town Girls & Ladies FC … 
I have 3 daughters, (12, 8 and 6) and several years ago, my eldest decided she wanted to play football. We went along to a Rugby Town Girls & Ladies FC open session at a local school. All 3 girls really enjoyed it and we were impressed by the warmth and enthusiasm of the coaches. This is where our family's love affair with girls' football and RTGLFC began.
Against the odds
Now, I am a very enthusiastic football fan, having been a travelling supporter of AFC Bournemouth (yes I know!) for many years but I must point out, I am also an unfit 40 something. When I was at school, many (too many) years ago, girls did not play football. Girls played 'girls' sports' like netball, hockey and track. I would have much rather have played football. This background is important as it demonstrates the unlikelihood of me ever coaching and managing a football team of any description.
So, back to 2017 and I made an error in judgement in offering to wash the kit for my daughter's U-11 side. The error was to underestimate the persuasive abilities of the secretary and chairman of RTGLFC. Once Jason [Morris – chairman) and Tony [Dand – secretary] spotted someone willing to volunteer – and there being a lack of coaches for the growing club –  they subtly, and then not so subtly, asked me if I would consider taking my level 1 coaching badge. Me! The mum who was more likely to be found reading a book in the car, or crocheting some random item on the touchline. What could I offer to a girls' football team? It turns out, quite a lot.
Why did I agree? Several reasons, mainly as they needed coaches to keep the training sessions on for the girls, but also because I have volunteered for several organisations over the years and this seemed a good choice. I was at Kilsby Lane every Friday and alternate Sundays, and travelled all round Leicestershire for away game, so I figured it wouldn't be too much extra work…….but I underestimated my own enthusiasm for the time and effort I would gladly put in to the club and team.
Crash course
I took my level 1, the only female in a classroom of men ranging from academy players, to parents like me who wanted to help. At the first session, I really was quite intimidated and felt very much out of place. However, we had a very supportive tutor, and all the other FA staff we came into contact with when doing the other aspects of the course (First Aid, Safeguarding, etc.) were excellent.
I soon realised that I had some good ideas, and just needed some guidance in translating these ideas onto the pitch in training sessions. My confidence grew, and even though I am certainly no Fran Kirby, I had other skills that would benefit both me and the other course attendees. I found I could analyses and feedback on session planning and delivery, I could communicate to people what I wanted and needed and I could put people at ease. I could adapt to situations and find solutions. Can I kick a ball from 20 yards into the top right hand corner of a goal? No I can't. What I can do is identify people that can, explain what I need and provide demonstrations and commentary using this method. There is always a solution to every problem.
Finding my feet
So, having passed my Level 1 at the end of 2017, I now found myself the coach and manager of an U-11 team. The learning curve was high; I had lots of questions on the match day process, league rules, session delivery, players' registrations, etc. but with support from all of the club I found my feet.
The U-11 team had a big mix of players, ranging from girls who had been playing together for several years, to girls with very little football experience. What they did all have in common was a bag load of passion. The challenge in coaching such a wide range of abilities is ensuring you are providing the correct experience at the right level to all the girls. Ensuring the more able players are being challenged and don't get bored, whilst at the same time, providing the less experienced players skill appropriate ball time where they don't get disheartened and demotivated.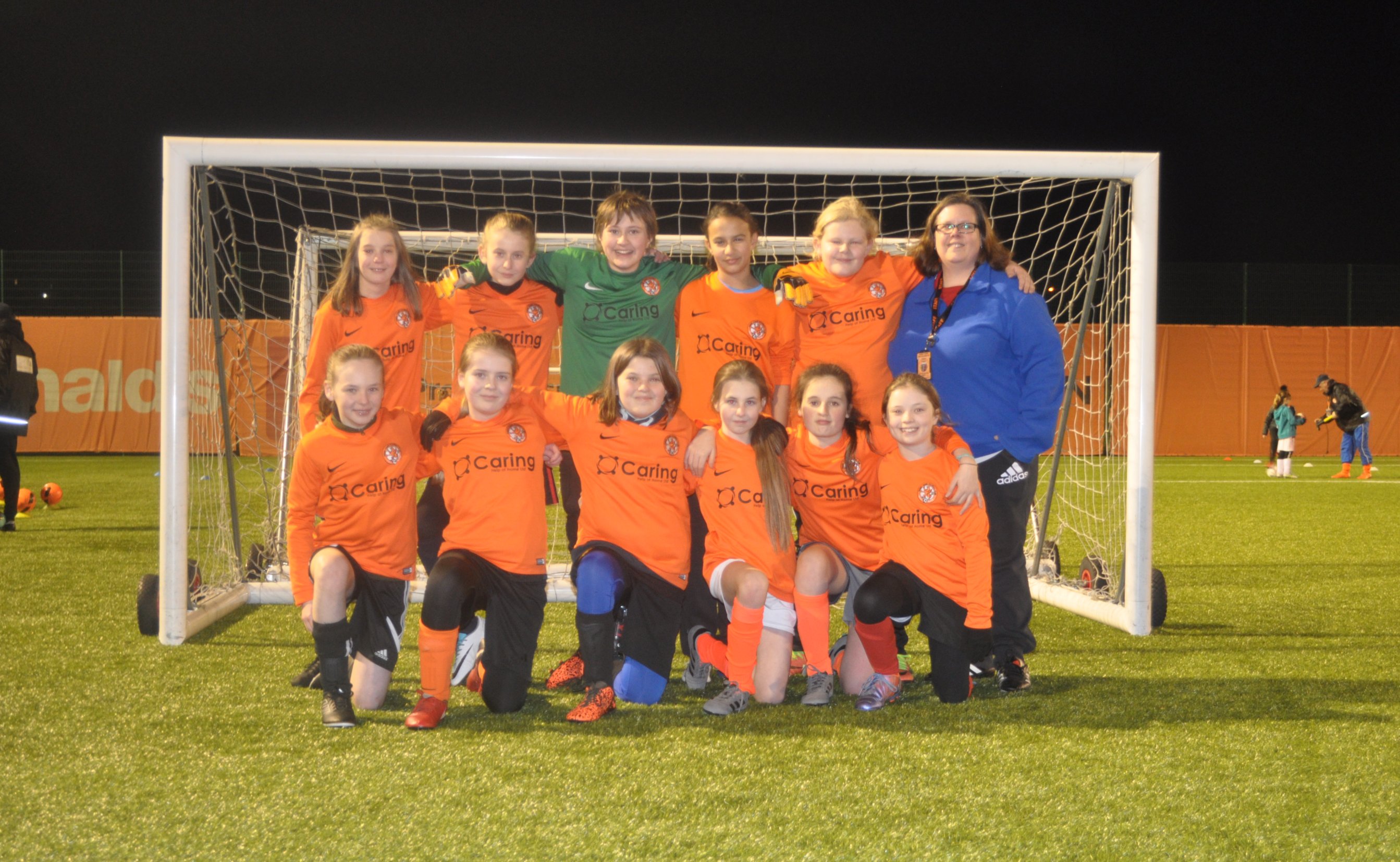 The 2017/18 season was a good testing ground for me and the team. We all got to know each other and I spent time understand what the players liked, what motivated them, their playing styles. I also started building up some good relationships with the players' parents, and I am very lucky to have excellent support and encouragement from the parents, which really makes a positive differences to a coach.
If all else fails, simply play football!
The girls and I enjoyed the season and improvements were gradually seen, both in the players' skills and in how I developed my coaching methods to support and guide them. We had some moderate success and a huge amount of fun playing in some summer tournaments. I didn't always get it right. I had some disastrous sessions that looked great on paper when I was planning at home, and just went totally to pot on the astro turf on the Friday night. I now always ensure I have back up plans in case something is not working. And if all else fails, we simply play football!
The 2018/19 season – with the now U-12s – was my first full season as coach / manager and as we are coming to the business end of it now, and I can already say, it has far exceeded mine and the team's expectations. As our first competitive season, striking the balance between the score and the performance is always something I am conscious of. We have won our games but sometimes actually played comparatively poorly, and these are the ones that actually give me more inspiration and material for my training sessions.
As I write, my awesome bunch of U-12s have already mathematically won their league, and have only lost one game so far all season. But more importantly, the growth seen, both individually and as a team is astonishing. We are all looking forward to starting our league cup run in a few weeks and then on to the summer tournaments in a few months.
Player growth 
From the player who had never touched a ball, and is now displaying great confidence in right back, to the player who on first impression seems meek and unconfident, turns into a determined and skilful player in centre midfield, to the player who thinks and says she can't and then when encouraged to try, finds out she can. These are the things that matter, the score line is an added bonus.
I can't write the words to explain how proud I am of the girls without sounding twee and saccharine, but I actually don't care if I do. When several players execute a beautiful passing combination during a game, when a player in training slowly begins to develop their skills and confidence, I am so proud of them. When I have identified opportunities for development and improvement and deliver a good session in training and see those skills being displayed well during the next game, that's when you know you are where you should be.
Don't be mistaken, coaching a large number of pre-teen girls does not come without its challenges. They can be prone to some minor unnecessary dramatics, they can sometimes have a four-second attention span and they could enter the Olympics and win gold for talking. However, this makes the team who they are. They are all great friends, they support each other and new players who join, and they are strongest as a whole. They make me roar with laughter, they frustrate me and make me give them the 'mum' look, and they drive me to be a better coach.
My philosophy is that if you attend training and work well with positivity, you play in the games. It doesn't matter if you have been playing 6 months or 6 years. As much as possible, I give equal game time to all the players. The players know and appreciate this. As do the parents. The player in right back and who has never score a goal is just as important as the player who bangs in double-figures during the season. Their team ethos and friendship is exemplary and I do my upmost to facilitate and encourage this. I honestly believe this is why the girls have been as successful as they have this year. You could have some technically excellent players, but without teamwork it's irrelevant.
I have also been exceptionally lucky to have a fantastic FA Coach Mentor, Toni Wellings. Toni frequently comes to watch me deliver sessions, and will always provide positive and constructive advice that has undoubtedly improved me as a coach. More importantly, she has boosted my confidence when I have needed it. When I have doubted my capabilities. When you sometimes need to hear 'you are doing a good job'. I have no doubt that Toni is one of the reasons that not only I coach, but I have the desire to be a better coach, and to continually develop to ensure myself and the team get the best experience possible.
Don't stop now!
Looking forward, the club have been 'encouraging' me again, so it seems likely that I will soon be undertaking a level 2 course. Still unfit, still middle aged, still unable to deliver a ball into the top right hand corner of the net! But now with the confidence of the following knowledge; I am doing a good job, the girls I coach love their football, just watch them and you will see. I have lots of skills, apart from kicking a ball that makes me a good coach. The most important skill being, relating to and understanding the players.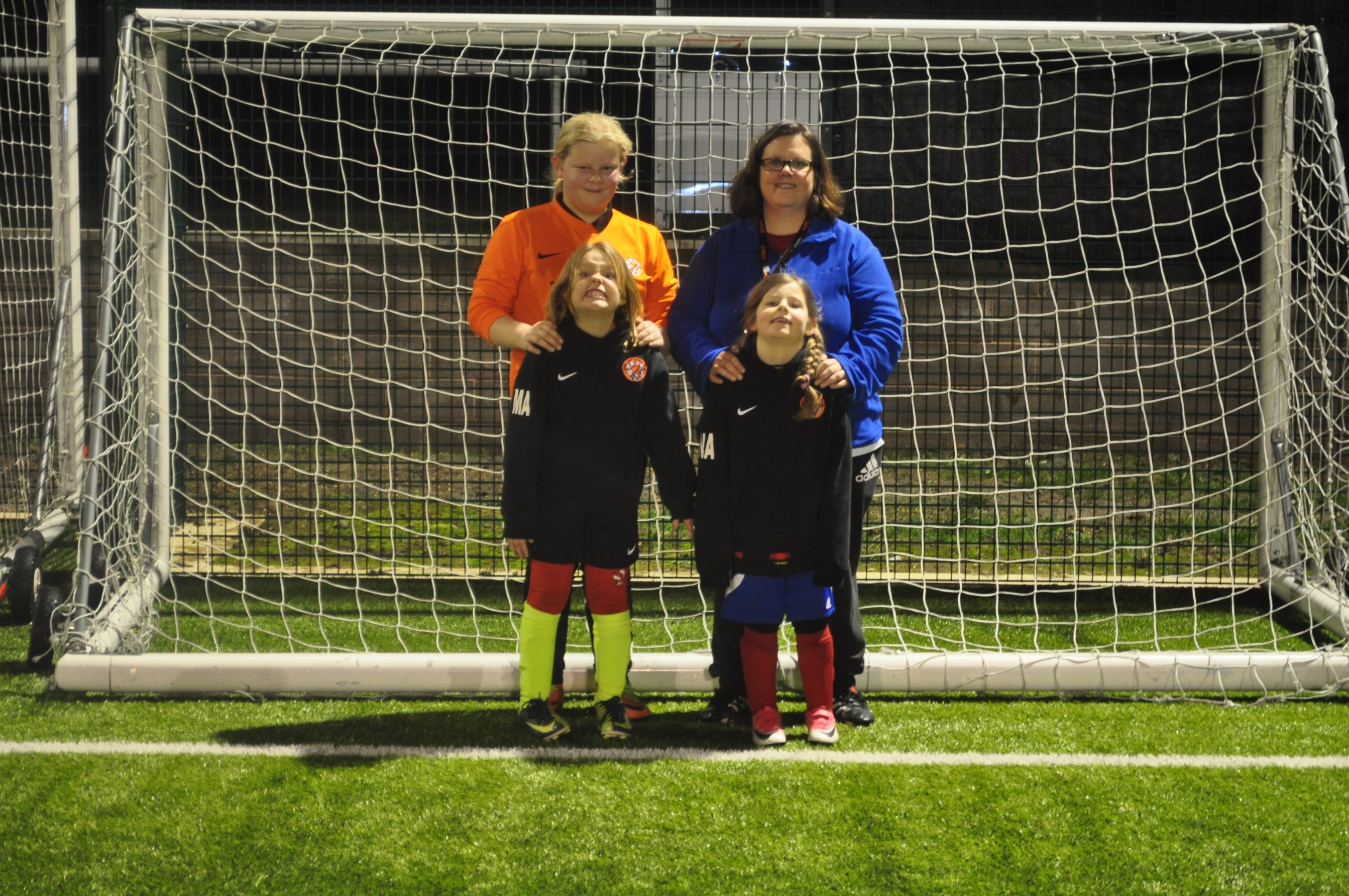 The biggest challenge for me to currently figure out in the short term is that I am not just a coach; I am also a 'footy mum'. I have two daughters already playing in the league at two different age groups and the third daughter has just expressed a desire to play league games as well. So basically, my husband and I now need to sort out logistics of 3 kids, 3 games (in different places) and 2 cars…..
I have started to see more female coaches at grassroots, which is great to see. Whatever the FA and Football Foundation can do to encourage and support more female coaches, referees, managers etc. into girls' grassroots football, the better it will be for the female game.
And honestly, if I can do it, anyone can.
Why do I coach? When I see them smiling, with their arms around each other, covered in mud, with pink faces. That's why I coach.
The site which Rugby Town girls play on has received over £1m of funding from the Football Foundation since 2000.
The Football Foundation's three core Funding Partners are The Premier League, The FA and the government.