Angela Addison is enjoying a breakthrough season at Tottenham Hotspur in which she's scored her first top-flight goal and earned regular selection under new head coach Rehanne Skinner.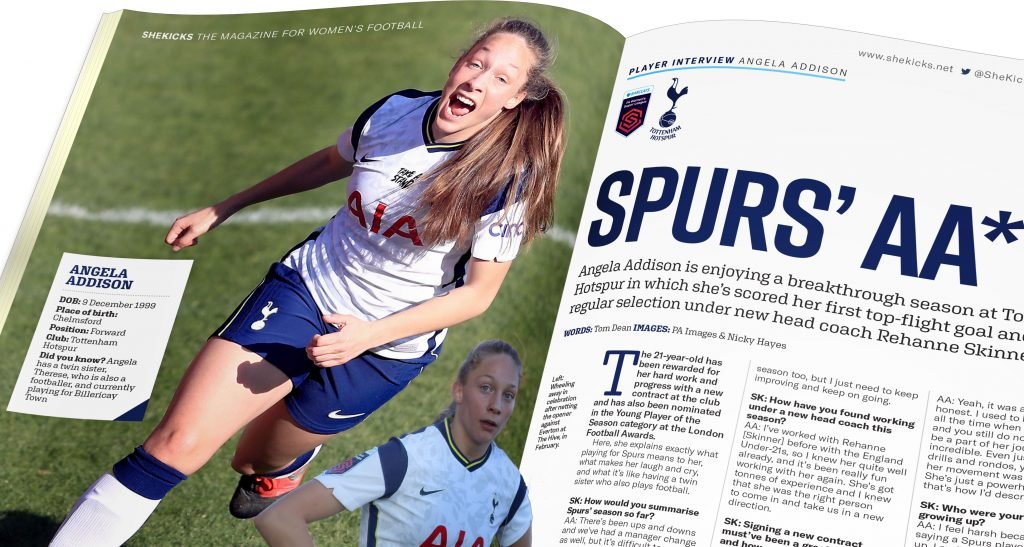 The 21-year-old has been rewarded for her hard work and progress with with a new contract at the club and has also been nominated in the Young Player of the Season category at the London Football Awards.
Here, she explains exactly what playing for Spurs means to her, what makes her laugh and cry.
SK: How would you summarise Spurs' season so far?
AA: There's been ups and downs and we've had a manager change as well, but it's difficult to say exactly where we are until we've played the same number of games as the teams around us. We can definitely still push for the top half of the table, though, for sure.
SK: And how about from a personal perspective?
AA: I am really happy with how I've been progressing this season and I've been playing a lot more games, so I'm really happy and proud of myself for that. My stats are already higher than last season too, but I just need to keep improving and keep on going.
SK: Signing a new contract must've been a great feeling, and how much does playing for Spurs mean to you?
AA: It's such a big club and it feels incredible to pull on the shirt every day. For me, just being able to tell people that I'm a Spurs player is a great feeling, so the new contract is exactly what I wanted. It's the same feeling at the club in the men's and women's team at the moment; we're going somewhere, and it's going to be big.
SK: How did you find working with Alex Morgan while she was at the club?
AA: Yeah, it was amazing, to be honest. I used to hear about her all the time when I was younger and you still do now, and to just be a part of her journey was incredible. Even just in shooting drills and rondos, you could see her movement was really good. She's just a powerhouse really, that's how I'd describe her.
SK: Who were your role models growing up?
AA: I feel harsh because I'm not saying a Spurs player, but growing up, I really loved Neymar. He was probably the one player I looked up to the most, especially during his Barcelona days, and what he's done with the Brazil national team. I wouldn't say I've ever really based my game on him, though – we aren't that similar as players – but I've always admired him.
SK: What do you think of Arsenal?
AA: We need to beat them. We nearly did it in the Conti Cup this season when we drew 1-1 and then lost on penalties. Disliking them should just be in your DNA if you are a Spurs fan. But we've only been in the top flight for a couple of seasons and haven't been able to be too competitive yet. I know personally I want to beat them, 100 per cent.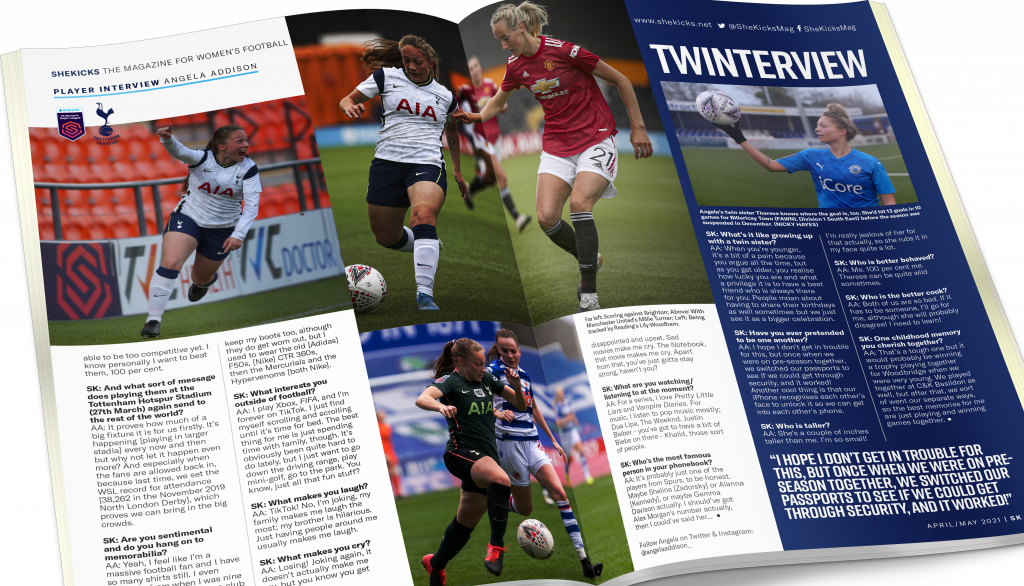 SK: And what sort of message does playing them at the Tottenham Hotspur Stadium (27th March) again send to the rest of the world?
AA: It proves how much of a big fixture it is for us firstly. It's happening [playing in larger stadia] every now and then but why not let it happen even more? And especially when the fans are allowed back in, because last time, we set the WSL record for attendance [38,262 in the November 2019 North London Derby], which proves we can bring in the big crowds.
SK: Are you sentimental and do you hang on to memorabilia?
AA: Yeah, I feel like I'm a massive football fan and I have so many shirts still. I even have one from when I was nine years old and playing for a club called Sporting 77. I try and keep my boots too, although they do get worn out, but I used to wear the old [Adidas] F50s, [Nike] CTR 360s, then the Mercurials and the Hypervenoms [both Nike].
SK: What interests you outside of football?
AA: I play Xbox, FIFA, and I'm forever on TikTok. I just find myself scrolling and scrolling until it's time for bed. The best thing for me is just spending time with family, though. It's obviously been quite hard to do lately, but I just want to go down the driving range, play mini-golf, go to the park. You know, just all that fun stuff?
SK: What makes you laugh?
AA: TikTok! No, I'm joking, my family makes me laugh the most; my brother is hilarious. Just having people around me usually makes me laugh.
SK: What makes you cry?
AA: Losing! Joking again, it doesn't actually make me cry, but you know you get disappointed and upset. Sad movies make me cry. The Notebook, that movie makes me cry. Apart
from that, you've just gotta stay strong, haven't you?
SK: What are you watching/listening to at the moment?
AA: For a series, I love Pretty Little Liars and Vampire Diaries. For music, I listen to pop music mostly; Dua Lipa, The Weeknd, Justin Bieber – you've got to have a bit of Biebs on there – Khalid, those sort of people.
SK: Who's the most famous person in your phonebook?
AA: It's probably just one of the players from Spurs, to be honest. Maybe Shelina [Zadorsky] or Alanna [Kennedy], or maybe Gemma Davison actually. I should've got
Alex Morgan's number actually, then I could've said her!
To order the latest issue of She Kicks magazine click here.