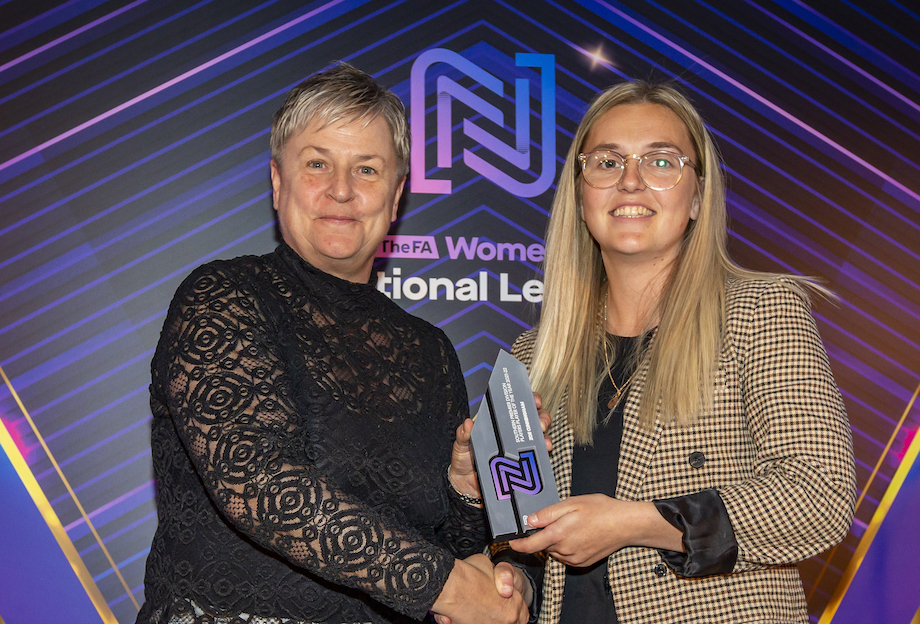 FA Women's National League chair Carol West was absolutely thrilled at the success of a landmark evening in the League's history, its inaugural Awards Dinner at Stockport County's Edgeley Park stadium, reports Tony Leighton.
Celebrating the successes of players, managers and administrators throughout the FAWNL, the event was staged just hours after the National League play-off had been contested on the Edgeley Park pitch.
With 2,014 fans in attendance, Southampton had beaten Wolves 1-0 to clinch a place in the Championship.
As the first ever National League match to be broadcast live by BBC TV it was another huge moment for the League and it perfectly set up the Awards night.
West, speaking at the finale of the evening, told She Kicks: "It's been a fantastic day for us in every respect.
"The play-off was a great advertisement for National League football, two teams going for it from the first whistle to the last and with some great football played.
"The fact that the BBC covered one of our matches for the first time was absolutely massive for us. And Sky Sports were also at the game.
"We've been working on this for so long and it's long overdue, but it's here now and I'm hoping we can use this as a platform to grow the League's profile.
"I think we can also raise our profile with an annual Awards night after a brilliant first one that everybody in the room loved.
"The atmosphere was great, there was a buzz around the room right through the evening and we've had lots of compliments about the event.
"In the past we've had a bit part in the (no longer staged) FA Women's Awards, but to be able to have a bespoke Awards night for our clubs, players, managers, our people, it's just wonderful."
A wonderful evening it was, and prior to the end-of-season celebratory event the League had received some wonderful news on the financial front.
A £1million per annum investment over the next three years is set to be received from the Premier League and West said: "It's amazing, absolutely the biggest thing ever for the National League.
"This money from the Premier League will be put behind our strategy to grow the quality and strength of our League as well as its profile. It will allow us to put in place resources like staff and to invest in our clubs.
"We're an FA-branded League but we don't have the same support or commercial push behind us that the Super League and the Championship get.
"So this investment is a massive opportunity for us, it will enable us to push on independently so we can shape our future." 

Of course the success of Saturday's events, as well as news of the new investment, mean that the wider women's game is the winner but there were also specific individuals and clubs from Tiers 3 and 4 recognised for their efforts and achievements throughout this past season and so Tony Leighton grabbed a word with some of those present to collect their awards…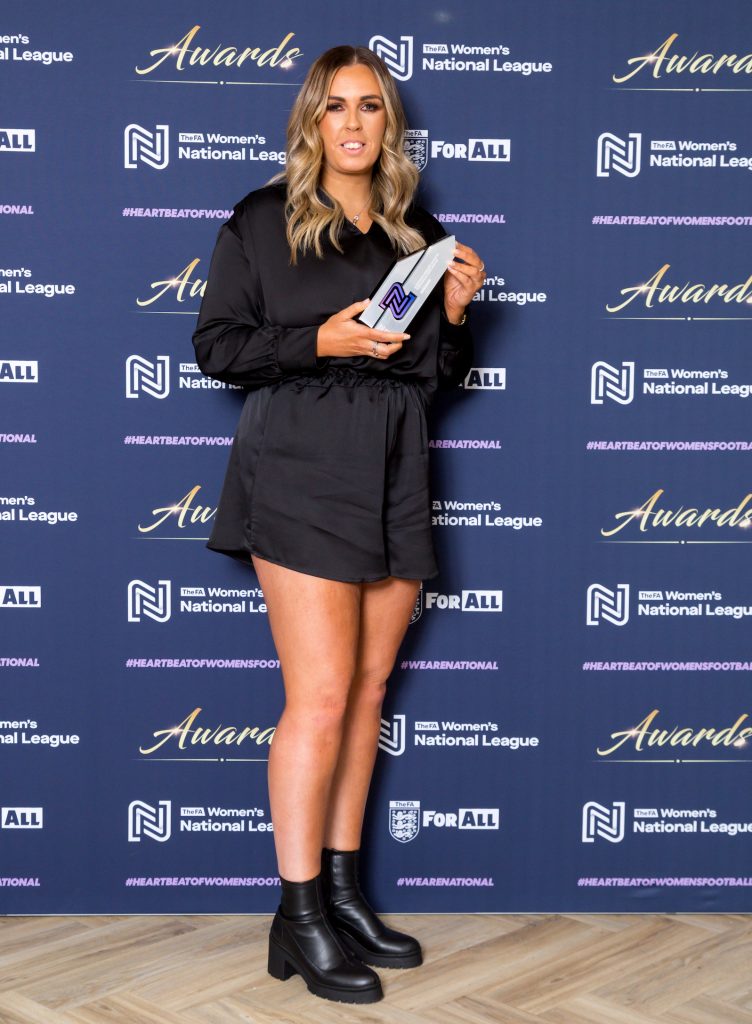 Faye McCoy, Fylde: Top Goalscorer Northern Premier Division
Striker Faye McCoy was delighted to collect her Top Goalscorer award on the National League's gala night.
Fifteen-goal McCoy said: "It's been a brilliant season for me and a brilliant way to end it with this award.
"But I couldn't have got my goals without my team mates creating the chances so all credit to the whole team.
"We finished the season a bit lower in the table (third) than we would have liked, but we were always at the top end of the table.
"It was very tight early on, but credit to Wolves they took their chances and broke away from the pack to finish top.
"We always aim to do better in the next season than the last one, so obviously we'll be looking to be around the top again.
"Can we win it? With the experienced players we've got and some excellent younger players coming through, I don't see why not."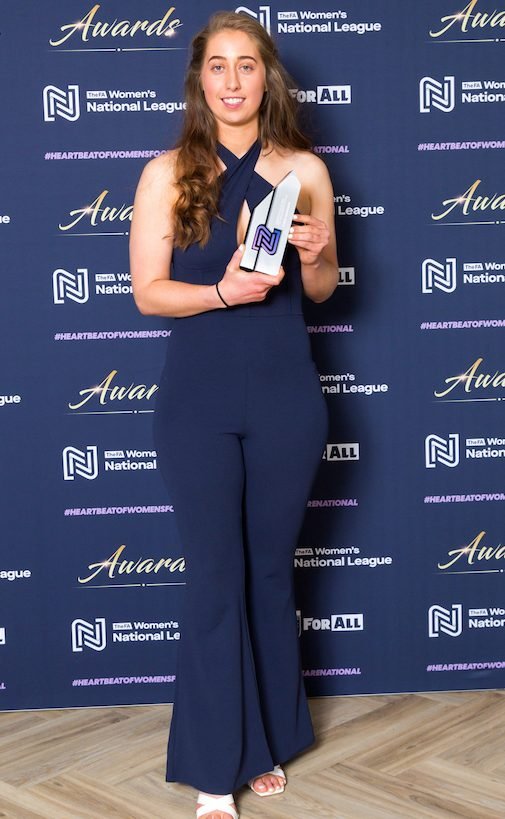 Rachel Derbyshire, Liverpool Feds: Top Goalkeeper Division One North
It was a double celebration for Rachel Derbyshire as she thoroughly enjoyed the National League's first ever Awards night.
Derbyshire was named Division One North's top goalkeeper, with her Liverpool Feds team having gained promotion through winning the division.
"On a personal level and for the team it's been one of the best seasons we've ever had," said the keeper.
"I had 10 or 11 clean sheets in 22 games so that was great, and I kept out a couple of penalties in the League Cup shoot-out when we beat Wolves so that was a big personal highlight.
"We also beat Fylde from the Northern Premier in the County Cup, so we've proved we can beat big teams and as long as we stay together we should be able to stay up next season."
Feds boss Leanne Duffy was named Manager of the Season and Derbyshire added: "Duffy's amazing – one of the best managers I've ever had."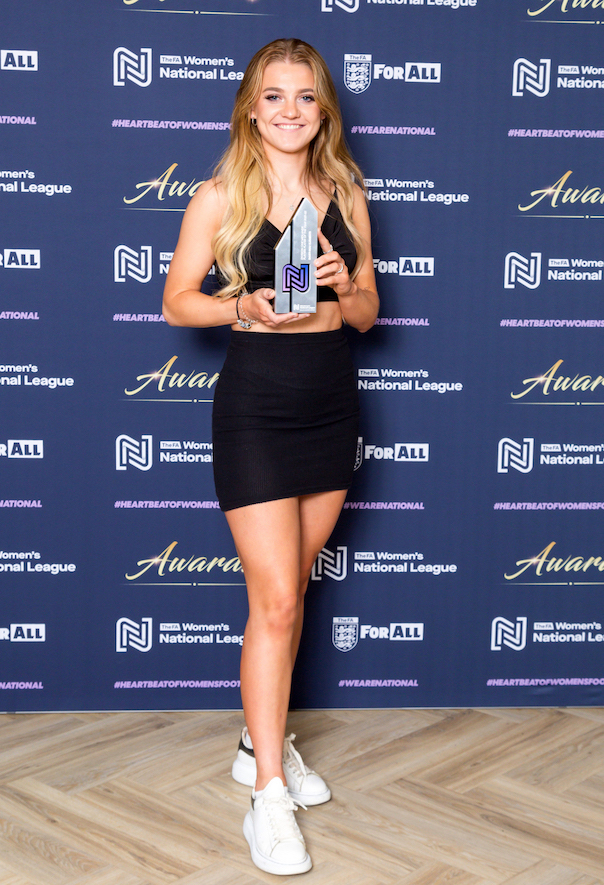 Daisy-Mai Clement, Leafield Athletic: Players' Player of the Season Division One Midlands
Winning the Division One Midlands Players' Player of the Season award was quite an achievement for Daisy-Mai Clement when considering her Leafield Athletic team finished fourth from bottom of the table.
"It's great to get an award like this, voted for by players around the league," said Clement. "I think I've been recognised for the hard work I put in over the season.
"As a team we didn't have a very good start, and it was only when we realised that if we didn't actually get some points we were going to go down.
"We finally switched on and towards the end of the season we were unstoppable – we beat (champions) Boldmere to show what we could do.
"We have to aim to start next season in the way we ended this one, and if we do that we can kick on and be competing at the top end of the table."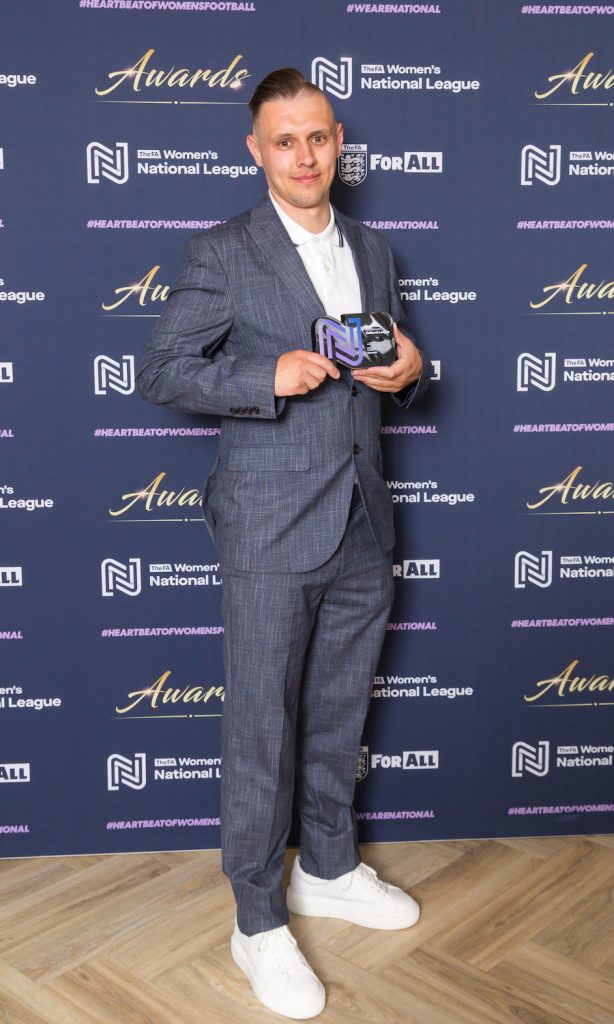 Tom Davies, Cheltenham Town: Manager of the Season, Division One South West
Cheltenham Town will next season be playing in the third tier for the first time in the club's history, so it was fitting that team boss Tom Davies should be named Manager of the Season after leading his side to promotion.
"It's been a fantastic season for us," said Davies. "We had a difficult start, but then we kicked on and carried on believing in what we'd set out to do."
Belief was obviously key to Cheltenham's success, especially when it came to the run-in to the end of the season which saw the title clinched only on the final day.
"It was about belief and trust," said Davies as he collected his award. "I had trust in the players from the get-go and they were phenomenal.
"I knew they had the ability to achieve what they did, it was about making them believe it as well. 
"As we got to the last three games of the season they got that belief in themselves and in the end they delivered.
"The build-up to the last game was a bit nervous, but the day itself was fantastic. We finished it off with a private party to celebrate, and that was a nice send-off to the season.
"I'm so proud to be leading this team into the highest division it's ever played in. It's going to be a very tough and tight division, and our aim is to stay up – anything on top of that will be a bonus.
"We want to build, to set the foundations for the next stage of our journey."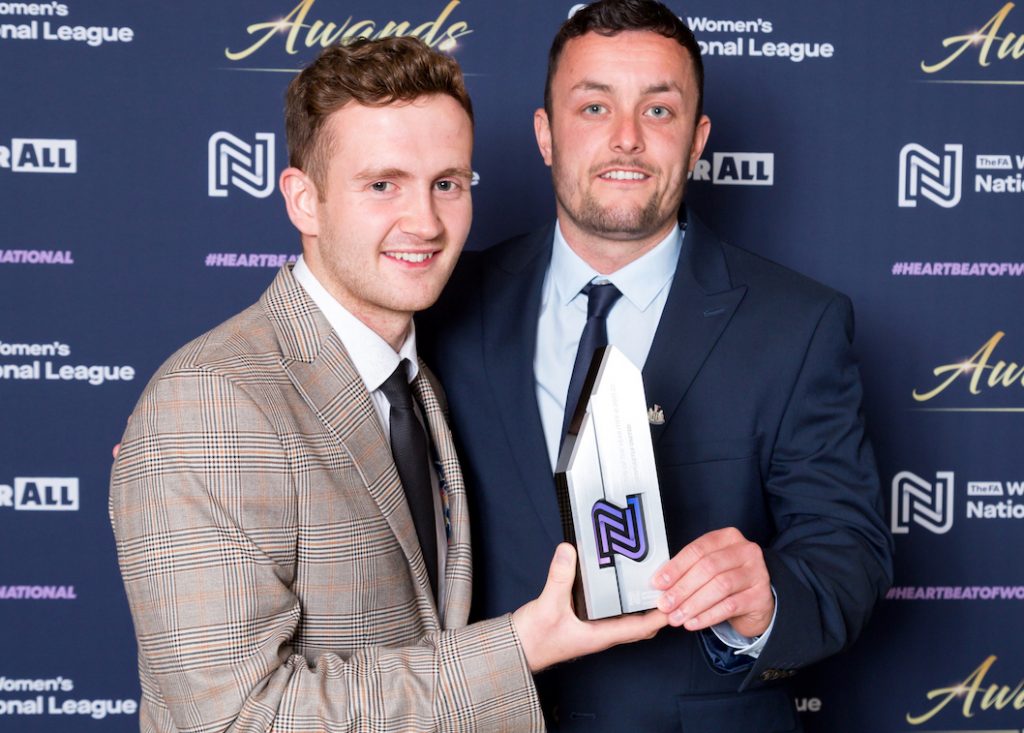 Thomas Gallagher, Newcastle United Assistant Coach: Tier 4 Club of the Year
Newcastle United were not expecting to be named Tier 4's Club of the season, admitted assistant coach Thomas Gallagher as he received the coveted award.
But attracting an incredible crowd of 22,134 to the Division One North fixture against Alnwick Town for the women's team's debut at the Premier League club's iconic St James' Park was surely a help? 
"We honestly didn't expect to get this award," said Gallagher, "but it's very special for us and on a special night for the National League with this first awards event that I'm sure will give a boost to the women's game.
"Attracting 22,000 fans to a women's match was obviously a monumental moment for the players, the staff and the fans but for the owners too."
Along with its parent club, the Newcastle women's team was taken over by a Saudi-led consortium in October and co-owner and club director Amanda Staveley was at the women's game along with her husband Mehrdad Ghodoussi.
"Amanda and all of the owners have communicated with us and met us," added Gallagher. "Financially they can help us but emotionally they care about us too.
"They want to know of any way they can help us and that's a great sign for our future. We've got the foundations and the building blocks, so let's see where we can take it from here."
Newcastle finished the season second in the table but have much higher aspirations. "We want to eventually reach the Super League," said Gallagher, "but there's no pressure being put on us.
"It's all about progression – we want to achieve things in the right way, the most efficient way."