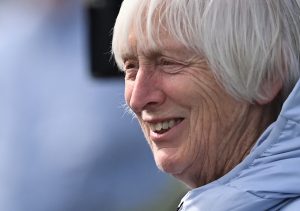 Baroness Sue Campbell, the FA's director of women's football, pledged the support that will help grow Tiers 3 and 4 of the pyramid as she spoke at the Women's National League's inaugural Awards Dinner on Saturday evening, reports Tony Leighton.
With a new FA women's football strategy to be launched on Tuesday and with a £1million per annum investment over the next three years from the Premier League, the top two tiers of the National League are set for a massive boost.
Campbell was speaking to a packed events hall at Stockport County, where on the club's pitch hours earlier Southampton had beaten Wolves in the National League play-off for a place in the Championship.
Addressing National League players, coaches and administrators, she said: "The work you're all doing to make Tier 3 and Tier 4 stronger, more vibrant, more successful, is something we are all committed to support you with, to grow the support for these two divisions because you are the heart of football.
"We've got some investment over the next three years, but that's not the end of it, it's just the beginning. 
"As we move forward with our strategy it's not going to prop up my coffee table, we're going to turn it into action and we're going to really drive and support you over the next few years. We can't get it all right straight away, but we're going to give you our best, best effort."