The 2018/2019 season is almost upon us and so to get you in the mood for the action ahead, we're trawling the top three tiers of the newly re-branded women's pyramid to get the lowdown on the atmosphere, expectations, horrors and delights of pre-season from the on-field talents putting in the hard yards and the coaches barking the orders and shaping their teams…
We're checking in with clubs in the new-look FA Women's National League (formerly the FA WPL) and this time we're heading all the way to Gloucestershire, to hear from Cheltenham Town LFC, 9th-place finishers last season in the South West Division One. We hear from midfielder Louise Fensome, who is heading into her fourth season with the club, as well as First Team Manager, Alex Cheal.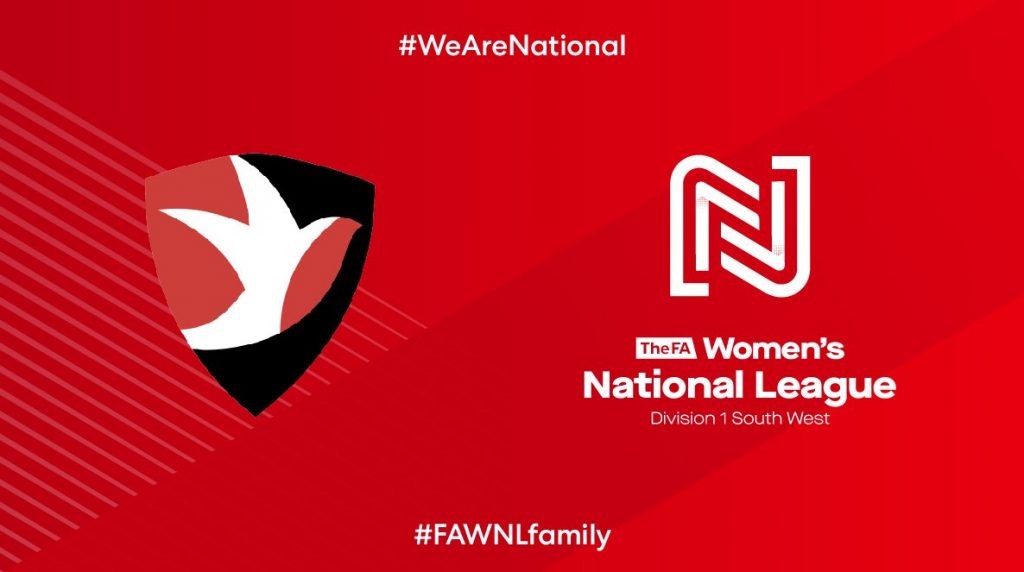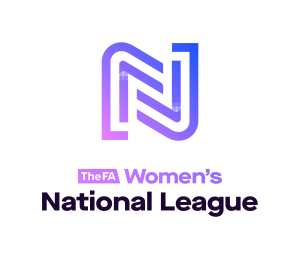 LOUISE FENSOME (CHELTENHAM TOWN LFC, CENTRAL MIDFIELD)
SK: How did the close-season break go for you – what did you get up to/how did you relax/unwind/stay in shape?
LF: I have chilled out after a tough season and looked forward to getting back playing. I have been down to Devon surfing a lot, went on holiday to Cyprus to visit family, as well as enjoying the sunshine in England.
SK: How were you feeling on the first day back?
LF: It was great to have the first session back at Cheltenham. This is now my fourth season with the club and I believe that it is going to be our best yet. As a team, we only had a short break away from the field, but it felt really good to be back and training all together.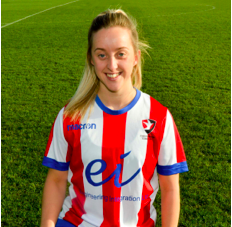 SK: What did the players do on the first day back?
LF: At the first session back there was a lot of ball work and of course fitness. The fitness part wasn't too bad as it involved a lot of competition to keep everyone engaged in the session.
SK: How many new faces are there in the squad and how do you make them feel welcome? (Any initiations to look forward to or things they have to do)?
LF: There are quite a lot of old and new faces making our squad stronger than before. We have new coaching staff as well, which is exciting! In regards to initiations, I am not too sure there will be any, apart from the standard water fight because of the hot weather.
SK: Who's been first in the running/fitness sessions?
LF: Obviously me! Only joking. I think it would be unfair to say – we are a team and it's a joint effort!
SK: What has been the best thing about being back (and what has been the worst!)?
LF: I can safely say the worst thing about being back is fitness, fitness, fitness! It is definitely a word that no one likes to hear! The best thing is being back playing and being part of the team environment.
SK: Who's been the comedian, making everyone laugh? (If there's been time or energy for that…)
LF: I think there is competition between a few players on who the comedian is, but if I can cut it down to two players, that would be Kayleigh Hateley and Bec Pan. They are a pair of jokers.
SK: Who's been the chattiest?
LF: 100% Suze Berry. She loves a chinwag!
SK: Who's come back in the fanciest new footwear?
LF: Sam Morris. She can't do her laces, so now she has the Adidas ACE boots that have no laces.
SK: Who has come back with the best tan (and/or tanlines)?
LF: I would have to definitely say Sarah Walters – she has got a cracking tan on her at the moment! Or actually, all year round.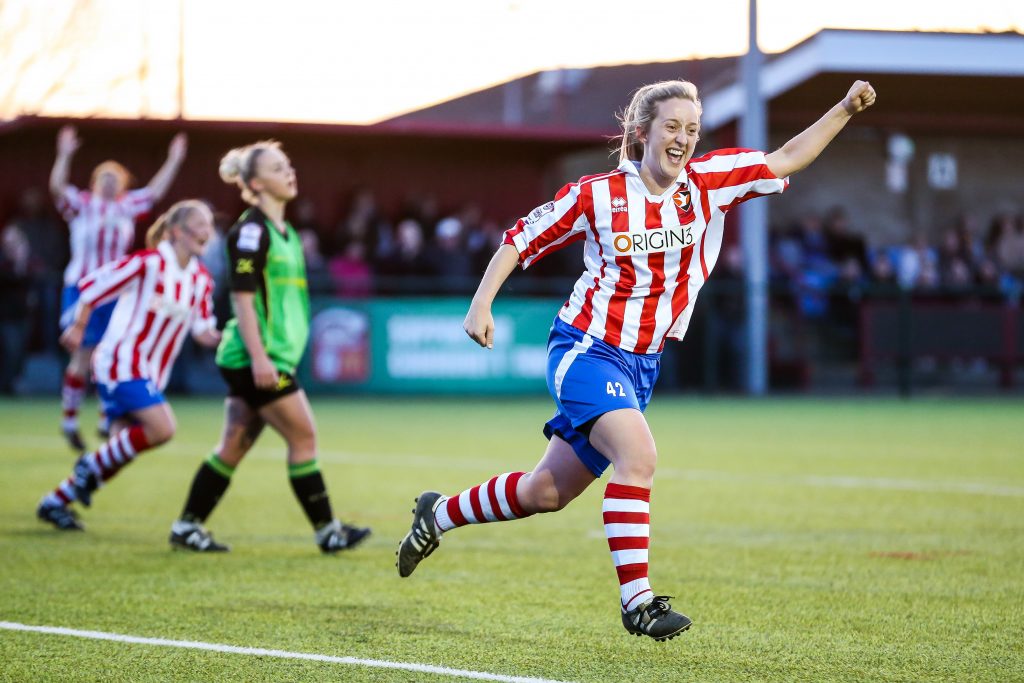 SK: Who will put the most effort into preening and looking their best for the pre-season photo shoots?
LF: A very difficult decision. As she has been part of two photo shoots recently I will have to say Ellie Briscoe. She is photo-happy at the moment.
SK: Who is looking really sharp and in-form on the field, in pre-season?
LF: My opinion, looking sharp and on-form would be Rose Knuckey. She suffered from an ongoing injury for the past couple of years but is pulling through it and has gone back to her original position, striker.
SK: Any personal targets you've set yourself for the upcoming season?
LF: A personal target for me is showing people what I am about and doing what is best for the team. And scoring more goals than I did last season!
SK: Any facts, hidden talents or funny things you can tell us about one of your team mates that we might not know?
LF: Our goalkeeper Bec Pan was bitten by a shark one time.
SK: Who will be your team's or your own biggest fan?
LF: Our team's biggest fan has got to be Kree Corner. What a legend she is at every game!
SK: What is your home ground like and any tips for newbies turning up?
LF: We play at the DN Fire Station in Cheltenham. Get yourself along and see if you can find the man of all trades Ian Purvis; he will chat to you all day long and make you feel most welcome.
SK: What can we expect to see from your team and why should SK readers get behind your team in the upcoming season?
LF: This season is going to be a very exciting one! With a lot of old and new faces, along with a lot of experience within the club, we have a team people should definitely look out for. The type of football will definitely keep our supporters on the edge of their seats!
Follow Louise on Twitter: @fenoo16
And now we quickly zoom over to hear from…
ALEX CHEAL (CHELTENHAM TOWN LFC) FIRST TEAM MANAGER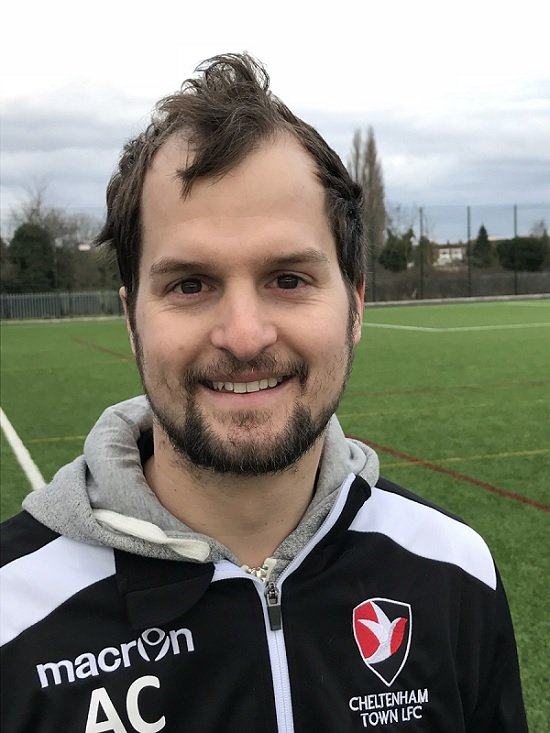 SK: What's been the key/most important task for you and your staff this summer break?
AC: The biggest task for us has been to attract the players we had identified. I had set a pre-season schedule before the season had ended and lined up the fixtures so life was made much easier and freed us up to concentrate on improving the area that was desperately needed. We identified 5/6 players that I knew via previous roles and set about approaching them when we were able to. The club speaks for itself in terms of its support from the men's setup and the infrastructure we have now put in place.
SK: Aside from readying the squad in terms of match fitness, what is the single most important message you hope you get across to the team for the upcoming season?
AC: There has always been an issue with commitment and players feeling comfortable in their roles. This has been challenging to get rid of in the past five months since taking charge, but with fresh faces coming in, it has almost had a domino effect on the rest.
SK: What have you or are you enjoying most about pre-season?
AC: I'm enjoying the challenge. I have done pre-seasons before at other clubs, but the scale of change here at Cheltenham has been the enjoyable aspect. New players coming in, last season's players improving as a result, and this in turn has an effect on performances.
SK: What is the most exciting thing about the upcoming season for you and the club?
AC: Seeing where this journey takes us. I have a vision for this club and I don't think we are far away from where we want to be. The signs so far are positive but you can never get carried away, as the results of the season dictates how successful our preparation has been.
Follow Alex on Twitter: @ChealAlex