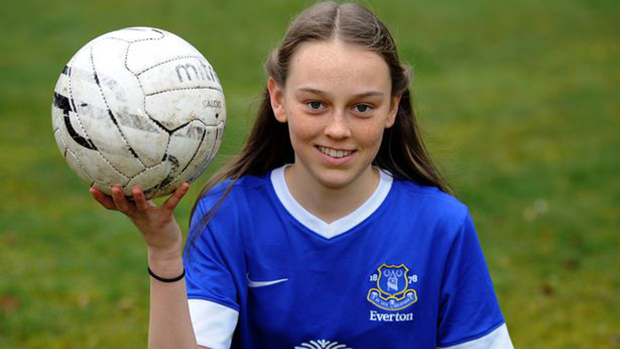 The Zoe Tynan Tournament, which is held in memory of England U-19 international Zoe Tynan, returns to Merseyside this Saturday (21st May) after a two-year absence. The last tournament was held in 2019, with 32 teams taking part in three age group competitions and was another tremendous success and raised important funds for charity. The organisers, from Zoe's childhood club Liverpool Feds and in conjunction with Zoe's family, have again invited entries from girls' teams at U10, U12 and U14 levels and will be raising money for If U Care Share and the Darby Rimmer MND Foundation.
One of the ways that the tournament generates donations is through their raffles/tombola and several of Zoe's former team mates at Everton and Manchester City continue to support the cause by generously offering prizes and often their time too. It is absolutely and intentionally a fun day for the players taking part but also pays positive tribute to a young woman greatly missed. We at She Kicks are always proud to offer magazines and occasionally other items to assist because the messages that Zoe's mum Alison and everyone associated with the tournament always try to get across are so valuable: you should always try to enjoy your football and if you have any problems, concerns, worries or sadness then please talk to someone about them. It could be a team mate, a coach, a family member or friend, or a helpline or similar but don't suffer alone because there are always people there to listen. As their hashtag puts it: #ZOnEintotalking
Zoe tragically died in 2016 but she is still very much in the thoughts of those who knew her and played alongside her. England and Manchester City goalkeeper Karen Bardsley has just retired from the game at the end of this season due to injury. It was a painful decision forced upon her prematurely – which will certainly and understandably take some to time adjust to – but many who knew Zoe remember her fondly and it continues to offer a sense of perspective in difficult moments:
"That was something that obviously impacted us massively and still does to this day. There's a tournament every year in her [Zoe's] name that Jill [Scott], Steph [Houghton] and I try to make some sort of contribution too with the rest of the City girls. She was a great kid and I think what I really took away from that was there were moments when I felt a bit like that and I'm glad I never did anything to take action.
"It makes you realise that there really needs to be some sort of responsibility from The FA and various groups in the sport in general to make sure there are coping mechanisms or support in place to help people understand that it's [football's] one element of your life and it's not the be-all and end-all no matter how much you want it. If things don't go your way it doesn't necessarily mean that another opportunity is not going to pop its head up somewhere else down the line.
"What I try to remind people I work with is that not everyone's journey is linear. There is always going to be ups and downs. There's lots of different ways to get from point A to point B. That season, we all had our own reflections but it made you realise what was really important. That was probably one reason we ended up doing so well that season [winning the FAWSL and Conti Cup double] – we were all there for each other."
We will bring you a report from Saturday's action next week but in the meantime give them a follow on instagram: @thezoetynantournament
You might also want to check out this important and moving podcast with Zoe's mum Alison (here's a teaser): Football Journeys Podcast – Alison Tynan – YouTube