Hello again, it is the summer holidays, the sun is shining and although school is over there is still lots of football to tell you about and I am not talking about the World Cup. As the school term and football trials ended I got to find out who I will be playing with next season in the Under 14s team, lots of old faces and some new.  My first couple of pre-season training sessions have been really good fun.
July was a brilliant month. We had an induction evening the first training session and we got to be ball girls at an England U18 match, and I even met Phill Neville! I really enjoyed watching the match and it really inspired me. Imagine how amazing it would be to be in that team! The final score was England 2-0 Northern Ireland. I was really impressed by the standard of football in that match and it's really made me want to go far with football. I thought all the girls were really good role models as they were all really strong, healthy, fit and just never gave up no matter what. Also what really inspired me was the team spirit of the England girls and how they all  supported and encouraged each other.The biggest highlight of my day was meeting Phill Neville and having a photo taken with him. (Hopefully he might be my manager one day!).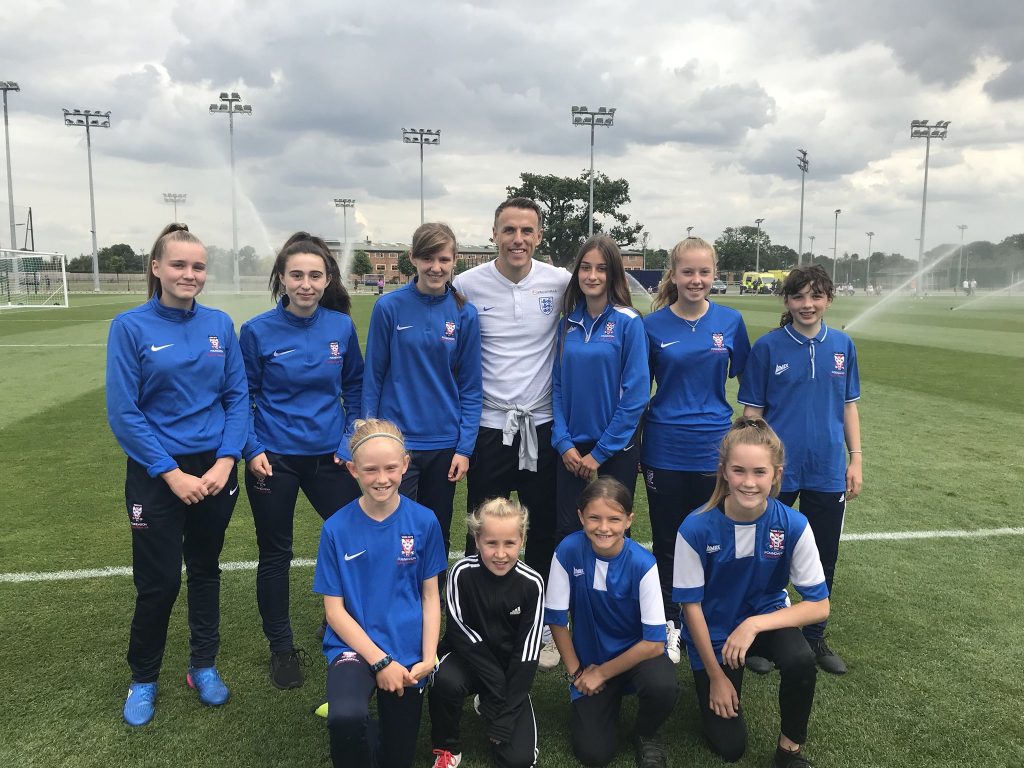 In my last blog I said that I'll tell you how I'm going to keep fit over the summer so now I'll tell you what I have been doing. I'm going to start running with my mum and my dog which she is really looking forward to (not!). And most importantly I've been kicking a ball against a wall for hours on end! In my family we keep 'everyday fit', this means that we always take the stairs not the escalator, we walk or cycle everywhere instead of taking the car and we try to eat super healthy (although we do have the odd bacon sandwich!).
Also I'm really looking forward to the Women's World Cup next year and I've made my dad promise that he will take me to France and he can't change his mind now I've written it down in print! (❤️ IT! – SK Ed) I'm going to the Lake District for a week so I'll go on lots of really long walks and I'm going to Italy for two weeks too. I am hoping to play lots of football in the sun and also eat lots of pizza and ice cream!
So we will speak again in the new term when my football season has really got started. I already have lots of fixtures on the calendar and I am really excited about playing against the other U14 RTCs teams from places like Everton and Manchester City. They will be a real challenge but I am up for it!
Have a good rest of the summer and remember life is always better with a football at your feet
Thanks, Ella ⚽️