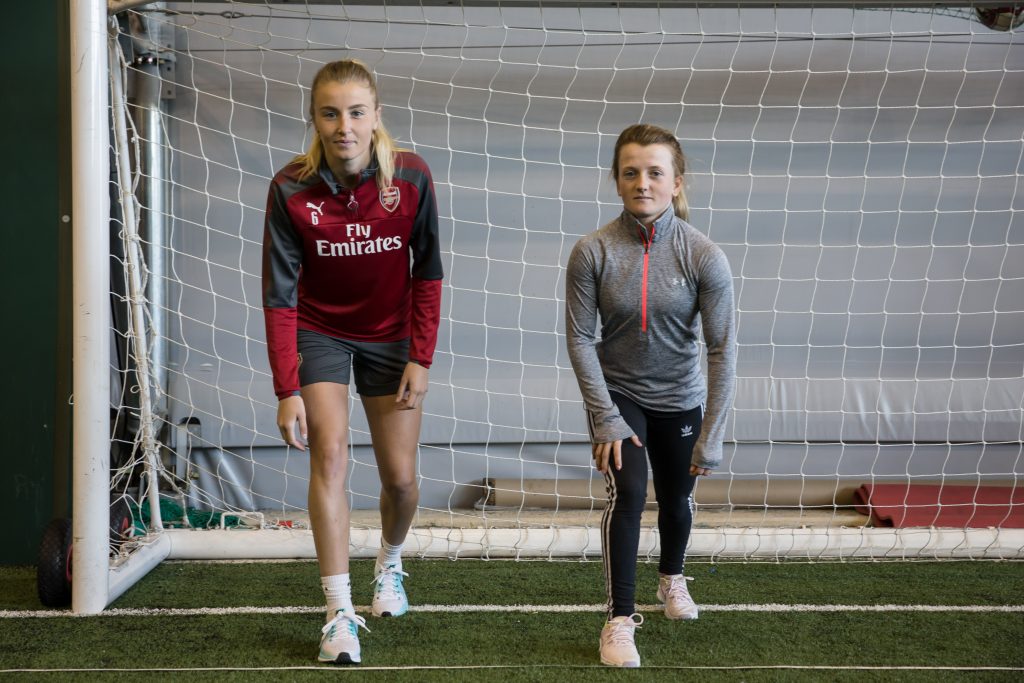 We love showcasing talented and driven young athletes and here's something that landed in our inbox this morning and we were happy to share, as an Arsenal and England starlet takes on a budding Great British Racing and SILK Series jockey in a series of hotly contested fitness tests…
Despite both being only 21 years old, Leah Williamson and Hollie Doyle have already experienced huge success in their respective sports with Hollie recording 114 race wins in her career to date, and Leah a two-time Women's FA Cup winner, who has recently been called up by England ahead of their friendly against Russia on Friday.
Both athletes showcased their remarkable athletic ability during the challenge, held at Arsenal FC's training centre, and provided some unexpected results in the four tests they undertook which included a 10m sprint; a squat hold; a plank; and a broad jump.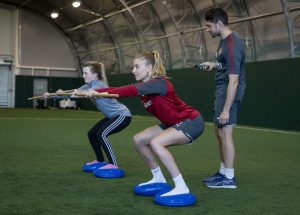 Hollie Doyle, a Silk Series ambassador – a race series specifically for female jockeys, said: "It was a great challenge! Very tough, but really fun. Leah is hugely talented, but I hope I've proven that jockeys are professional athletes and equally as fit as other sports people."
Leah Williamson said: "Hollie is an incredibly tough competitor and demonstrated the high fitness levels and talent jockeys have. It was a really enjoyable experience and proved to me just how dedicated we need to be with our fitness in order to reach the top of our respective sports."
With Leah covering an average of 10km every football match and Hollie rarely doing any sprint training, the Arsenal player was expected to win the 10m sprint in the opening round. However, Hollie showed incredible pace off the mark to cause an upset, crossing the 10m line in 2.14 seconds, ahead of Leah's time of 2.23 seconds.
Turning the tables on Hollie, Leah caused an upset of her own and stormed to victory in the plank test – an exercise frequently practised by jockeys to build the core muscle strength necessary to control a thoroughbred racehorse travelling at speeds of 40mph.
With two surprising results on either side, watch the full video to find out how the rest of the Jockey vs Footballer challenge unfolded:
The challenge was led by Arsenal Ladies' Strength and Conditioning Coach, Cairbre Ó'Caireallain, who said: "Both women are a credit to their sports. I am lucky enough to see how hard Leah works every day, but it was really refreshing to see Hollie put Leah through her paces. Hollie is equally strong in terms of fitness levels and proved that jockeys are just as fit as footballers. Well done to both for putting on a great challenge."
Yariv Kam, fitness coach at the British Racing School, commented on the challenge: "In beating Leah in the sprint, Hollie has shown she's got some serious explosive ability and power and it shows just how fit she is. Jockeys do need this sort of fitness in the finish for the last furlong for the sprint, however you'd still expect the professional footballer to be better in an explosive test. Then again it is a bit surprising that Hollie lost an isometric exercise in the plank, so fair play to both athletes!
"On balance Hollie has done really well, she's shown jockeys have got nothing to be ashamed of compared to other professional athletes. She has nearly beaten a professional footballer in four tough fitness contests so I'm pleasantly surprised, well done Hollie!"
(Last year two-time Grand National winning jockey, Leighton Aspell drew 2-2 against the all-time leading record Aviva Premiership try scorer, Tom Varndell in a jockey vs rugby player challenge.)