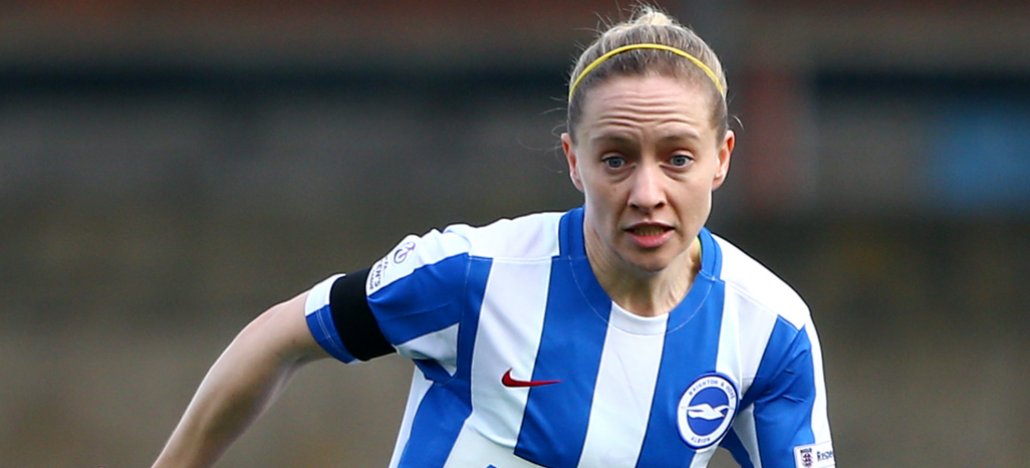 The big kick off for the FA Women's Super League is almost here, with 20 teams competing across FA WSL1 and 2 in the new winter format. Key players from every club came together to meet the media at Wembley Stadium in London and we muscled our way in there too. You will probably have read all the really serious pre-season stories, but we figured it might be nice to ask the players about some silly stuff too. Here are the last of our interviews…
Vicky Ashton-Jones Brighton & Hove Albion
Defender Vicky Ashton-Jones kicked off her football career as a youngster at primary school before joining Gillingham then Charlton Athletic. The 30-year-old police officer signed for Brighton in 2014 and captained the side to WSL promotion.
SK: So, Vicky, how's pre-season going?
VA-J: Really well, it's at a really good tempo, a hard slog but you wouldn't want it any other way. I forget how intense and hard pre-season is and I'm like, why am I putting myself through this again!? But it's worth it.
SK: What's been the hardest part so far?
VA-J: We train three times a week, they're all intense sessions where we do at least an hour of a quite intense football and then strength and conditioning training. You grind it out because once it's done you feel much better for it. We're lucky, we have a pool at the training ground so at the end of the week we can go and have a recovery session and you feel much, much better for the weekend.
SK: Anyone in particular looking good?
VA-J: Ini Umotong we've got from Oxford, you look at her goalscoring record, it's sublime and I think she's only going to continue that with us. It's maybe something we were missing out on last year, but give her the ball and she'll score you goals, so I think she'll be one to watch.
SK: What is your squad number and why?
VA-J: It's normally No.6, I have been for the last three years. I really like even numbers and it's relative to my position so now I always look for my No.6 shirt, it's something that becomes a bit of you and it's my number now, hopefully!
SK: Bought new shinnys and boots?
VA-J: I have treated myself to a new pair of boots, Nike Tiempos, extremely light, really comfortable, expensive don't get me wrong, but they're ideal. I don't like having boots that everyone else has got. My last boots were handmade Italian leather boots, they were just a classic looking boot, a bit old school and I just like to be a different and at the minute, none of my girls have these boots so that's what I'm going with. I've got the tiniest Nike shin pads, probably not a great idea when you're a centre back. They're not new, I like to keep shin pads forever, they are just your trusty shin pads, reliable! In 10 years I've probably only had three pairs, which is a bit minging but I do keep them fresh.
SK: Do you have an initiation for new players at Brighton?
VA-J: It's usually singing in front of the team and get them to tell a bit about themselves on the coach or in the hotel on an away fixture.
SK: It's going to be a winter league, how will you stay warm?
VA-J: Lots of Under Armour, I'm very tactical, I have one for the first half and another for the second. You come out and are extremely cold and it can affect the start of the second half I think because you're so focused on how cold you are, to be switched on from the get-go, it adds a bit of a barrier so I feel much better having the two. And maybe gloves.
SK: When's your favourite time to play a match?
VA-J: I prefer afternoon games because you get your evening but there's something about night games, the atmosphere is very different, crowd attendance can sometimes be better, you can prepare slightly differently for it which sometimes makes it a bit more special.
SK: Do you have a good fan base at Brighton?
VA-J: Yes, we get a lot of families and we do have three fans who follow us everywhere, they've been with us now for several years and without fail, they're there. It's amazing and they got invited to our end of season do.
SK: Who is last out of the changing rooms?
VA-J: I'm not the quickest getting out afterwards, but there's a few of us, Kirsty Barton takes ages.
SK: Who has the cheesiest taste in music?
VA-J: Fliss Gibbons without a doubt. She will listen to anything from the Sixties up until the current day and it can be anything from Sweet Caroline to Steps, Spice Girls to dance, RnB.
SK: Who is the first asleep on the coach?
VA-J: Me. I do shift work so sleep for me is very rare so I try to grab any minute that I can. The bus is usually quite lively, we get spoilt, we have the VIP coach so there's PlayStations to keep the girls entertained. We play games, there's TVs so we'll watch films, there's music, a kitchen area so you can eat.
SK: Who always sits at the back?
VA-J: Laura Rafferty is always at the back, she's like a naughty schoolgirl, putting her music on and getting on to the PlayStation.
SK: Who do you tip for the WSL1 title?
VA-J: Us for WSL2. I do think we'll be up there pushing for it.
SK: Looking forward to working with Hope Powell?
VA-J: I can't wait. I'm really excited, what she'll bring in, the experience, everything about her, I'm 30 years old and I know I'll learn a host of things from her. I think we should just take on board everything she says, yes she's going to have different ways of doing things but there's a reason for that and she's not got where she is today without knowing her stuff. I think we're all really excited for her to get going.
Featured photo – The FA via Getty Images
---
Ashlee Hincks, Millwall
Back in the day, Ashlee Hincks won the League Cup with Charlton Athletic under current Watford boss Keith Boanas. The striker has experience of two FA Women's Cup finals, finishing as runner-up with both the Addicks and Chelsea, and played in Iceland for a spell. Now in her third season with Millwall, the former England youth player has been captain since 2016.
SK: So, how's pre-season going?
AH: Really well, we've great staff around us and great facilities, we've recruited some very good players, so it's so far so good.
SK: What's been the hardest part so far?
AH: Friday nights we train 8 till 10pm and it's pretty hard to motivate yourself for but it's all sessions in the bank.
SK: Anyone in particular looking good?
AH: Hand on heart, everyone. We've got a really good strength and conditioning coach who does really good stuff with us, so everyone looks ready and raring to go.
SK: What is your squad number and why?
AH: No.8. I always had eight as my lucky number and I chose it last season and I'm keeping with it now.
SK: Bought new shinnys and boots?
AH: I only replace shin pads if they're faulty so I've had the same pair for about four seasons. Two pairs of boots every year, same make, only ever Adidas. Size 7!
SK: Is the shinnys a superstition thing?
AH: No a tight thing!
SK: Do you clean them?
AH: Occasionally but not that much if I'm honest. I'm not really a smelly person, like when people take them out in the changing rooms and they stink, mine aren't like that.
SK: Do you have an initiation for new players?
AH: It tends to be a singing thing on the coach on the first away trip but we're maybe going to try a new one this year, don't know what yet but a couple of us are having a think.
SK: When's your favourite time to play a match?
AH: Afternoon. I do quite like evening games. We train 8-10pm and your body gets used to playing at certain times, but I do like Sundays at 2pm.
SK: It's going to be a winter league, any tips on staying warm?
AH: Pack an Under Armour and a big warm coat.
SK: What's said in your team huddle before a game?
AH: It's specific to who we're playing. It's the same sort of message every week in terms of togetherness.
SK: Can you hear the fans when you play and is there a song or chant you listen out for?
AH: Jordan Butler's dad tends to come to most games and you can always without a doubt hear him shouting in the stands. We don't have a chant or group of people who sing, maybe we can get people down to do that because that would be quite fun.
SK: Who is last out of the changing rooms after a game?
AH: Probably Leigh Nicol or Billie Brooks. They take ages in the showers. Dunno what they're doing.
SK: Who has the cheesiest taste in music?
AH: The youngsters are in charge of the speakers and I don't really know what's being played half the time. I don't necessarily think it's cheesy.
SK: Who is the first asleep on the coach?
AH: Julian our goalkeeping coach. Snores! We've got so many videos of him snoring on the coach at like 11am.
SK: Who do you think will win the league?
AH: I honestly don't think you can call it this year, it's so competitive across all teams. We are obviously going to be up there.
Interviews by Catherine Etoe
The FA Women's Super League season kicks-off on 22-24 September. For more information on both leagues and to buy tickets, visit: www.FAWSL.com. Follow the games live on BT Sport, BBC Online and The FA's WSL Facebook page as well as live commentary on BBC Radio 5 Live.