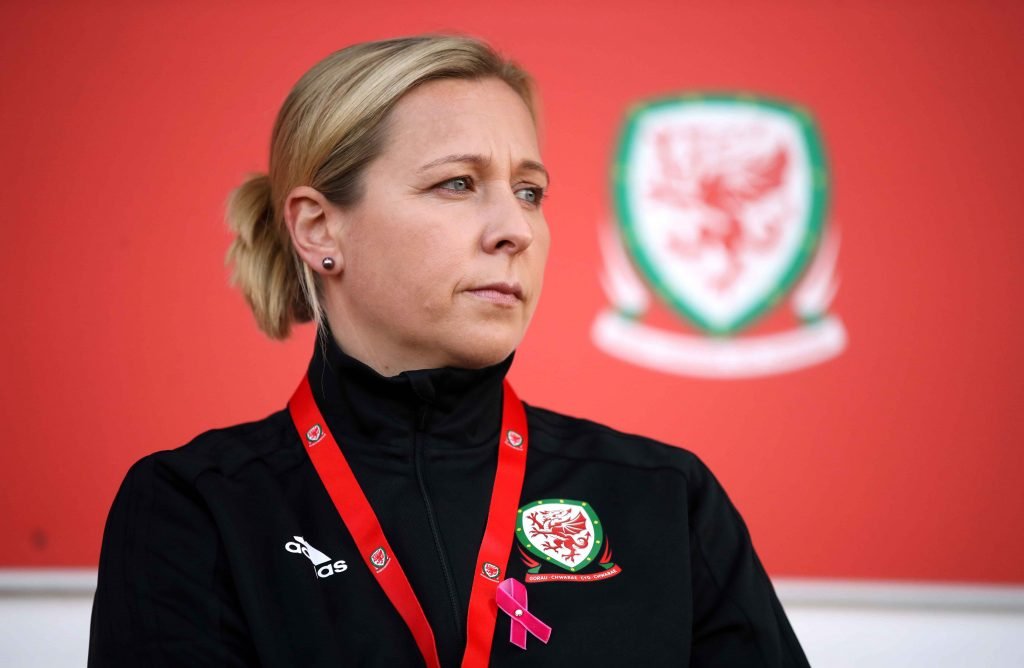 Yesterday saw the FAW (Football Association of Wales) officially launch their #BeFootball campaign for the women's game, marked by a special event in Cardiff. Also incorporated was manager Jayne Ludlow MBE's squad announcement for the opening UEFA Women's EURO 2021 qualifier with Northern Ireland in Newport (Tuesday 3rd September).
Introducing a new brand identity for the women's game @FAWales where we aim to create relevant content that resonates with teens and young adults and utilize our @cymru heroes to inspire the next gen

Get following https://t.co/HgJyJWuzFp#BeFootball pic.twitter.com/b1iD3SdXRs

— Lowri Roberts (@lowri_1987) August 20, 2019
The progress of Welsh women's football during the Arsenal great's near-five-year tenure has been undeniable, with 'Luds' leading her country last year to their highest FIFA ranking (29th) and the cusp of qualification for their very first major tournament. Having narrowly missed out on FIFA Women's World Cup 2019, it all starts again shortly, as Wales bid to book their place at UEFA Women's EURO 2021 in England. In our August issue (SK55), our Coach Kicks feature was indeed with the all-action, goalscoring midfielder from Treherbert – Jayne Ludlow MBE. Here's the extended version of that conversation, in which the one-time Reading boss brought a Rhondda Valley-load of insight and personality. Here goes…
SK: Angharad James told us last year (for SK50) that you're always challenging every individual to be a better player and person, on and off the field. How does that work in practice?
JL: Standards is a word I use a lot, with all our groups. We're still striving to hit the standards I believe we can actually attain as a group, so the individual part of that is huge. In our environment, I'll challenge them to give the best they can in every single thing they do. We do ask them to lead things on camp, whether that be classroom work or pitch bits and pieces, so that they get comfortable communicating effectively with each other, which is not always something that a young female in particular generally wants to do. A lot of the time we're just trying to encourage people out of their comfort zones, because once they figure out that they're not gonna die when they do that they develop very quickly with regard to the communication and leadership bits we need them to develop. Haz (Angharad James) is an interesting one, because everyone believes she's an old player; in the squad they very frequently fail to recognise she's still a youngster, because of the career she's already had from a national team perspective. She's moved recently to challenge herself further (joining Reading), because with all the players we have in the national team, I believe all the levels can still go up. That's not me being negative about them, I just believe they still have growth happening in lots of different ways.
SK: For a young player coming through in the game now, it's a different women's football, a different society even, to when some of your more senior players were emerging. How do you approach acclimatising them to what it takes to be a top-level player?
JL: For us in our environment, we put a big focus on giving young players responsibility so that they learn how important things are, because there's consequences if things aren't right. So it's about being disciplined, and if I'm honest, the environment they have with us, they're probably far more disciplined – and they have to show that on a daily basis in our development programme – than they would be in any other realm of their life, I guess. It's about giving responsibility to them, but also being there to assist when things don't go right. It's an interesting one because people nowadays always say 'oh, the kids get things too easy,' but for us in Wales, it's not necessarily the case. The problem first for young players in Wales is they don't see the top level of the game frequently enough; it's not on their doorstep, so it's about exposure for us. We have talented youngsters and we're still developing a player pathway that can allow them to get to the top level if they're prepared to work hard enough. With young players, it's a much easier path when they're exposed to their idols on a regular basis, so for us, it's far more difficult.
SK: How important do you feel it is to let players properly show their personalities, rather than just saying 'these players have to be exemplary role models at all times for young girls,' which plenty of people who follow and cover the women's game actually disagree with?
JL: I think it's a balance, to be honest. I think from my personal point view as a head coach, I value individuality in my players; I don't expect any single one of them to be the same in all aspects, it's never gonna happen. We don't run our programmes with that in mind. I don't expect them to all be in the same mental state at the same time, for lots of different reasons. We want them to be individuals, because what we do hope by that is that they're their happiest when they are. They have to be disciplined in the environment, they have to conform to certain things, but there's definitely freedom to be who they are as individuals. I actually think it's far more useful for a group to bond and trust each other if that's the case. When it comes to exposure, I don't use social media, and my reason for that is how it can be used from a negative point of view at times. I'm the opposite; I want my life to be full of positivity. Not that it is all the time, but it's what I strive for. Players have to be very careful in how they come across to not just fans but actually the people they work very closely with. I think if they have good advisors, it helps. I think young players in particular can get into a lot of problems with the use of social media if they're not educated effectively.
SK: Reflecting on the England game in Newport last year, with the enormity of the occasion, all the build-up, the visible (and understandable) emotion during the national anthem, do you think that could have detracted from the team's performance at all?
JL: We just weren't good enough. When you analyse the game and the first goal, we made an error in part of our structure that we hadn't done all the way through the campaign, and we put a lot of focus on those areas because they could lead to a goal against us. What was it, the eighth game in the campaign? It's the first time we made that error. It was always going to be difficult to get back into the game once we conceded first. But the emotional content, players may see things differently, because they're the ones performing, they know their energy levels, so I'm not gonna contradict anything my players say. I would say though, for us as a squad and a group, we have a massive emotional content to what we do. With the work ethic they have to produce in 90 minutes for Wales, they have to have fire in their belly and they have to have adrenaline pumping. For us, it's a benefit if we can get an arena that gives us that. Where we are, though, as a group, is probably inexperienced in being able to cope with it. Obviously the more experience we get on a regular basis will help us to control any of the negative part.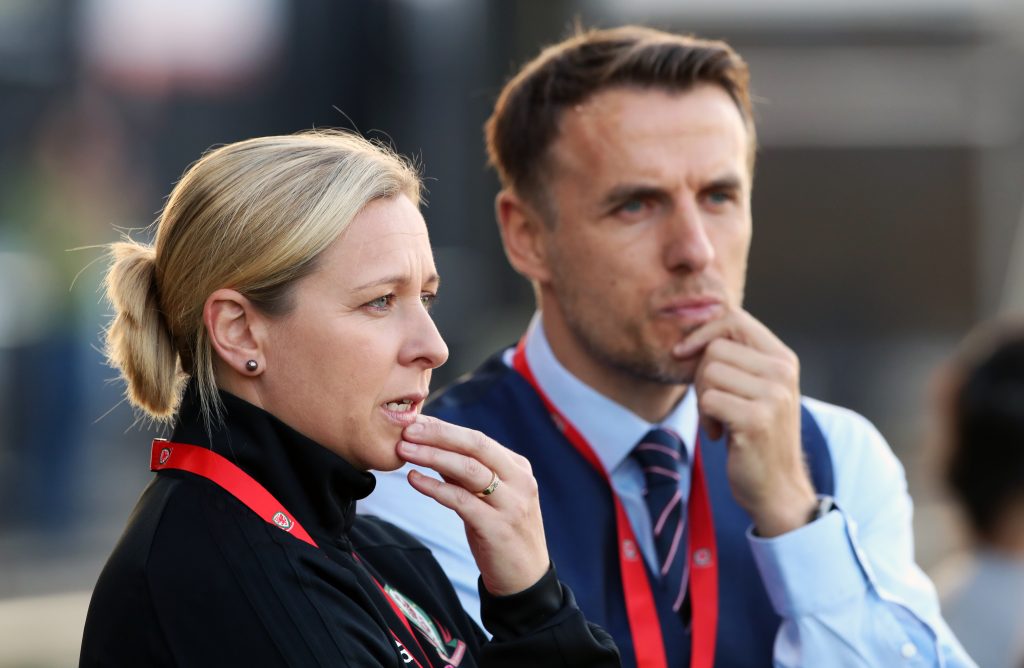 SK: In terms of harnessing that close bond with the players but also maintaining a necessary, authoritative distance, how do you approach that?
JL: It's an interesting one because look, I love my players. You can just put that statement down – I love them! When you love someone there's gonna be times where you have to correct them in certain areas, and times where you have to praise them. You have to do both, because at the end of the day, my job is to help them grow and develop. There's so many things in a camp environment that I'm not involved in, for the reasons of, they need time without me as the boss in the group. They have to figure out who those leaders are and they have to enjoy time as teammates without authoritative figures as well. I went through a career understanding that and it worked in our environment at Arsenal, because Vic Akers was my boss for years and he had great coaches working alongside him. I took a lot from him; I didn't understand him a lot for many years. Doing the job myself, it's interesting the distance he used to keep, but he was good with his coaches at giving us the love we needed at times. For me, we have a group of staff that all give something different to the player group, I hope. We're very different personalities but actually the one thing we all have in common is we love the players. We'll show that in different ways, at different times. We also have the understanding of they are a group. Together we're a group, and there's lots of things we'll do together, but they as a playing group will share something that actually is very different to what as a staff group we can comprehend at times. The fact that I have been a national team player, I get that, and that's okay with me.
SK: I know there's no sure-fire, simple answer to this, but for Welsh women's football to keep growing, for the national team to not be looking back in the future saying 'remember when we nearly qualified for the World Cup?' – what is crucial from your perspective?
JL: Player development and a holistic programme, a seamless programme. I guess you could sum it up in a top-level player development programme.
SK: As with this role, your job at Reading also included much more than managing the senior team. When you started at Reading, as a new manager, was there any of that 'rabbit in the headlights' feeling?!
JL: Oh God, my head was about to explode every single day! I completely was not ready for a managerial role, even though at the time, I would have told you I definitely was, and I believed I was. It was an interesting one because when I started out I tried to morph myself into leaders or managers that I'd worked under, which was never, ever gonna work, because you have to have your authenticity. Thankfully, I figured that out pretty quickly and just started relating to my players the best way I could and I was just myself, which worked, I believe – in most instances! So it was all about authenticity, but it took me a while to get there. You become a manager and everything stops with you. It's a strange feeling at times, because the older I'm getting, I'm trying to enjoy the highs a little bit more, because there's always gonna be lows, but as a coach, you tend to focus more on them because you can learn more from them. I guess that year in Reading taught me so many things about how to transfer the skills I actually had as a player that benefited myself and my teammates at the time; trying to transfer those without actually being able to participate on the pitch with them. I had to learn a lot in that sense, because generally when I'd tried to help people I was running round with them or working hard with them. To not be able to do that and to find other ways, it had to be a quick learning process for me, and I'm still learning.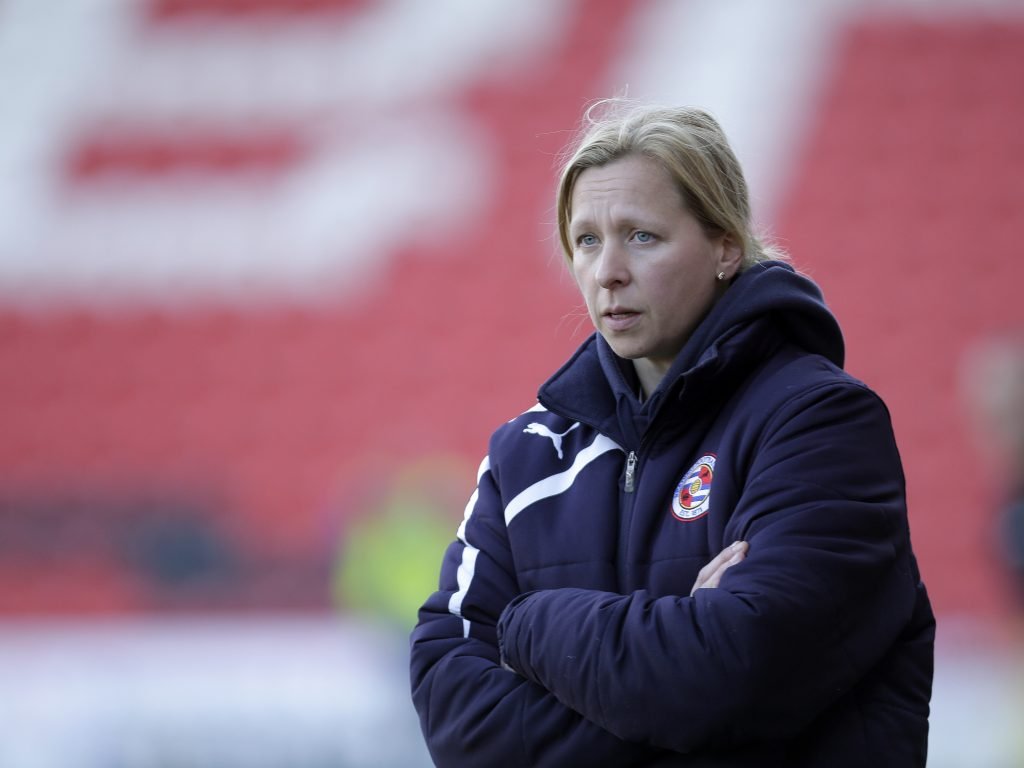 SK: You've done co-commentary on WSL games for the BBC, did you do any punditry or analysis at all for the World Cup? Were you there in France?
JL: I watched pretty much every game. I didn't go out because I have a one-month-old boy now, so my partner was obviously pregnant during that time. But I really enjoyed the World Cup for lots of different reasons; analytical point of view to see what people are doing. We've learned things from watching.
SK: Looking back over these almost-five years in the job so far, what are the tangible differences now that you notice? In the players, the infrastructure, in attitudes, support, whatever it may be.
JL: One of the toughest things for us was how we bridged the levels, I guess, between our fully professional players who've played at the top level for many years, and the part of the squad who are amateur and probably weren't getting a great support system. So it was about getting those amateur players to the levels, not necessarily to those pro contracts, but so that when you step into a national environment you could understand the ethos of a pro player, the work ethic and everything that brings. So we're happy with our performance programme in that sense. We still don't have a massive pool of players, but the ones we do have, we believe when they are stepping into a national team environment, that they're working extremely hard to give the likes of Sophie (Ingle), Jess (Fishlock), all those pro players, what they need. It's always gonna be a challenge for us, because it's very unlikely in the next five years that we'll have a fully professional Wales national team squad of 23 players. So it's always the main focus for us, from an educational point of view, a physical point of view, psychological, all of it, we have to ensure our squad players are capable of giving those pro players what they need.
SK: A little further back…when you went to Japan with Arsenal in 2011, you ended up on stage with Mihoko Ishida, who'd been at Arsenal for a bit and then became a pop star in Japan. What do you remember singing with her?!
JL: 'Let It Be'! I remember every single minute of it! What a great experience. When an old teammate of yours who goes into a new career welcomes you over to her country, and then she's on stage and she's looking at me and going 'come on,' there was a moment that I went 'really?' At the end of the day, there was no chance that I was gonna let her go through that and wasn't gonna get up there, no matter how badly I sang, because I am a horrific singer. I really enjoyed myself; I don't know if my teammates enjoyed listening to me! I love the kid. If we're ex-teammates, normally you don't keep in touch that much, but she left an impression on me. Young Japanese kid travelling across the world, and just the positive vibe that I love about certain people, she had in abundance.
SK: If you had your choice of performing any song, though, what would it be?
JL: My Under-17s players could answer this for you – 'Islands in the Stream.' Dolly Parton and…what's the fella's name? (Kenny Rogers) There you go! The original one, I love that. I sing it on every bus trip. They actually put it on themselves now, along with all their dodgy music they listen to!
SK: Football and family aside, is there time for anything else, interests-wise? Even just a TV series you're into?
JL: My life's a bit boring, to be honest – sport, sport, sport. There's a few box sets I like, from Grey's Anatomy to Game of Thrones. I watch a lot less of those things now, to be honest, with a new baby routine. It's kind of more Peppa Pig now!
Coach Kicks Q&A:
What is your favourite session to deliver and why?
I'm all about speed of play and intensity, whether that's in or out of possession. There's kind of two: there's like a base drill in regard of receiving skills that develops into a small-sided game. The players really respond to that and work really hard on it, but if I'm honest, what typifies the Welsh system right now is how we defend, so our pressing game. I probably focus more on the defensive aspect, looking at high pressing.
Which player has made the biggest impression on you in your coaching career and why?
She's not gonna be very well-known outside of a small core of Welsh players, but when I was a young player for Barry Town, there was an older player called Wendy Reilly. If I think of things that have affected me, from a leadership point of view, she's one of the best leaders I've worked around, or with, or for. I was a sprightly 15 or 16-year-old at the time and she was a kind of dominant, forceful female, which was really unusual to come across. So when you look at how my career went and the things that worked well for me, it's those things I kind of took from her. When you work alongside an older female who shows all those qualities, you feel okay to actually do those things yourself. There's lots of players I could mention that have affected my playing days, but if I think about the different routes I've gone, probably that example is the one that would stick in my mind most.
Is your car, house or office full of footballs, bibs and cones?
I have managed to separate that! Originally when I came up to Wales and took this job, it was my garage, everything. The office is actually in my house, but thankfully, the structure we have now means my house actually looks like a normal house! The only thing I would say is about a year ago, because I have two young kids, my oldest one hit the trophy cabinet in my office and a big glass thing fell right next to her. So the only thing I have changed is I don't have any medals, any trophies in my house any longer!
What do your players moan about the most?!
Everything! Let me think. When I first took over, there would have been so many things that they just weren't in good habits of doing, but right now, everything's the norm. Oh I'll tell you what it is – putting kits back after a session! We have a local development programme – I'm actually driving up there tonight to coach there – and we do ask players to return kits, and there's two or three who try and disappear – generally the older ones!
Do you ever join in, in training?
Over the years, it's got less and less, if I'm honest. Recently, I've probably only done it once in about three or four months, in an age-group camp. I still enjoy it but the role I have now with the things I'm trying to coach it's generally more difficult to do. I would still love to do it, but my body doesn't work as well as it used to. My brain still thinks I can do certain things; my brain definitely isn't doing those things!
The best coaches are always learning, what has been the latest lesson you have learned?
I did quite a bit of analysis on the World Cup, so two words: half space. I think coaches who are watching the game at the top level at the moment will recognise that you don't get that right, offensively and defensively, then you probably aren't gonna score many goals, and you're probably gonna leak quite a few as well.
Which coaching book, manual, website, resource or tool do you most value and why?
Just all the people that are around me. It's not necessarily books or data as such. We're big on details, we're big on data and analysis with the group of staff I have, but if I'm honest, it's the brains of the group of staff that I work with that I appreciate more than anything. They're constantly coming up with things that I don't expect.
Do you have a favourite motivational line?
Well the best thing for me as an individual was always somebody telling me I couldn't do something! So if somebody tells me 'that's impossible' I'll do my damnedest to make sure I prove them wrong! It wouldn't so much be somebody speaking to me with a certain phrase. I mean the big thing that I do believe in if you're a good leader, the emotional content that you put into things is far more important than actually the words you use. So your body language for me is far more important than how you speak and the detail you deliver at times.
Do you repeat something A LOT?
High press. Delay. (Laughs) Two key phrases that my players probably go to bed thinking about at night! Delay is the bit of 'do you engage or do you protect space behind?'
If you could have any player in your side, who would it be and why?
(After a hard think) I love Lucy Bronze. I know Lucy, I played against her for many years, and it's been a really interesting thing to watch her career kind of blossom. There's aspects of her that I think can still grow, in terms of leadership, I guess for me, but as a player to drop into your team, she'd be a great addition.
Finally, what advice would you give to an aspiring/new coach?
Well I'd encourage them to definitely do it. The first thing I would say, though, is it's okay if you get something wrong, as long as your mindset is right so it's a learning opportunity.
Interview by @chris_brookes