With an incredible 129 caps to her name and experience at Euro 2001, 2005 and 2013 (as well as 2007 & 2011 WWCs & London 2012 for Team GB) Rachel Yankey knows her onions and the onion bag (and football too). This is what she thinks ahead of the Quarter Finals which kick off later today:
The group stages unearthed some unexpected Gems
Austria topping group C was a huge shock to everyone. Nobody would've expected that to happen, especially against a strong French side who people were really backing to progress in the tournament. England may well feel lucky by dodging Austria as Dominik Thalhammer's side are looking really strong and confident at the moment, they're not naturally technical like France, but they've got loads of confidence going into the knock out stages.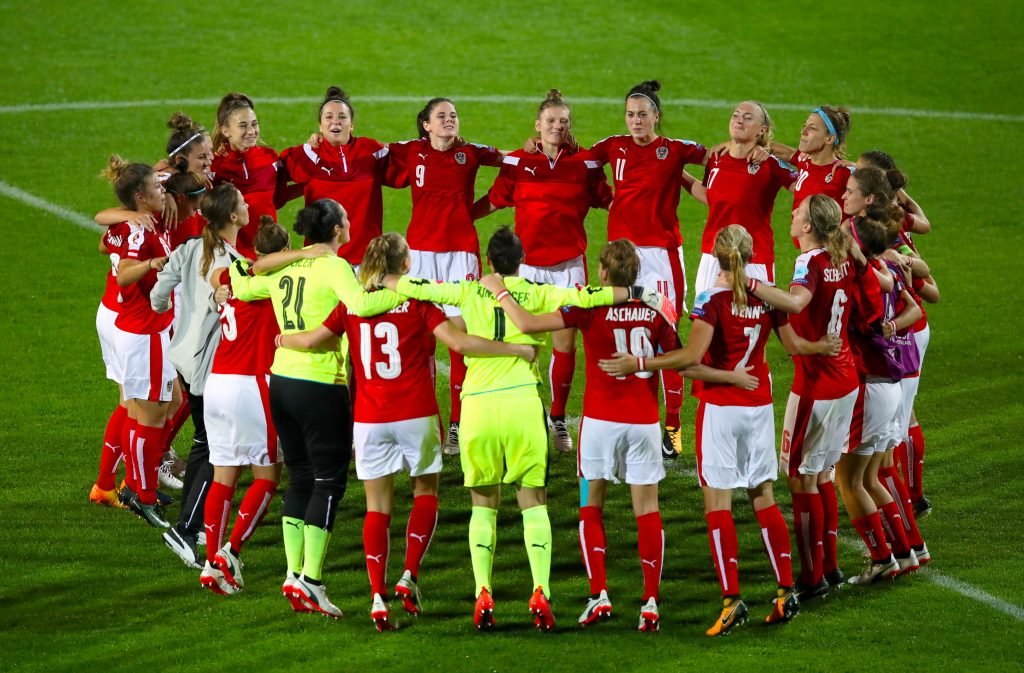 The Swiss were set up really well in their matches, that preparation is testament to the work of their coach Martina Voss-Tecklenberg. Had it not have been for a goalkeeping mistake, they would have gone through against France. They were set up well to counter attack and had obviously done their homework on France, Voss got her tactics spot on.
The hosts, Holland, have been really strong in Group A and have been playing good football. It's apparent that they would be dangerous against any team in attack, the question is whether they can stand up defensively to the better teams. On the flip side, we certainly haven't seen the best of Germany, they always seem to start slowly but it wouldn't be wise to write them off.
It hasn't felt like there has been an outstanding team so far. England in the first game were fantastic, they were attacking and confident, they then showed their resilience against Spain, but Portugal was very much a case of getting the job done.
England look strong enough to overrun the French in Deventer 
Looking ahead to the Quarter Finals there are some very interesting match ups. Germany play Denmark and on paper you would say that Germany will win, but Denmark have kicked off their campaign in great form and can score a lot of goals so that will be a finely balanced game. Germany have pedigree in major tournaments, especially if it goes to penalties, so for that reason they'd be favourites at that moment.
A surprisingly quiet Spain will take on the high flying Austrians on Sunday evening. The Spanish had a shaky start to the tournament, but they are through and the way they play football makes you think they'd play Austria off the park. However Austria have come into this tournament very resilient and able to fight off some tough opposition and the Spanish have shown they can't always break down teams so I think Austria could be tough for them.
It would be good to see the host country, Holland, progress as that will bring in the crowds for the later fixtures. They have a tough task against Sweden but I think they could do it after a 100% record in the group, beating Norway and Denmark without conceding.
Hopefully England won't be overconfident ahead of the clash, as France will be pumped up to play an England side and that will give them the boost they need in this tournament. They've played good football regardless of their form in the tournament, they're very attacking and dangerous against any team on their day. So far they've been uncharacteristically sloppy so from the first whistle England need to make sure that they don't allow France to build confidence or get into their stride.
Lionesses can go roaring on into the Semi Finals of the tournament
I wouldn't worry about the fact we haven't beaten France since 1974 – history is there to be broken.
Jodie Taylor has been very clinical in front of goal and if the team can create the chances for her she's always a willing runner. She doesn't need a lot of opportunities to get the ball on target. She's got four goals now so she's going to want to go on and get the golden boot.
England have looked like real contenders in this tournament. Portugal was a difficult game, but it will have certainly been a boost for the squad as the strikers are now all off the mark and when you make as many changes as Sampson did, it's hard to keep all your rhythm. Although players have to be kept fresh, the additional players who featured weren't 100% match fit. Therefore it wasn't a surprise that the first half was slow. The question is will changes impact the rhythm of the England side and can they rekindle their earlier deadly form?
Rachel Yankey is backing Betfair's Fairer Game campaign, to apply for a place on the scheme please visit fairergame.com