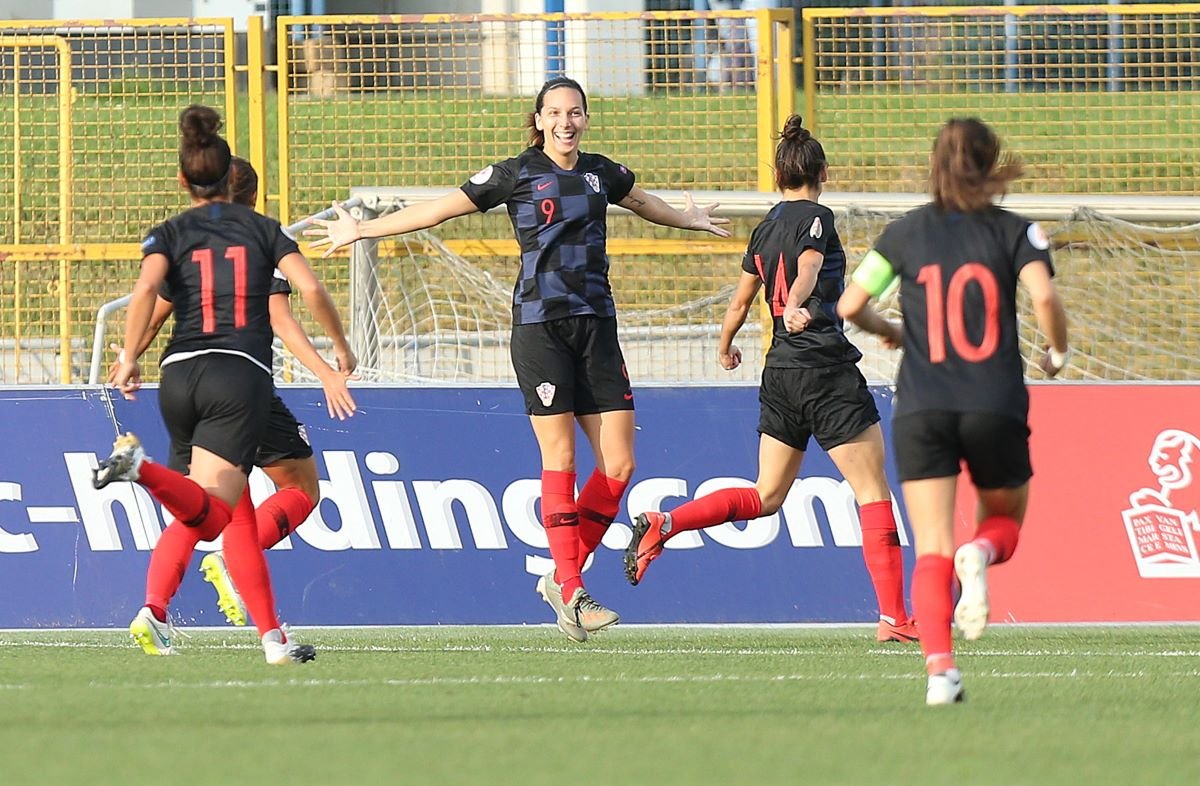 Denmark, Iceland, Netherlands and Sweden all continued their perfect form in the UEFA Women's Championship qualifiers but Switzerland dropped points for the first time.
GROUP A: Seven in a row for Dutch
Arsenal's Jill Roord got the game's only goal as the Netherlands won in Russia, making it seven victories from seven games.
Slovenia came from a goal down to see off bottom-of-the-table Turkey 3-1 and go up to second in the group.
GROUP B: Denmark go top
Denmark were 4-0 winners away to Bosnia and Herzegovina, Nadia Nadim breaking the deadlock wit a 38th-minte penalty and two more goals before the break securing the points. The high-scoring Danes (33 for, 0 against) replace Italy as leaders on goal-difference, each having won six on the trot.
GROUP C: Northern Ireland net six
Northern Ireland's first win came 6-0 away to Faroe Islands, where they were three up in half an hour. Lauren Wade and Simone Magill both helped themselves to doubles, while Rachel Furness and Kirsty McGuinness also got on the scoresheet.
Kosovo were given an early own-goal start by Estonia and completed the scoring inside the half-hour at 2-0.
GROUP D: Point puts Poles apart
It's tight at the top after the Czech Republic and Poland played out a goalless draw, pushing the latter a point clear of Spain. But victory for the Spaniards in Moldova on Saturday will see them lead the table.
GROUP F: Sweden and Iceland stay neck and neck
Sweden swept aside Hungary with eight goals, three of those scored in a 13-minute second-half spell by Anna Anvegård. That took the Swedes 100% record to a fourth match, as they stay first on goal-difference.
Iceland show similar form having netted nine against Latvia, Dagný Brynjarsdóttir with three goals in 20 first-half minutes.
GROUP G: France go second
France won 2-0 in Serbia, Amel Majri getting the second and final goal after only 16 minutes, the hosts earlier putting through their own net. Les Bleues are now three points short of Austria wit a game in hand.
GROUP H: Croatia hold Swiss
Tessa Wullaert notched a hat-trick as Belgium beat Romania 6-1 to go two points clear following their sixth win on the spin.
Croatia were ahead very early on against Switzerland through Ivana Rudelic and although Ramona Bachmann equalised 15 minutes from time, it was the first points dropped by the Swiss.
GROUP I: Crucial Ireland clash on TV
Rivals for to spot, Republic of Ireland and Germany meet in Essen on Saturday, with the game live on RTE2, kicking off at 1pm (Irish/UK time).
Montenegro got themselves back into the basement battle with Ukraine at 2-1 down but swiftly conceded an own-goal to lose out 3-1.