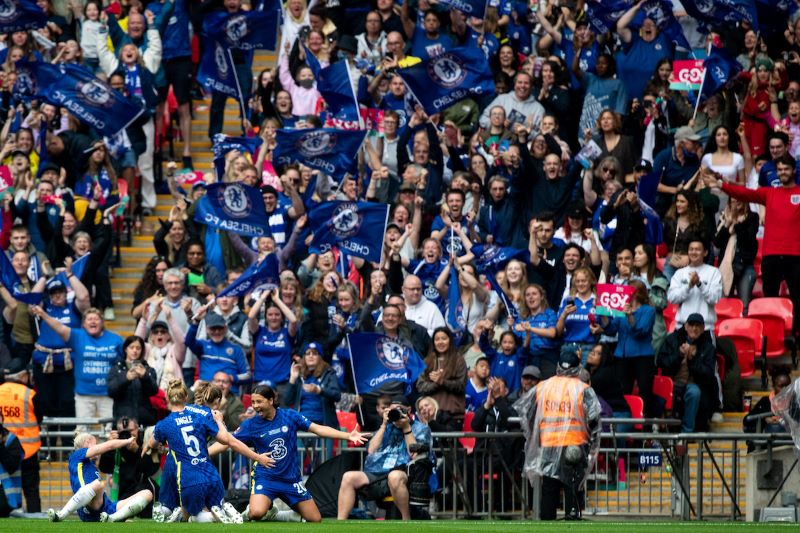 Wembley Stadium is set to host the biggest ever Vitality Women's FA Cup Final, with tickets in all areas of the stadium now sold out.
The Final, which will be contested by holders Chelsea and Manchester United on Sunday 14 May, is set to pass the record set last season of 49,094, where Chelsea defeated Manchester City 3-2 in a closely contested encounter.
The women's professional game in England has seen a significant uplift following the Lionesses' memorable UEFA Women's EURO victory, with numerous attendance records broken over the season in the Barclays Women's Super League and Barclays Women's Championship. Fans now have the opportunity to help create another memorable moment for the season by helping to break another record.
Baroness Sue Campbell, The FA's Director of Women's Football, said: "We had a strategic ambition to sell out the Vitality Women's FA Cup Final at Wembley Stadium by 2024, so to have done that a year early is a fantastic achievement.
"Those fans lucky enough to have a ticket, should be treated to a brilliant spectacle as well as having the opportunity to be part of Women's FA Cup Final history. It's always one of my favourite days of the season and a showcase of the best women's football. I can't wait to see a packed stadium and hear the atmosphere the fans generate with the world watching on."
The Final will kick-off at 2.30pm and will be live on BBC One.