With a bit of help from Asst Manager Elle Kayley, we're going to answer the question, "Accrington Stanley? Who are they?"…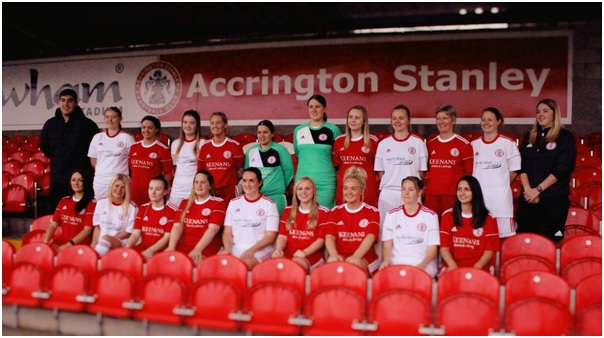 How has 2017/2018 season gone for you so far (what league are you in) and who are your biggest rivals?
The 2017/18 season has been are very positive first season for Stanley Ladies. We compete in the Lancashire FA Women's County League (Premier League). We have currently played 7 games, Won 4, Drawn 2, and Lost 1. We have only played this many league games due to the poor weather at the end of 2017. We made it to the Quarter Finals of the County Cup and narrowly missed out on the Semi Finals to a last minute goal. Hopefully, we can continue with the positive start this season and start to build up some momentum to carry on through to the rest of the season. Biggest rivals in our league would be Blackburn Community Sports Club. We currently sit third in the league.
When did the team form?
We are newly formed team and this is our first season in the league. We merged with a club called St Joseph's in Accrington and created Accrington Stanley Ladies FC. Our long term goal is to create opportunities to all girls who want to play football at a competitive level. We currently only have one team but we look forward to creating different age groups of team and building on what we have already created.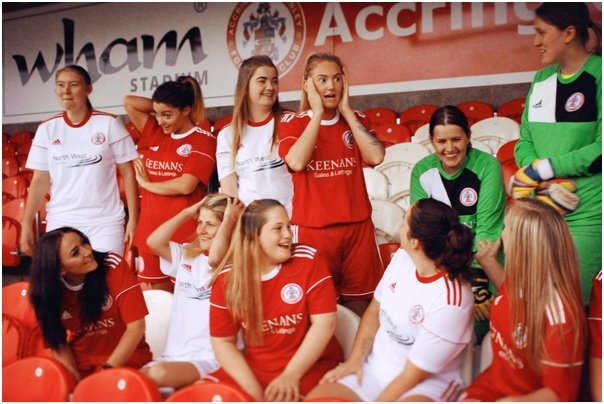 Do you have a fairly settled team?
We have a squad of 21 players so our team for the weekend can change quite a lot depending on player availability. Every player has their own style of play and helps make Stanley Ladies who they are. We want to be up their competing and hopefully our strength in depth and can work together to bring great success to Stanley this season.
What league/cup do you play in and do you have to travel far for your matches?
We play in the Lancashire FAs Womens County League Premier Division. We compete in the Lancashire FAs County Cup and our further away game is just over an hour away in Lancaster.
When do you train/practice and when do you play your games?
We train every Tuesday night and play our matches on a Sunday afternoon.
What is the main aim for the team this season and in the future?
The main aim for the team this season is to establish themselves amongst the other teams and help grow as a club. We will always try to compete for trophies no matter what but as it's our first year, we are still experimenting with our team and trying to find out what makes us work. Hopefully we will be able to improve on our successes this season.
Have you been to watch any senior women's league, cup or international matches? If so, which and when?
A few our girls regularly go to watch a range of different matches both Premier League and WSL games, particularly Manchester City and Blackburn Rovers, as they are the closest Women's team to us. We are hoping as the season finishes that we can do a few more team socials to help the team bond stay strong over the summer months. Hopefully the Lionesses will play a game near us in the summer, so we can all attend together.
Who are the team's favourite male/female players and why?
As we are Accrington Stanley Ladies, our male role models would have to be Accrington Stanley FC: for their commitment, effort, determination and passion. They are a team competing in League 2 with the second lowest budget and working wonders competing for promotion, they really are inspirational. As for individuals most of our young players aspire to be like some of the older players in our squad, which is fantastic as it shows our ladies aren't just players, they are role models as well. Some of the girls say their coaches when they were younger allowed them to have a positive experience in football and helped them grow a passion for the game resulting in them sustaining in football. Other players aspired to be professional players more on the male side as the women's game wasn't as established when they were younger. We had a few wanting to be a Beckham, a Shearer, an Ashley Cole.
What about your coach/manager – are they serious, funny, good/bad and why?
We currently have two coaches for the ladies. Alex Palffy (Manager) and Elle Kayley (Assistant Manager). They work together in a good partnership and play like a good/bad cop kind of role. Alex is ruthless and has a 'win at all costs' approach were as Elle is a bit more fair play and wants everyone to be involved in the game, if possible. Together they make the ultimate manager and they both have a similar philosophy so there is always one message going across to the players. I think both coaches try to ensure that every player improves and enjoys themselves.
Who are the team's jokers?
We have a couple of jokers in Lauren Tuner and Keara McDonough who are constantly making little comments and keeping the teams spirits high.
Who is the LOUDEST on the team?
This changes depending on training or match day. On a match day Nina Chadwick is the most vocal organising the team and ensuring everybody is switched on. Whereas, in training Lauren Turner always has a comment to say as she wouldn't mind me saying that Fitness activities are not for her. She'd rather be playing with a football at her feet constantly.

Who is always first to the bar/on the dance floor on a team/club night out?
Lauren Brierley is always late, whether it be training or match days. However as soon as you say there is a bar involved she is the first one there without a doubt.
Does the team/club have an unsung hero that you want to thank?
We have a few unsung heroes. Karen Turner: Stanley Ladies' number one fan! She is present at every game possible and is the Stanley mum who cares for every player. Anne Ellwood is an advisor on our ladies committee and she is constantly trying to find different ways to promote the team through charity events, newspapers and she never misses a game. Rebecca De Maine is the Ladies' secretary and is constantly emailing teams, booking venues and having to deal with all the paperwork of the team on top her other commitments. Without these individuals what we have achieved throughout the year would not be possible. They are all true inspirations to everyone at Accrington Stanley Ladies.
How can readers find out more about the team?
Just visit our Website on www.stanleytrust.co.uk or our Facebook page @AccringtonStanleyLadies or our Twitter page @ASCTLadies
Does your team want to tell our readers why 'We Kick'? Email us at: info@shekicks.net