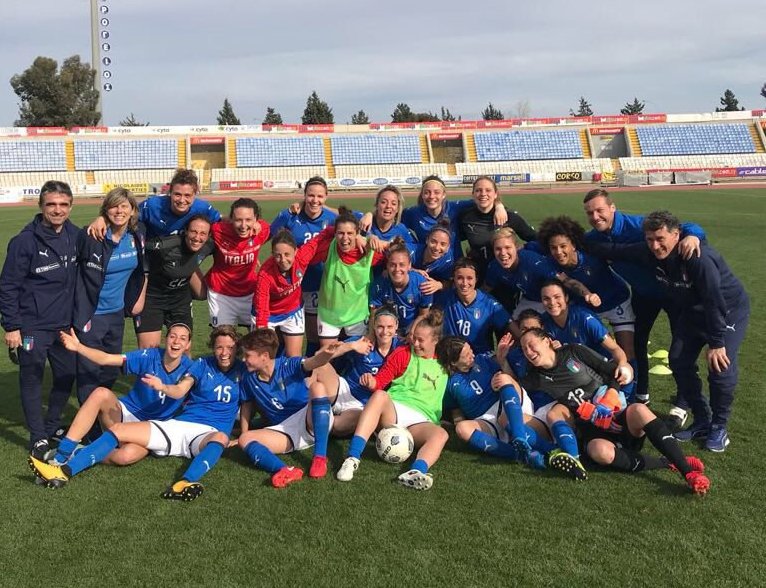 The winners from the first round of Group A matches at the Cyprus Cup met as Wales went down 3-0 to Italy, for whom Cristiana Girelli marked her 50th cap with a brace.
A run of five consecutive clean sheets for Wales was broken in the 17th minute as Girelli's free kick on the edge of the box curled round the wall and found the bottom corner.
Wales' defence stood strong as the Italians drove forward during the first half, forcing play out wide and dealing with set pieces effectively but a rare lapse in communication led to an in-direct free kick at the edge of the box which gifted Girelli a second goal as the Italians extended their lead.
The second half saw Wales getting more attacking opportunities, with the Italians looking threatened by the direct running of Kayleigh Green and Natasha Harding. Several young players were given game time in the half, including a first cap for Cyncoed midfielder Gwen Davies.
Despite withstanding the Italian pressure Wales gave away a dubious penalty, but goalkeeper Laura O'Sullivan saved the effort. However, minutes later Wales were unable to clear from a corner kick and the Azzurri extended thei lead minutes before the final whistle.
The result means Italy will be playing in the Cyprus Cup Final on 7th March but Wales can still reach the 3rd place play off match.
Jayne Ludlow told faw.cymru: "This competition has never been about results for us, it's about our performances. There were some elements in the game today that I was pleased with, but we also made some mistakes that we'll need to work on now. We gave game time to some of the younger players and they did well when they came on which is what we were looking for."
Wales: 1 Laura O'Sullivan, 13 Rachel Rowe (15 Amina Vine 84′), 2 Loren Dykes, 4 Sophie Ingle ©, 5 Rhiannon Roberts, 7 Natasha Harding (18 Melissa Fletcher 84′), 11 Nadia Lawrence (21 Kylie Nolan 45′), 10 Jess Fishlock, 8 Angharad James (22 Gwen Davies 77′), 17 Charlie Estcourt (6 Alice Griffiths 45′), 9 Kayleigh Green (19 Hannah Miles 77′)
Italy: 12 Chiara Marchiletti, 2 Valentina Bergamaschi, 3 Sara Gama ©, 5 Elena Linari, 6 Manuela Giugliano, 7 Alia Guagni (21 Benedatta Glionna 45′), 8 Martina Rosucci (4 Greta Adami 55′), 10 Cristiana Girelli (9 Daniela Sabatino 45′), 14 Linda Tucceri Cimini (17 Lisa Boattin 69′), 15 Valentina Giacinti, 18 Barbara Bonansea (16 Eleonora Goldoni 69′)
The Welsh finish their group games on Monday at 11am against Switzerland, who ran out 4-0 winners over Finland. Alisha Lehman's goal was the difference at the interval but Marilena Widmer, Ana-Maria Crnogorcevic and Vanessa Bernauer all scored in the second half.
Czech Republic had begun by beating Belgium but then lost 2-0 to Austria after hitting the bar with a first-half penalty. Laura Feiersinger broke the deadlock midway through the second period and within a couple of minutes had completed her brace for a 2-0 win.
Spain have four points from two games and Belgium got their first after the two played out a goalless draw.
North Korea, the only winners in the first pair of Group C games, were victorious again with the only goal against Slovakia, scored on the hour mark from long range by Kim Phong Hwa.
South Africa, who had drawn with Slovakia, kept another clean sheet in a 1-0 result over Hungary, in which Thembi Kgatlana scored on 21 minutes.