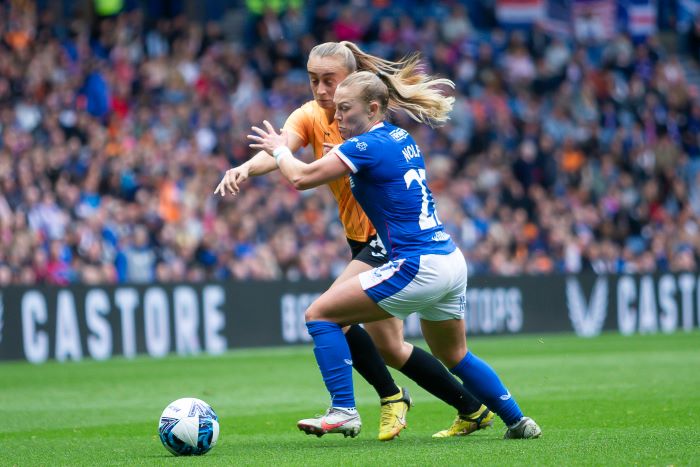 The Scottish Women's Premier League has announced a record-breaking 2022/23 season with attendance figures totalling over 100,000.
A total of 106,781 fans went to an SWPL, SWPL 2, or Sky Sports Cup game last season.
The domestic record attendance was broken on three occasions last season. It was first set at Easter Road in November 2022, with 8,066 watching the Edinburgh derby, before Celtic Park hosted 9,553 fans for Celtic v Glasgow City in May. Celtic broke the record again on the final day of the 2022/23 season, with 15,822 in attendance to watch their 2-0 win over Heart of Midlothian.
A number of clubs also set record, club attendances including Heart of Midlothian at Tynecastle Park and Rangers at Ibrox. Montrose also recorded the highest SWPL 2 attendance of the season for their trophy presentation at Links Park.
A record crowd was also at the Sky Sports Cup final, with 3,727 watching Rangers v Hibernian at Tynecastle back in December 2022.
Fiona McIntyre, SWPL Managing Director, said: "We are delighted to confirm a record-breaking season for spectators attending across our competitions. The idea of having over 100,000 people in one season watching the women's game was unimaginable only a few seasons ago, so these numbers are a testament to the growth of the game and the work of our clubs.
"These figures illustrate the increasing awareness and appetite for women's football in Scotland and I hope we can continue to see attendances increase season after season. The women's game is affordable, family-friendly, competitive and provides an opportunity to watch top-level, elite athletes across communities in Scotland.
"Playing inside main club stadiums also helps, there's no doubt about that and this is best-illustrated in the matches where we saw attendance records broken last season. We hope this is something that can become more common in Scotland and as a league, we can support this where possible."
The 2023/24 ScottishPower Women's Premier League (SPWPL) and ScottishPower WPL 2 gets underway on Sunday 13 August and concludes on the 19 May 2024.