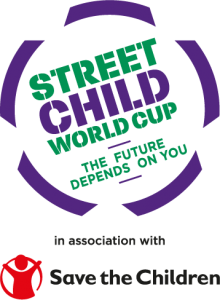 A team of nine England girls are in Russia this summer for the Street Child World Cup, which uses football to bring together children from a background on the streets.
Jasmine is England's goalkeeper, an Arsenal fan from London, and she says she is very excited to be involved in this tournament.
"Being in Russia is different, I had never been to this country before. This is a great opportunity and I don't think I would have got the opportunity to come here if it wasn't for the Street Child World Cup. 
"It's fun here, especially with all the different countries. I've been able to meet lots of different people. I met Team India yesterday and they have become very good friends of ours. The atmosphere is so lively, everyone is always talking, dancing, having fun."
MEET TWO OF THE FOOTBALLERS REPRESENTING ENGLAND IN RUSSIA & HEAR HOW FOOTBALL HAS HELPED THEM: 
Jasmine admits there are some challenges being in this environment but these are overcome by football:
"There is a language barrier but we are all communicating and coming together through football. Football is my favourite sport and it always has been. I love the game."
When asked how she got into football, the goalkeeper replied: "I started playing football with a QPR community scheme called the kicks group, when Street Football was open to me, I went with a few of my friends from QPR."
Playing for your country is not something many people get to do, says Jasmine. "Representing England is amazing, I never thought I would be able to represent my country. I am enjoying every moment of it and I hope I can represent England more in the future."
England started the tournament well beating India 5-0 before drawing 1-1 with the Philippines. Jasmine is ambitious to win but expressed the importance of other values to the tournament.
"Well I don't want to jinx us but I just want to have fun. So if we get to the final that would be amazing but other than that it is great to just have a kick about." 
Team England has now reached the semi-final and will play Tanzania, later this morning.
Follow Street Child on Twitter: @iStreetChild
Read about the tournament itself HERE and check back for more stories from the Street Child World Cup & also go to: https://www.streetchildunited.org/our-sports-events/street-child-world-cup-2018/ for more info.