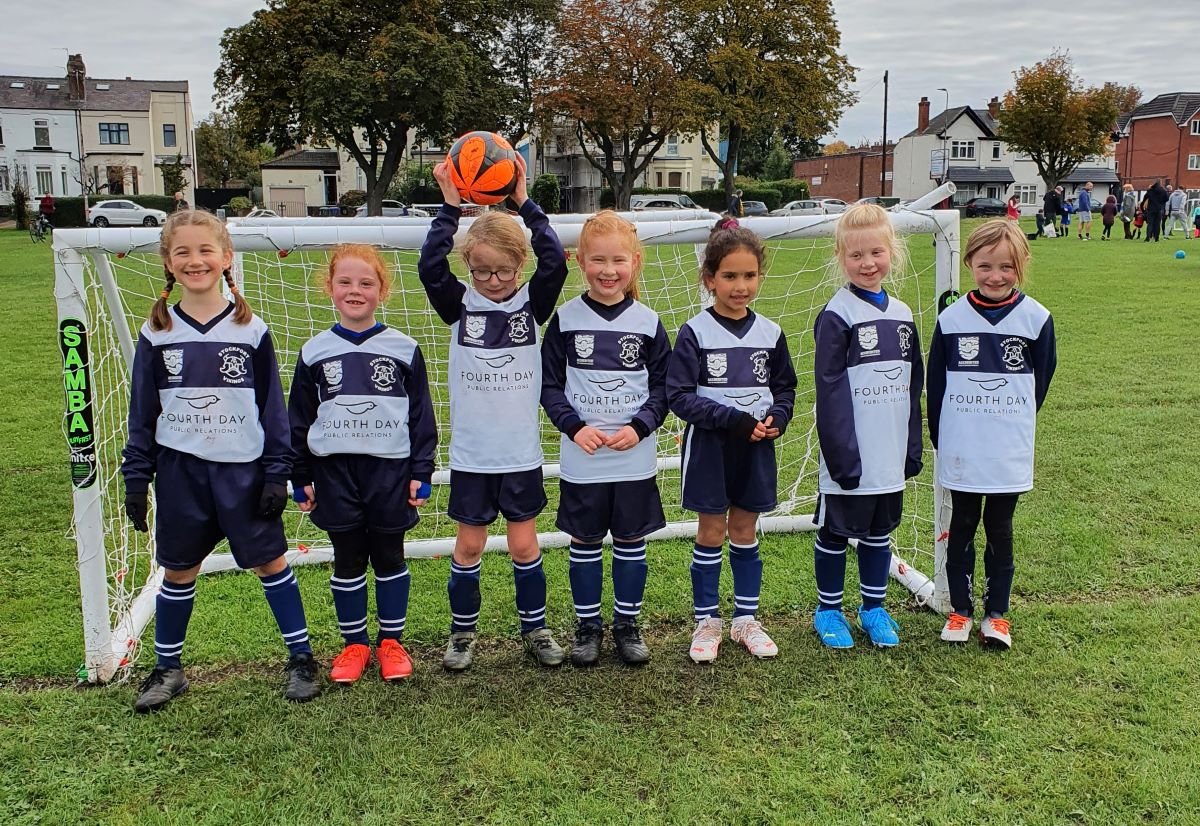 Two of Stockport Vikings Pumas girls' teams have been sponsored by female-led PR company Fourth Day.
The U-8s and U-13s teams now have their match kits sporting the Fourth Day PR logo when they play in both the South Manchester and Cheshire Girls' Leagues.
The daughters of two members of the Fourth Day team play for Stockport Vikings Pumas, with one of the team also coaching the U-8s.
Stockport Vikings FC is an England Football accredited 3 star football club with girls' and boys' teams ranging from the ages of seven to 18, a development section for five and six year olds, and an open age team.
The club launched its dedicated girls' teams following the success of its FA Weetabix Wildcats sessions, an ongoing Football Association's grassroots initiative set up to encourage more girls to get involved in football. The Wildcats sessions are open to girls from the ages of five to eleven. Girls who get the football bug then progress into the dedicated Pumas teams.
Shaun Wilkinson, Treasurer of Stockport Vikings said: "As part of the club development plan we have been able to create girls' teams at U8's, U9's, U11's and U13's. It's been great to see the girls making lots of new friends and really bonding as team players. The successful expansion of the girls' section has also been down to the sponsorship we have received from companies like Fourth Day. The support for the U8's and U13's from Fourth Day is very much appreciated.'
Nikki Scrivener, co-founder of Fourth Day and mother of Eliza, 12, said: "I'm so proud that we've been able to play a small part in Stockport Vikings Pumas' journey. Communication, collaboration and creativity epitomise the spirit of the Pumas – so, very much like a team of PRs really! Good luck for the season!"
Caroline Fletcher, account manager at Fourth Day and mother of Clemmie, 8, helps as team manager and assistant coach with the under eights. "It's a pleasure watching how the girls have grown as both a team and as individual players. Their camaraderie and support for each other is brilliant to watch and be part of!"
Stockport Vikings FC are looking for more girls to join their fun and friendly Weetabix Wildcats sessions and league 'Pumas'. Please contact Shaun at Treasurer@stockportvikings.com to find out more.
Leah Williamson to captain Lionesses for the Arnold Clark Cup