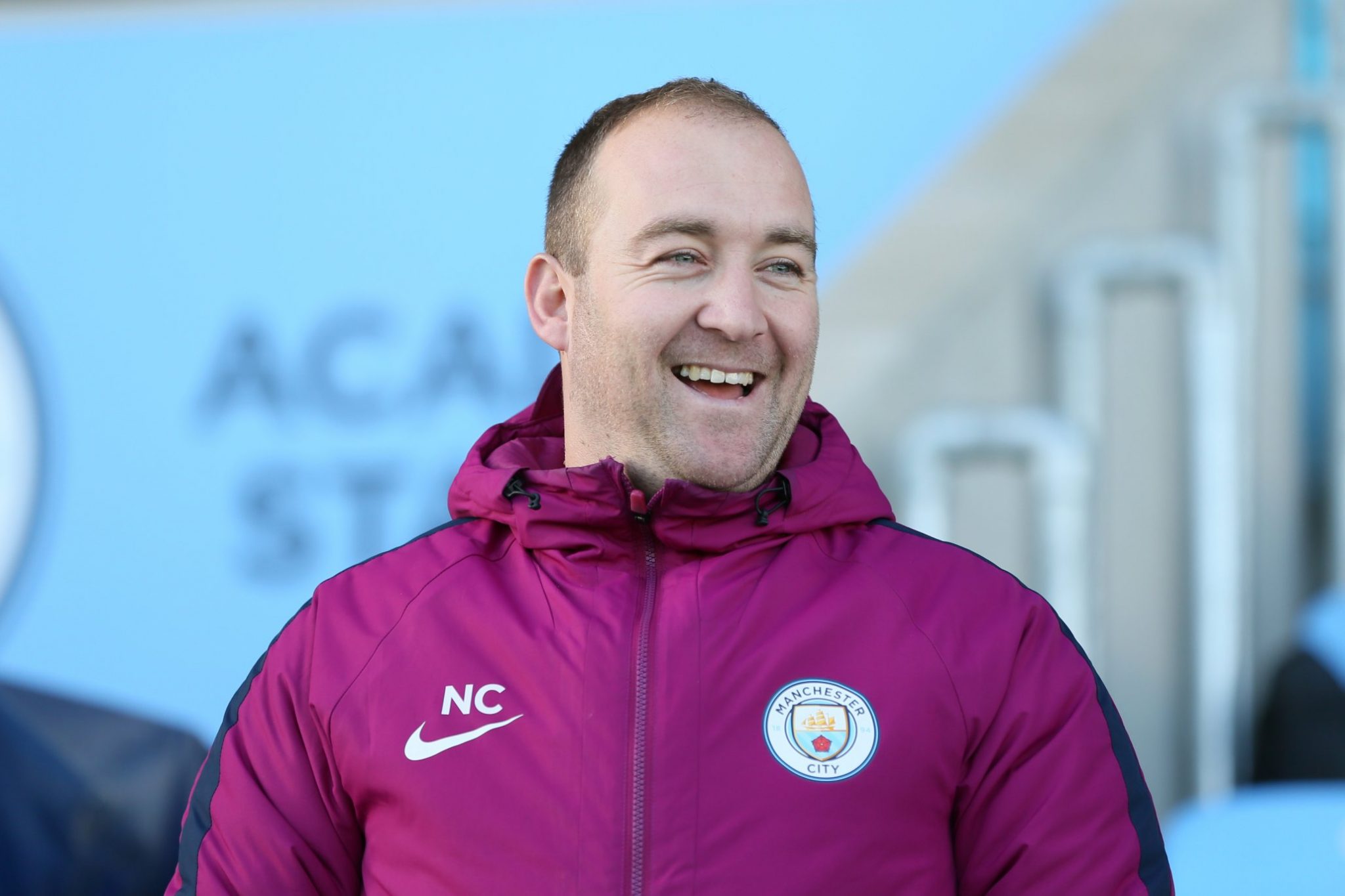 Manchester City's Nick Cushing, Nikita Parris, Steph Houghton, Ellie Roebuck, Lauren Hemp and Jen Beattie were interviewes ahead of Saturday's Wembley Stadium clash with West Ham United.
Manager Nick Cushing believes his team's 'process' will help them to lift a second SSE Women's FA Cup in three years on 4 May.
Having beaten holders Chelsea in the semi-finals, City will be favourites against opponents West Ham but, having experienced joy and agony in equal measure at Wembley in the past, Cushing knows his team must turn up.
"I'm always confident coming into games because we've won so many," Cushing said.
"We've gone through the process over six seasons of understanding why we win and why we don't win.
"Evolving that over time breeds confidence – we know how to prepare for games, but we also know what the threats are in not preparing properly.
"We know they [West Ham] will have been disappointed with the 7-1 when we beat them here, we know that isn't a true reflection of West Ham and that they are a better team than that."
Striker Nikita Parris is counting down the days but admits their semi-final win over Chelsea left a sour taste in the mouth.
City progressed after a freak stoppage-time own goal in from Chelsea defender Magdalena Eriksson, after Emma Hayes' side had had the better of the game.
Parris was pictured comforting Eriksson after full-time, a touching moment after a hard-fought 90 minutes.
"It was just a cruel moment to end the game," Parris admitted.
"I said something like, 'You played a great game, keep your head held high. You've done unbelievably well, football can be cruel'.
"She could do that kick a thousand times and it would never go in the back of the net like it did.
"For us, obviously as a team we were elated to win it but, in that moment, I wasn't feeling happy to be honest.
"I felt sombre, I didn't feel like I was celebrating, I didn't feel like we'd just won a game to get us to an FA Cup Final."
Captain Steph Houghton says opponents West Ham remind her of when she first started at the club.

Steph Houghton was injured in the semi-final. (Photo: Lynne Cameron for TheFA)[/caption]
"West Ham are a team that have improved, I'd compare it to when we first started as a City team," Houghton said.
"You get used to the league, the players are getting used to playing every so often, you try to grow as a team and West Ham have certainly done that.
"To get to a final is an unbelievable achievement. We really respect them because of the ideas they have, the players they have, the manager they have.
"It's a final and anything can happen. I've lost a final and you don't want that feeling."
As one of the younger members of the squad, goalkeeper Ellie Roebuck has appreciated the guidance of more senior team members.
"We've got some really experienced players, players who have played on the biggest stage," she said.
"It's a comfort, knowing that you've got those people around you that you can go to for advice.
"You can ask them about it, if you need anything they've been through it and they know – and it's not always been positive, so they know, they've had those downfalls which make them push us to drive even more to make sure we win."
Teenage forward Lauren Hemp has jumped at the opportunities given to her in the competition and is dreaming of the chance to make an impact in the final.
"Coming from Bristol City last year to Man City has been a massive step to me, and to be involved in as many matches as I have done has been a real confidence boost for me.
"I've helped the squad in some of the games to get to the final and I think squad, collectively, we've done our bit.
"Everybody has contributed, which has been good, it has been a joint effort from all of us."
"Just being there and being involved with the squad would be amazing, I've never been to Wembley before.
"I'm used to crowds of only about a thousand, so it'll be massive, I'm really excited."
Defender Jen Beattie thinks a strong show of support at the final can help her side capture a second title in the space of three years.
With attendances growing year-on-year, all involved will be hoping the crowd can beat last year's figure of 45,423 – up from 35,271 the previous year, when City beat Birmingham 4-1.
"It's amazing, it's definitely a cool feeling being part of a process where everything is going in the right direction for women's football," Beattie said.
"The attendances are increasing and that's great to see and that's credit to the FA for building a league that players want to be a part of and where people want to attend and watch games.
"Hopefully we'll get a good crowd at Wembley. We're a team that feeds off the crowd's energy.
"I think our fans, first and foremost, have been unbelievable all year and without a doubt we'll get a good turnout from them and they'll be supporting us."
By Sportsbeat
As the energy behind women's football, SSE's ambition is to support girls of all ages in England, helping them join in football from grassroots to the elite level.  For more information on SSE's sponsorships and activities visit sse.co.uk