She bamboozles Women's Super League defences on a weekly basis, but Chelsea's Fran Kirby is expecting a few bumps and bruises from Sunday's SSE Women's FA Cup clash with Doncaster Rovers Belles.
The striker is in typically red-hot form this season, leading the scoring charts with 14 goals in 20 matches in all competitions for Emma Hayes' Londoners.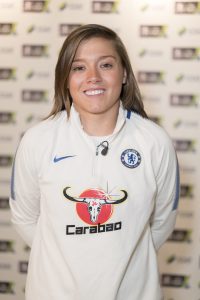 And while Chelsea are currently going toe-to-toe with Manchester City at the top end of FA WSL 1 in the league, Doncaster are powering clear at the summit of FA WSL 2.
This momentum, Kirby says, means the South Yorkshire side are a dangerous prospect and Chelsea will have to remain professional and expect a tough and frustrating ride in their fifth-round clash as they look to unpick the Belles backline.
"Doncaster have got a really good squad of players down there and they always have done," said 24-year-old Kirby, who has nine goals in 26 England appearances.
"When I was at Reading playing against them, it was always a difficult game – they're a physical side and I think they're going to look to frustrate us as much as they can.
"They're only a few teams out there who would come out and press us, so I think it will be a frustrating game for us and one we have to be patient with and try and build a goal rather than it be end-to-end.
"Every time I play Doncaster I leave the pitch with a few bruises. It should be an exciting game – they've got quality in their team and they pose a threat going forward.
"It will probably be about physicality and them leaving a boot in here and there, but they have players who can play and we have to respect them."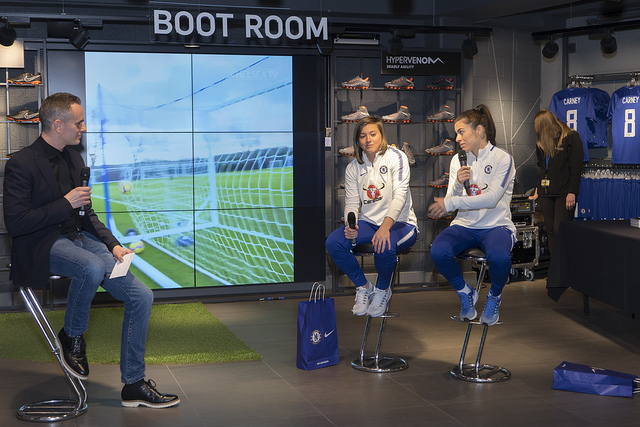 Kirby, along with teammate and fellow England star Karen Carney, took questions from fans and held a signing and picture session at the Chelsea FC Megastore at Stamford Bridge on Wednesday, with the trophy in full view for fans to admire.
Striker Kirby joined Chelsea in July 2015, with the Blues having won the FA Cup two months previously. She was also part of the side which lost the 2016 final to Arsenal.
And the mercurial forward wants 2018 to be Chelsea's year as she eyes a Wembley triumph for her and her teammates.
"The SSE Women's FA Cup is always top of people's lists of the ones they want to win," added Reading-born Kirby.
"It's such an historic trophy to win and one that's probably one of the most important in the women's game. It's one that we've won before and one we can taste what it feels like to win.
"We want to put everything into this tournament so we can hopefully get that trophy at the end.
"It would just be such a magical moment – all you want to do is win trophies, whether it's the FA Cup, whether it's the FA WSL, it always has a big meaning when you win something.
"It's a bit of a relief when you do win it and we lost to Arsenal in the final last time – it's one that we really want to push to win."
Tickets are now on sale for the SSE Women's FA Cup Final on Saturday 5th May at Wembley Stadium connected by EE. For more information about tickets and SSE's involvement in women's football visit www.sponsorship.sse.com