The scoring stats accompanying the name of Tabitha Chawinga since she arrived in Swedish women's football in 2014 fit only into the 'staggering' category. While her team Kvarnsvedens IK were sadly relegated from the top-tier Damallsvenskan last year, the Malawian forward once again racked up some breathtaking numbers, with 25 in the league putting her ten clear of anyone else.
What makes her continued form even more astounding is that she is still only 21, though more than just facts and figures alone, Tabitha appears to be a talent that we do not see come around too often. The pace, the composure, and the confidence to drive at the heart of a backline with single-minded purpose very obviously hint at a premier performer in the making.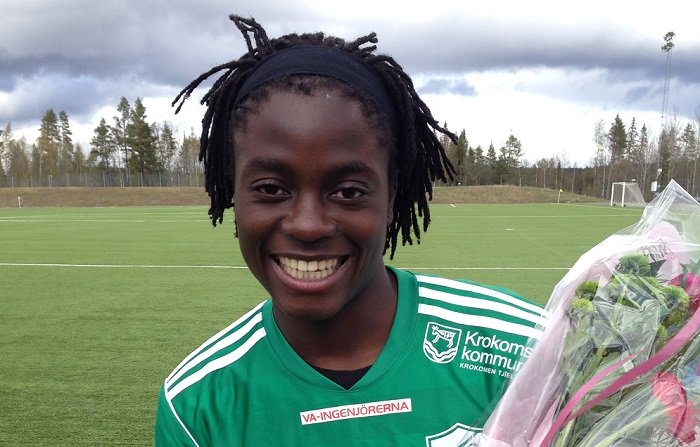 As 2017 began to wind down, it was reported that the increasingly star-studded Chinese Women's Super League (CWSL), and more specifically, Jiangsu Suning, would be her voyage's next checkpoint. While Sweden has become a true second home to Tabitha over 8,000 miles away from her foundations in southeast Africa, by her own admission, the chance to further provide for her family by taking her career to a league with handsome resources was one she could not pass up on.
Moving to China, though, is a unique challenge in itself, with a fascinating culture and a chance to test herself on another continent, while the nation is anything but a novice in women's football. Olympic and FIFA Women's World Cup finalists in 1996 and 1999, the Chinese national team were 13th in the FIFA rankings as recently as September 2017.
Alongside the domestic core, the highly reputable names are continuing to venture to the CWSL, with the nomadic but majestic Brazilian forward Cristiane signing for Changchun Zhuoyue last summer, and former Spain captain and creative force Vero Boquete recently joining Beijing BG Phoenix FC from Paris Saint-Germain. Boquete's one-time PSG teammate, Costa Rica's trailblazing captain and midfielder Shirley Cruz, is a fellow new addition at Jiangsu alongside Tabitha, who has been relishing her new surroundings so far.
"It's been a great experience as I have met new friends," she began. "It's a new culture but it's all fun and I like it.
"I can't wait to learn a few lines of Chinese. My family was excited that I was moving to China and they are supporting me.
"At first I was at a hotel, but I have a house now, living alone."
Tabitha was unveiled in the bright blue of her new team at the end of January, and Jiangsu are a club owned by Suning Appliance Group, with the men's team managed by former England boss Fabio Capello. The women's team finished 3rd in 2017 and the ex-Olympique Lyonnais (Féminin) manager Gérard Prêcheur signed a two-year deal with the club back in December to replace former Iceland women's head coach Siggi Eyjólfsson, who now leads the Chinese national team.
Jiangsu have also had Brazilian internationals Debinha, Fabiana and Gabi Zanotti in the not-too-distant past, while the league has had other African players sign, in Cameroon forward Gaëlle Enganamouit and Nigeria's ex-Arsenal and Liverpool striker Asisat Oshoala (both Dalian Quanjian). Oshoala's form for the champions saw her finish top scorer and named the league's best striker, and her compatriot, defender Onome Ebi, has now signed a one-year deal with newly-promoted Henan.
Flying the flag for not just Malawi but Africa is a privilege Tabitha does not take lightly, and the fleet-footed, silky attacker plays for her family as well, in so many ways. Through football so far, she has been able to pay for school fees and food for them, as well as buying a house for her mother.
Tabitha was joined at Kvarnsvedens IK by her younger sister Temwa last season, with the younger Chawinga just 18 when she signed in July. Temwa is the youngest of the children in their family, as Tabitha explains.
"In our family, we are five girls and I am the third born. Temwa is the last, others are Linda, Mami, and Isabella.
"Some are married, others are still at school."
There have been a variety of goals in Tabitha's repertoire, but a regular theme has been to race into the box before showing incredible coolness. She is a striker comfortable with rounding the keeper, tying defenders up in knots before slotting away, scoring with her head, the outside of her foot, through the keeper's legs – and so on.
She is predominantly left-footed but can finish with her right, which is another attribute to help make her a genuinely remarkable prospect in the women's game. While football comprises a collection of infinitely differing personnel the world over, one common thread is the importance of opportunity.
"In Malawi, our team had four balls, at most, available to play with during training sessions."
Tabitha's ability is becoming clear for anyone to see now, though like anyone, she needed her platform on which to demonstrate it. That was where an American who was somewhat bowled over by her potential lent a helping hand.
Melisa Krnjaic, a native of Washington, D.C. and a former player at the Ivy League university Dartmouth College, was working with Grassroot Soccer, an organisation which uses the game as a hook to educate youth about HIV and AIDS. With her soccer background, she was invited to join the club DD Sunshine in Malawi's capital of Lilongwe, who happened to have one very special talent in particular.
"I was blown away the first time I saw Tabitha play," Melisa recalls. "The combination of lightning speed and relentless hard work she possesses is unparalleled."
"In Malawi, our team had four balls, at most, available to play with during training sessions. The lack of resources limited the technical work we could do and often made it difficult for players to hone in on individual technique.
"It was harder to get the repetition needed to refine shooting and dribbling skills needed to play at the highest level, though Tabitha's raw talent was always there. I frequently remember thinking what an unstoppable player Tabitha would be with consistent access to good equipment and quality facilities."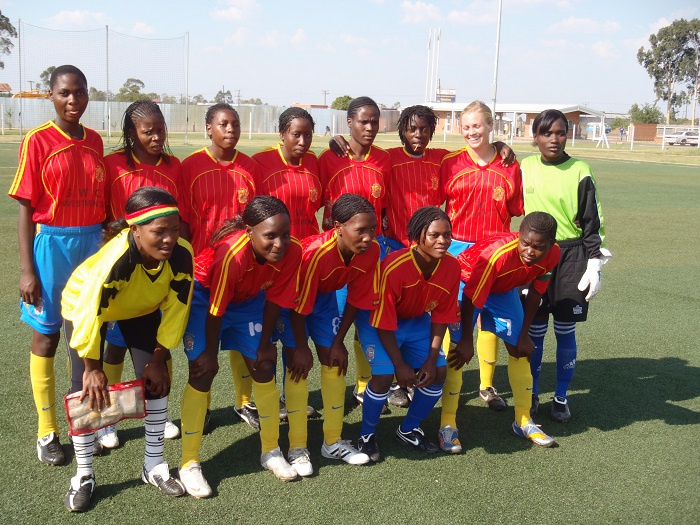 As it so happened, the former Glasgow Rangers Women full-back was able to make a vital impact in that regard, recommending Tabitha when asked for overseas prospects by her old club in Sweden, and putting them in touch with DD Sunshine's coach David Dube. That club was Krokom/Dvärsätts IF, a team who were in the third-tier Division 1, coached by Tommy Martinsson and Mikael Staf, with Torsten Olofsson and Anders Funseth as the club's managers.
Torsten takes up the story of Tabitha's successful move to Europe.
"Mr. Dube was very excited and wanted to send Tabitha over straight away, so we had to calm him down and convince him that we had our winter break and would arrange a contract for the beginning of next year. We were a little sceptical if we would bring her here, mostly because of the cultural differences, but we decided to bring her here on a trial.
"When we informed Mr. Dube about that, he didn't hesitate a minute, and all the papers were cleared without delay and Tabitha arrived here in April (2014). As I remember it, there was some snow left when she had her first practice.
"We saw straight away that she was something special and signed her for our club. She was surprisingly adaptable to the new environment, even though her English language vocabulary was developing and a lot of other things were new to her.
"We did everything to make her feel comfortable and also placed her in an apartment with two other foreign players and they helped her in all they could."
The transfer, which Tabitha described as a dream, had her living in Krokom in Jämtland, and what followed on the field was remarkable. She scored 39 goals in 14 games for K/D-55, a club that has been around for 63 years and operates on the main goal of developing players, primarily local but with some from overseas.
"She is always welcome in Krokom, Sweden."
Those in charge at the club told Tabitha it was a window for her to promote her talents, and she duly seized that chance. Torsten describes how Kvarnsvedens IK, at the time one league higher and looking to win promotion to the Damallsvenskan, came calling.
"At the end of the season, Kvarnsveden contacted us and were interested to have Tabitha for a trial with their team. At first she hesitated, because Kvarnsveden, in Borlänge, is 600 kilometres south of Krokom and she had to go by train and bus to get there.
"But after she discussed it with Mr. Dube, she went there. We gave her exact instructions how to do that; when to change to bus from train etc.
"After her trial there, Kvarnsveden contracted her for two years."
Another wondrous detail around Tabitha's form in Sweden was that she managed to score her 39 goals in her debut year despite missing K/D-55's first five matches because she had not yet turned 18, which the rules demand of foreign players. Torsten was among many people connected to her first Swedish home who has looked on with immense happiness at where she has started to go in the game since.
"We are proud that we found her and helped her to develop and also helped her to get where she is today. A lot of people, including us, players, the club, fans and more, were very sad when she left.
"She is always welcome in Krokom, Sweden. We still have good contact with Tabitha and it was a big moment last summer when she paid us a visit for a couple of days before she signed up for China.
"We are happy that she managed to fulfil her goals to be a professional player and have some income so she can help her family and her club in Malawi, and that it gave great opportunities for more players to get to be professional, like Tabitha's sister Temwa."
In nations like Malawi, which is among the very least privileged in the world, Tabitha is a sensational example of what can be uncovered and nurtured. One of the main barriers to training on a consistent basis for teams like DD Sunshine is the cost and unreliability of transportation.
DD Sunshine coach David Dube had a team bus that would do rounds to the players' neighbourhoods or houses in the city, so his players were able to train regularly and get to games at the weekend, as well as international tournaments in Zambia. Many of the players, including of course Tabitha, were also on the Malawian national team, but there is still great difficulty in gaining recognition outside of the region.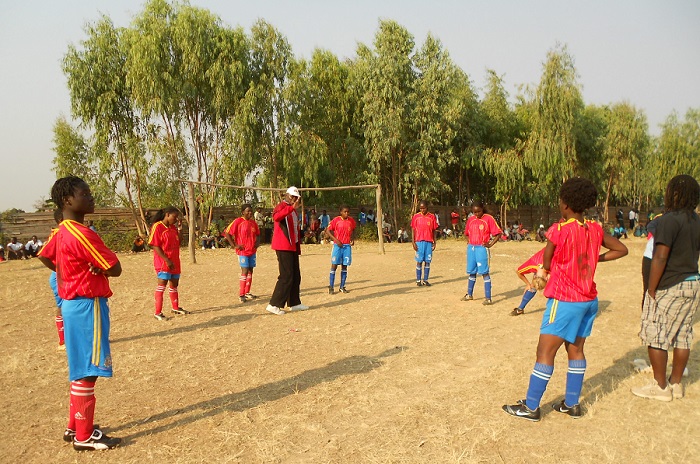 Tabitha's journey has not only projected her skills onto a far wider stage, but it also sends a clear message of the potential that exists within Malawi and other African nations. She recalls the love and curiosity she had for the game as a youngster, but also tells how she had to battle against deep-rooted prejudice and sometimes even abhorrent punishment just to play.
"Growing up in Malawi then, it wasn't easy to just play soccer wherever, because it wasn't accepted by parents as it was regarded a men's game only. I would play with boys in the streets, playing field and then at school.
"Eventually they started becoming used to me being a soccer player but I would be whipped sometimes for playing soccer with boys. I would watch soccer but mostly it was men's games.
"During the Women's World Cup I watched Marta of Brazil playing. She really inspired me and I was honoured to meet her in Sweden; she even encouraged me."
As well as hitting the net with jaw-dropping regularity at Kvarnsveden – helping them to promotion to the Damallsvenskan with 43 goals to her name – Tabitha was nutmegging players at times and leaving them trailing behind while still only a teenager. Her football adaptation to her Scandinavian setting was seemingly natural and she has surpassed a century of goals in Sweden.
Those at K/D-55 were impressed with how she bedded in so well, but what did Tabitha herself think to the task?
"It wasn't easy during my first days in Sweden as the weather was quite different, but I acclimatised as I knew why I was there."
Hitting 15 goals as Kvarnsveden finished 9th and stayed in the top tier in 2016, which was bettered only by Linköping's international duo Pernille Harder (Denmark) and Stina Blackstenius (Sweden), Tabitha's form aroused clubs' interest again. Champions Linköping were reportedly one of them, though she extended her stay into what became an even better 2017 season, with her 25-goal league haul.
One of the arguable plus points of the Chinese league is that it does not have the huge drop-off in quality outside the top teams that we see in the French Division 1 Féminine, for example. France was actually one of the potential destinations for Tabitha this year, and the Arsenal fan also tells of the strong desire she harbours of playing in England some day.
"Yes I had several offers from America, France, Sweden, Czech (Republic), Spain, and other countries, but I chose China. After China, I will see where to go next, but I would love to play for one of the English teams."
Named the best Damallsvenskan forward of 2017 at Sweden's annual Fotbollsgalan, Tabitha was curiously not in the top three for the African Player of the Year award. She was also not one of the 55 players named on the shortlist for the FIFPro Women's World XI, though such accolades will surely find her if she continues what she has been doing.
"I believe Tabitha will continue to make a name for herself and leave a legacy in her wake in women's football forever."
Part of the bigger picture is being able to inspire girls from Malawi, a country whose national team has had long spells without competitive action but featured in the COSAFA (Council of Southern Africa Football Associations) Women's Cup in Bulawayo, Zimbabwe last September. Malawi did not make the final, won by South Africa, though Tabitha got to play again alongside sister Temwa, even netting a hat-trick in a 6-3 defeat to Zambia.
She also captained the team and speaks of her understandable hope of greatly improved opportunity for a side currently 110th in the FIFA rankings.
"If we would get enough support in girls' football in Malawi we would compete at world level. The sport is growing just now and because I got to play in Europe they can understand that girls can do better.
"Maybe we will start getting equal support to boys."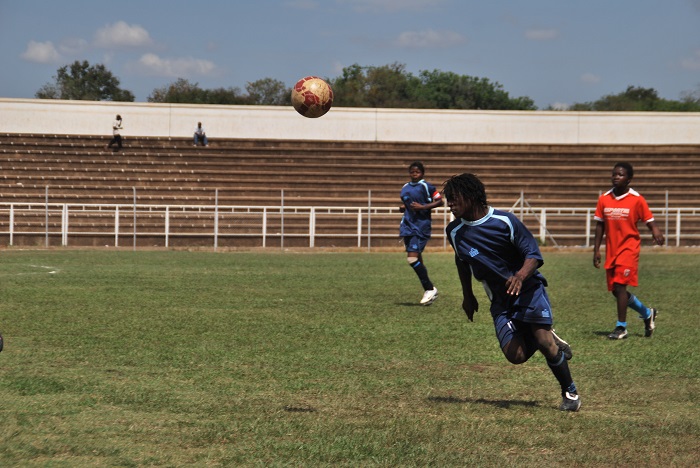 Someone who has already produced the breathtaking so far in a top league, we know China is next, but the feeling is this is just the beginning for Tabitha. It is difficult to see how she will be nullified in another leading league, and while it is not always true that a young player can only get better, the promise she possesses is seemingly extraordinary.
For now, it is an opportunity to enjoy, a chance to be tested in new surroundings on and off the pitch, and to win silverware. That prospect of team glory is surely all the more welcome after last year's relegation and who would bet against Jiangsu with Tabitha and Shirley Cruz in the ranks?
One of the key protagonists in her story so far, the aforementioned Melisa Krnjaic, feels nothing but pride at seeing her old friend thriving, and she believes that her name will go down in the record books someday.
"Tracking her progress since she started playing in Sweden, I'm ecstatic when I hear how well Tabitha is doing, though never surprised. One anecdote about Tabitha that always stands out in my mind, and I think exemplifies her character, is at training when our team would be running laps around the field.
"As time wore on, the perimeter of the team's laps would get smaller and smaller, but Tabitha would always be out on her own sticking to the 90-degree angles of the field, never cutting corners. That mentality to put in honest hard work is a characteristic that pulses through her every play on the field and one I believe will carry her to the top level.
"I believe Tabitha will continue to make a name for herself and leave a legacy in her wake in women's football forever."
Tabitha and her journey capture everything that makes our game genuinely special – entertainment, triumph and lives being made better. The last word here fittingly comes from her, breaking it all down in beautiful simplicity.
"Football means everything to me and when I am inside the field of play I feel comfortable to express myself, no matter what I am going through. Give me a football and I will show you what I am made of.
"Finally, I thank all who follow and support me, for without them I am nothing. Let's be together in 2018."
Interviews/article by @chris_brookes