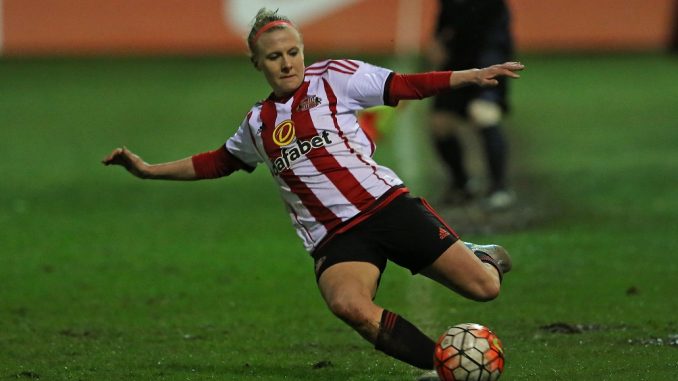 On a Sunday afternoon, with the backdrop of Downtown Vancouver and False Creek, the stunning BC Place is staging international football, as the Canadian Women's National Team host Mexico. There are no goals on the day, and it may not have the stakes of a tournament clash or qualifier, but with 21,217 in the stadium just a few miles from where she grew up, Canada's Kylla Sjoman has felt few occasions more meaningful.
The game was the second of the current Sunderland Ladies defender's international career and the sight of the glistening venue still brings a warm rush of pride whenever she drives past on her visits home. Kylla was raised just east of Vancouver, and her hometown of Burnaby has long been associated with names like actor Michael J. Fox, singer and eternal Christmas ambassador Michael Bublé, and of course, Canada captain and women's football legend Christine Sinclair.
"This is true, they are big names in the Burnaby community," Kylla confirmed with a smile. "Christine Sinclair, we grew up playing against each other in high-school soccer and her aunt was my coach growing up through club."
"I played with her cousins; they're like two of my best friends back home. Michael Bublé bought three properties about five minutes from my house and he's wiped them all out and he's doing this big mansion with a skating rink in the back, just across from the school he grew up going to."
Burnaby is very much home to left-back Kylla, though you could point to Arizona, Germany, Glasgow and more in between as vital stops on her personal voyage. The one-time Celtic and Doncaster Rovers Belles player's route to that international football homecoming was blessed with its enriching experiences and friendships, but also fraught with discomfort, doubt and a feeling of being forgotten about by the national-team setup she had progressed within as a youngster.
Currently, you find her in England's North East, approaching two years at Sunderland Ladies. Like her career, it has been a spell with no shortage of significant happenings; from her ACL injury in April 2016 to the club announcing this January that they would be reverting back to part-time.
The recent news that they will not be applying for an FA Women's Super League licence in the first wave, instead focusing on a joint-bid for Tier One status in March, is the latest in that regard. It has, however, been a time in which the amiable number five has felt a certain personal shift, while further adding to her football understanding amongst a multi-national squad.
"Since coming here I've actually worked on myself the most of any place I've been; just taking more steps to understand how I think and feel. We have so many dynamics, personalities and cultural differences between us (in the Sunderland team) that it makes things really light-hearted in a way.
"We have a bit of a laugh and we kind of unite through all of our differences. People like (captain) Lucy (Staniforth) and Tori (Williams) are big personalities and good people to look towards during games and everything.
"I think Dominique (Bruinenberg) has a big personality; she has a really good heart and tries to be positive and unite players. Anke (Preuss) – she would never complain, she just gets on with everything.
"I think it's good to see all these different people and how they take on the game."
While resources are far from plentiful, Sunderland head coach Melanie Copeland can draw upon players from Germany, Austria, the Netherlands and United States – and then there is Kylla. Emerging amongst Canada's youth national teams, she made her way into the U.S. college game with Arizona State before carving out a club career in England, Germany and Scotland.
"There's pictures my parents took of me leaving the airport and I have tears running down my face!"
Her footballing pedigree commands its own respect, though it is her humility, heart and humour that have had the most profound effect on those around her. The places she has been have given an enhanced appreciation of people and perspectives, which goes hand in hand with her involvement now as an ambassador for the Eleven Campaign, which aims to bring children from 11 countries together in one game (more of that in the second half of this interview).
An understanding of cultural mixes is something she has always had, though, owing to the Nordic half of her parentage.
"My dad's a very proud Finn, even though he emigrated when he was six years old to Canada. During holidays especially, we kind of took on those roots; like celebrating Christmas Eve instead of Christmas Day.
"We're not a religious family by any means, but on Christmas Eve we'd go to church, and then we'd have a meal like salmon, beetroot salad, and go over to my aunt's. Then just things like décor around our house was very Scandinavian."
With her father, Pentti, coming from Kajaani, Kylla's mother, Julie, hails from Terrace in British Columbia, and she has one older sister, Kirsten. At 15, Kylla began with the youth national teams, featuring in Under-16 and Under-17 camps, but as with many North American kids, her youth was a multi-sport one.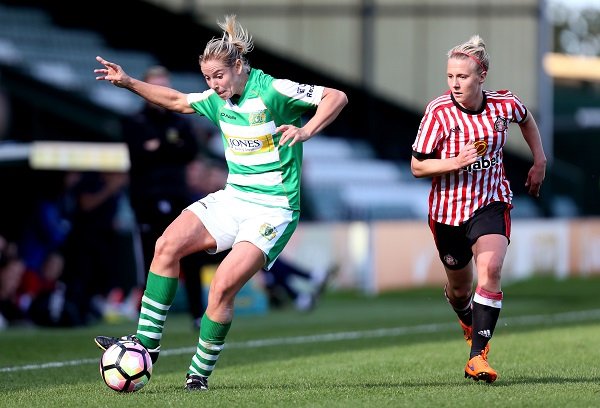 At Burnaby Central Secondary School, she played soccer and volleyball, and was named her basketball team's most valuable player two seasons running. On the court, she was a standout point guard, as was her NBA All-Star compatriot Steve Nash, one of her sporting inspirations who she says she simply had to go and meet while he was rehabbing in Burnaby.
Having contested national soccer championships growing up at Burnaby Girls, a team she still highlights as her most influential, she headed to Arizona State University as one of 2005's 'Top 25 International Recruits' as named by women's college soccer site Soccer Buzz. Although no stranger to travelling for her sport, this time it felt like she was very much flying solo, in the beginning at least.
"There's pictures my parents took of me leaving the airport and I have tears running down my face! I think the first week was tough, but I was so lucky with the girls I had as teammates there; even now some of them are my best friends.
"It was a tough transition but that initial step to go away and play has opened up a world of opportunities for me."
Kylla is currently an ambassador for Green Sky Fitness, who she pays gratitude to for helping her attend conferences for women in football, and back in college she majored in Exercise and Wellness. On the field for the Sun Devils, she led the team in assists in her sophomore and junior seasons, and remained in Arizona as she played one more summer there after finishing college, for Phoenix del Sol (Women's Premier Soccer League).
After college, she wanted to pursue a career overseas, and as she tried to utilise any connections she had, her former Ottawa Fury teammate and current England striker Jodie Taylor gave her contacts for Chelsea Ladies and Doncaster Rovers Belles. Chelsea were open to maybe offering her a trial, while the Belles, managed by John Buckley, were willing to sign her straight away.
Feeling she needed the security before she travelled over to England, she took Donny up on their offer. Due to an agreement the club had with the local airport, Kylla would stay at the hotel just across from there, with Swedish teammate Maria Karlsson and Ireland international Áine O'Gorman.
Playing the first season (2011) of the FA WSL, the Belles finished 7th out of eight teams, and Kylla found it all a challenge, but with its lighter sides.
"I lived in a hotel for 11 months, which sounds quite glamorous…maybe it doesn't sound that glamorous! It made it easier that Áine had a car, but because Maria and I were both quite foreign to the UK, when we had a day or two off we'd just hop on the train and go to Leeds or Liverpool or Manchester, so we tried to explore as much as we could.
"Then Jonathan James, who was chairman of the club, his family took us on as their own and they'd cook dinners for us and we'd cook dinners for them. We had a family dynamic going on there and so even though we were away from things by being at the airport, we managed to have a lot going on."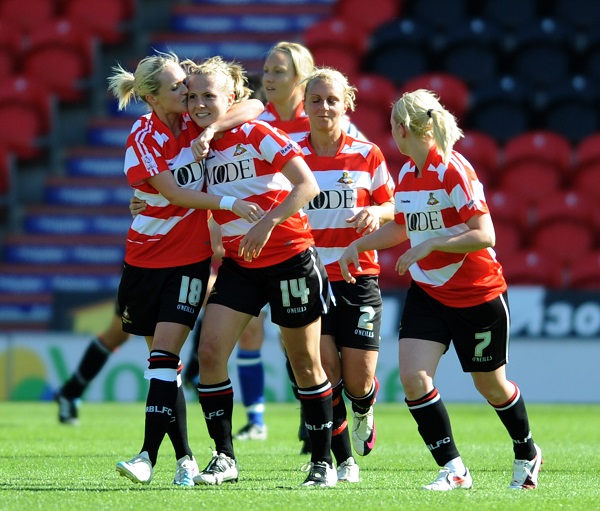 It was then to Germany, as she joined second-tier Herforder SV in 2012, and she would spend two spells there, returning on loan from Celtic in 2014. She describes both the struggle and solace when she first arrived.
"Germany was a tough transition, just because of the language, but I was in a small town, which actually might have been a nice change for me. There was like a real sense of community around the team, so I met a lot of fantastic people who volunteered for the team or supported the team and they really went above and beyond to help me out.
"I was injured and there was this family and they would have me over once a week and cook me goulash; they would come to my house and pick me up in the car when I was on crutches. I had another friend who would bring me a bunch of DVDs and stuff and get me music, so I just felt settled.
"Just really kind people who make those small differences that go a long way."
Kylla would see the club win promotion to the Frauen-Bundesliga during her second stint, though there is one other big reason she'll always fondly remember being in Germany. In 2013, she finally got her opportunity with the senior national team.
"That was a pretty exceptional moment. I had wondered for years if I could make it in the mix; just like how I would compare to everyone.
"I had messaged Carmelina Moscato, who was quite a name on the team, saying, 'Hey, I'd just like to see where I'm at,' because I'd been out of the system for nine years. I'd played here and there and I don't think anyone even knew who I was.
"She was like, 'I'll give you our scout's email.' I emailed him and said, 'I've played here, here and here, I've played against these people, I'd just like to see where I'm at.'
"So I got an email on a Wednesday night saying 'can you come to Nice, France on Saturday?' This was when I was in Germany so I called my mom and I was in tears because I was so excited, and she started crying as well.
"When I went into camp, even though I knew around ten of the girls that I'd played with previously, I went in and I was shaking. I have this ring and you could just hear it rattling!
"The girls were just coming off Olympic bronze medals and it took a few days for me to settle in, but Christine Sinclair came up to me and gave me a hug when I first got there and that was a really calming feeling, because those around her have so much respect for her."
Kylla impressed enough to earn a debut from head coach John Herdman in April 2013, funnily enough in the same region of England where she'd played for Doncaster – South Yorkshire. She started the friendly with the Lionesses at Rotherham's New York Stadium, playing 75 minutes of the 1-0 loss.
That was cap one, but the second was extra special, coming in November that year against Mexico, with 27 of her friends and family at BC Place in Vancouver to see her start. It was in so many ways the culmination of all the tough training sessions, the injury comebacks, battling homesickness and more to keep striding forward in the hope that one day she might line up and hear that anthem.
For not just her career, but for life moments, it is right up there.
"I think having that moment and knowing within myself that I could compete, all the work that I'd done up to that moment was worth it. I think it's taken me a while since to take the shift, because I went in, then I was out, and then I was in, and out again, and I haven't really been back in.
"To still be really proud of those moments, moments that not everyone gets in their career, I had to shift my mindset from being disappointed to 'that was an amazing time in my life, and if it comes again, fantastic,' but I've kind of taken that pressure away."
Interview/article by @chris_brookes
Look out for the second half of this interview, as Kylla talks side-jobs and Celtic, the unseen aspects of her ACL comeback, how she and a former Sunderland teammate are trying to help the women's football landscape, her favourite UK lingo, and plenty more…