It was a mini transfer drama more akin to the men's game. Firstly, rumours circulated for a week or so; 'off the record' rumblings carried on for a few more days; then occasional snatches of stolen training ground snaps leaked onto social media, which were met with a mix of glee, disbelief and despair from fans; and finally, an official announcement was made last Friday (18th August). The current FAWSL and PFA Player of the Year (and UEFA & FIFA Best Player nominated) Lucy Bronze, was leaving Manchester City and England for foreign shores (on a three year contract), to play for four-time UWCL winners (and current champions) Olympique Lyonnais, with young German talent Pauline Bremer heading in the other direction.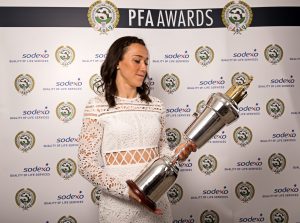 Following the disappointment of exiting #WEURO2017 in the semi-finals, at a tournament where Bronze and her fellow #Lionesses had felt they had enough to go onto win gold, the 25 year old right full back (although, let's admit, she could play multiple positions and often effectively does during games) is fired up for a new challenge at 'the best club in the world, with the best players in the world.'
She arrived in France on Monday morning, had a jog out and a kick of the ball on Tuesday and joined in her first full session on Wednesday morning. Having just enjoyed two weeks 'rest' during which time she tidied up the garden at home in Manchester, she is raring to go, although there are some slight barriers that even Lucy Bronze can't leap over immediately. 'Pretty much everyone speaks English to some extent,' she says with a little relief, 'except the coach, he doesn't. But the girls helped a little with what he was saying and the Fitness/S&C coach stood next to me and Kadeisha Buchanan (Canadian) and translated because she doesn't really speak French either.'
Of course, as you'd expect from a personality that fully commits to any test, she's already started learning French (albeit under the radar during the Euros, when her potential move had to be kept totally under wraps from all around her), she understood a few things said in training and is awaiting the return of the French teacher to the club next week, to get fully stuck into the language.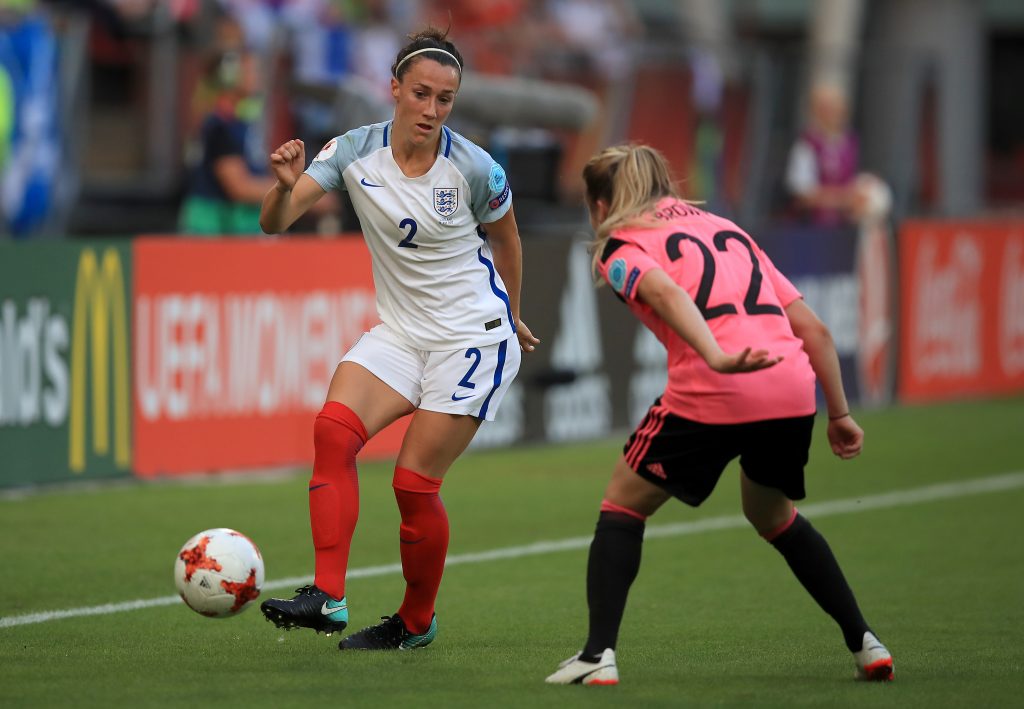 She Kicks caught up with Lucy for a chat after that first session, as she made the short drive back to her hotel, from her first practise as the 'new girl', with her new club, as her new adventure begins…
SK: You said on signing that it was a new adventure, is that what it feels like?
LB: Definitely. Living in a different country, learning a new language, playing with players I've never played with before – I've played against them many times but there's not one player here that I've ever played with – so I don't even know what name they want to be called by!
I know all of the names on the back of their shirts from playing against them – with England you'll say 'Renard' for example – but obviously that's not what they call her here, it's Wendie.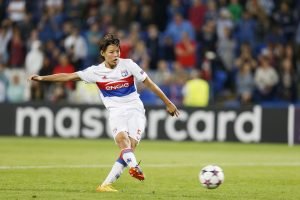 SK: Did anyone standout in training, where you thought, 'Wow!'?
LB: Saki Kumagai was good today. She scored this goal and I thought, 'You don't see that too often!'
SK: When did you become aware that this was a possible move?
LB: Well the President of Lyon [Jean-Michel Aulas] after we played the last Champions League game against them, said to me, 'You're a really good player, you play well.' I said, 'Thank you,' and didn't think much of it.
Then, come the end of the season, they were knocking on the door a bit. So, basically it was way before the Euros, when the Euros prep camps were taking place. They came in and asked if I would like to join Lyon and my answer was, 'Yes.'
SK: Did you decide straight away?
LB: No I didn't, to be honest. Everyone wants to play for the team that wins the Champions League and has so many stars playing for them but I was divided by whether I wanted to stay at City and help grow City or whether I went now and pushed myself by doing something new. I kind of wavered back and forth for about a week, then sat down with my agent and said, 'I need to go, I need to go and play with these players every single day and try and win the Champions League now because I don't know how long my career is going to be.' I do think in the future, City will become a team similar to Lyon, where they have all of these superstars and are challenging for the Champions League every year but I just think right now, where I am, how old I am, my knees… that I need to go with the 'here and now' and just go for the next step. And the next step up is Lyon, there's nowhere else really, that I would have considered.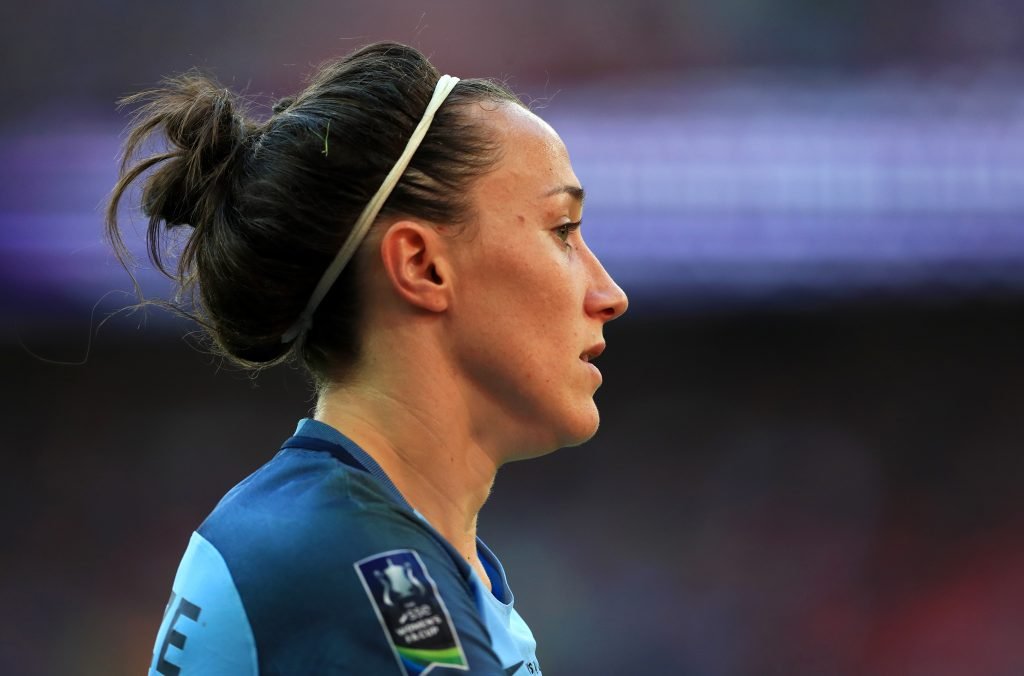 SK: Did Manchester City try hard to keep you, to persuade you to stay?
LB: Initially, I spoke to Nick [Cushing. Manchester City Manager] and told him what was happening and he recognised that having an offer from a team like Lyon – the team they are – was an unbelievable opportunity but he obviously wanted me to stay. So we did have a little chat and I had a think about it. When I told him I wanted to leave, they did try to keep me but my mind was already set on moving to France, to try something new.
SK: It's not about the money is it either, you want to win things, you want the challenge?
LB: Absolutely. I could have gone to a different English club or European club and been paid a lot of money and I said that to Nick, that the move is not about money. In fact none of my football moves have ever been about money, they are about challenging myself.
I always want to push myself, to play at the highest level – where I see as the highest level – and with the best players. That's why I moved to Liverpool and the same moving to City and now to Lyon. They are the highest level that I can get to.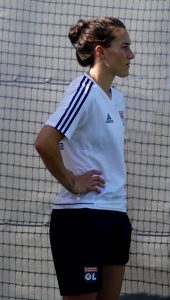 SK: You've always had a glint in your eye when you're the underdog, you love that challenge but you certainly won't be that at Lyon, so that will be a bit of a change won't it?
LB: Yeah a little bit but I have that in training every day instead. I'm definitely not the best player at training! There's a lot of people at training who are a lot better than me at a lot of things in training now, so it's a good new challenge to have, playing against so many world class players in training.

SK: Was it amusing or frustrating trying to keep the transfer quiet and not let the news leak out?
LB: Some of it was funny but a lot of it was frustrating because I knew before the Euros and the prep camp that that was what I was wanting to do, but obviously there are so many City girls at England and I didn't want to disrupt them by telling them what was going on. So I had to keep my head down. I was trying to learn French and couldn't really sit in England camp speaking French because it would be a bit odd!
And obviously I didn't know if the transfer would definitely go through – it only went through last week – while I've been waiting two to two and a half months, so it wasn't really something I could talk about and I didn't want to speculate.
At the end of the day, I just wanted to play in the Euros, wanted to play for England. In terms of what was going on back at home, my agent only told me what I needed to know.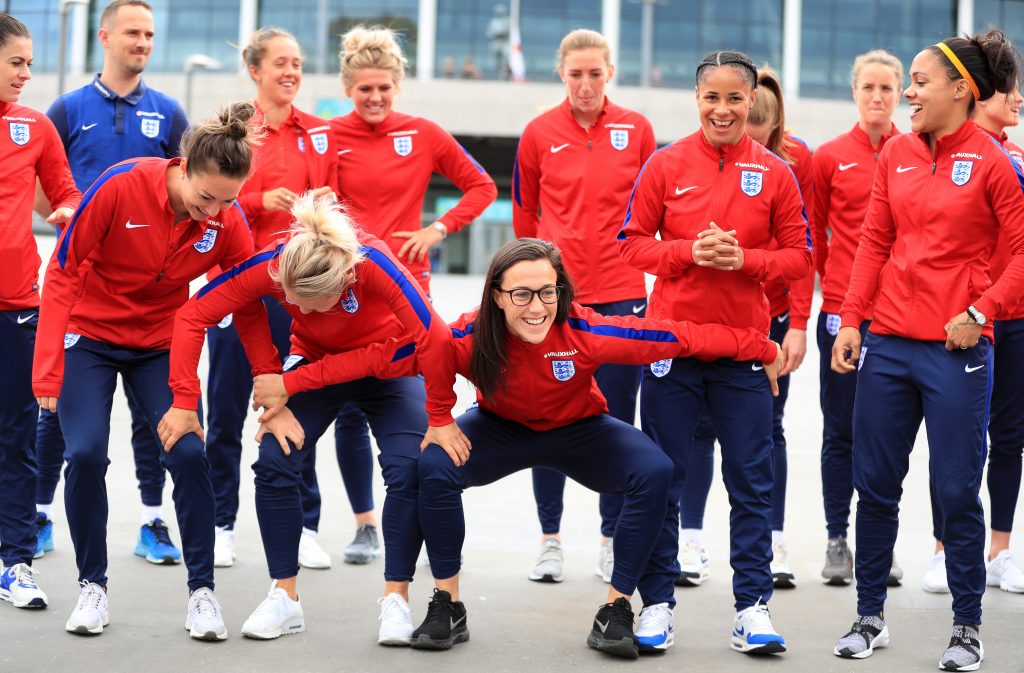 SK: And your squad number will be 22?
LB: Yeah. They offered me a choice of numbers but obviously they have so many players there weren't many numbers to pick from, so I just went for the even number, rather than 13, 19 or 25 or something.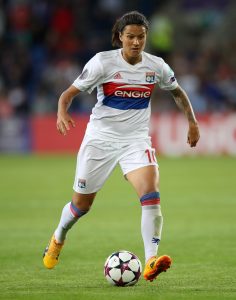 SK: One of your new team mates, Dzsenifer Marozsán, is in Monaco as one of the three nominees for Uefa Women's Player of the Year [Lucy was in the longlist of 10], is that the sort of thing you want to experience and do you feel it's more possible at a club like Lyon?
LB: It's great to even get nominated for all of these things but I just want to win the Champions League, the Euros and the World Cup. Individual awards are great but I want to be a part of a team that wins the prestigious trophies. Marozsán is a great player, she's definitely a special player. And she speaks English, so we're friends!
SK: You'll be playing Liverpool (Friday) and City (Sunday), your last two clubs, will that be weird?
LB: A little bit but I guess I've done it many times before because I've changed clubs quite often. What will be weird is that I've got to speak French and the other teams will be speaking English. That'll be the biggest problem for me! And it's already different because with City and England, you shake hands, don't you? Whereas they give you the two kisses on the cheek here. Although my dad does it anyway, being Portuguese, so I've probably not been caught out as much as another English person might be.
SK: Do the Euros still feel like a burning disappointment?
LB: It felt like that for a while afterwards but I think I'm over it now and onto the next one… and bigger and better things with the World Cup. And to be fair, that was part of the reason for my move to France. The World Cup is in France and the final just happens to be in Lyon's stadium as well. So, hopefully I'll be fluent in the language and although it's in a different country, it'll be quite a comfortable World Cup.
SK: You're in a hotel at the moment but will you get settled soon?
LB: My hotel is only five minutes from the training ground, I've got a car (so I'm driving on the other side of the road, as we speak) and I'll find a little house or apartment to stay in next week, when the translator gets back.
I also got my dog a passport a couple of weeks ago, so she is already vaccinated to get on her travels. So as soon as I have a place to stay, I'll be getting her over. One of the other girls has a dog as well (Corrine Franco, nee Petit) and she speaks English too.
SK: Is the sun shining?
LB: Yes and it's 32 degrees. I've gone from rainy Manchester to sunny France. The weather is nice but it's hard. I found training fairly easy today (as they did) but the heat was a different level to anything in England. I'll not miss the rain, that's for sure.
SK: What will you miss?
LB: Well, speaking English and the girls and my dog (for a little while) and living with Kiera [Walsh] and Demi [Stokes]. But I don't really miss things too much and I'll be back and forth, hopefully, because there's an England camp every month for the next 10 months. So I'll end up spending almost as much time in England as I will in France and they sell English food in France but I like all kinds of food anyway.
Yes, Lucy Bronze loves food and she loves a challenge too. We look forward to following her progress. Bonne chance!
Did you enjoy this long read interview? Who would you like to read an interview with next? Pop your suggestions below or drop us a message…
SHE KICKS – the online community for women's football