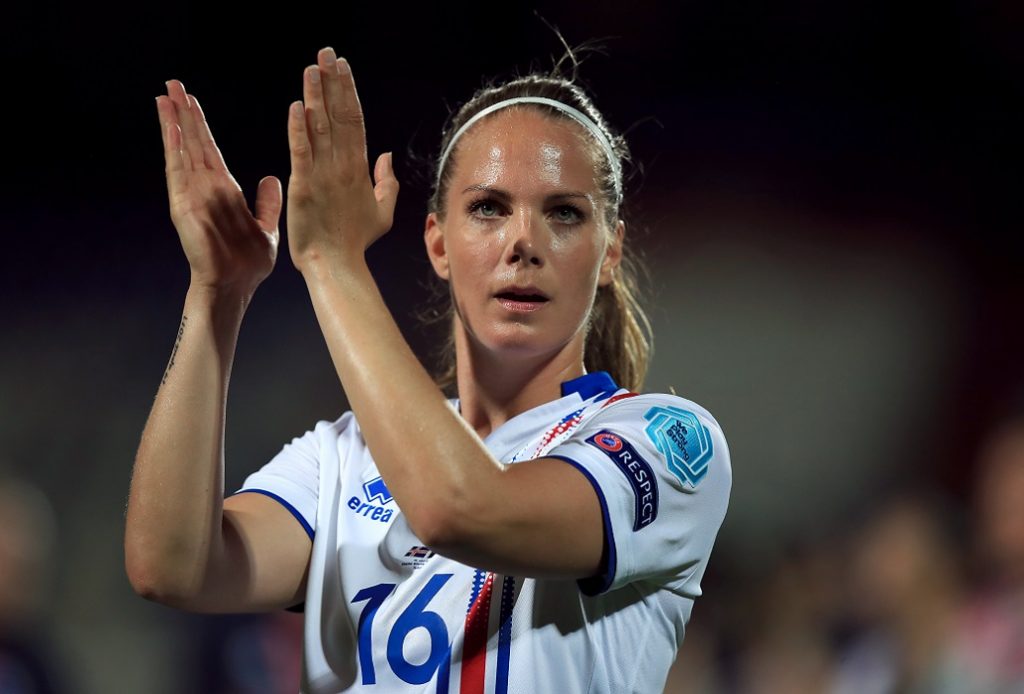 Starting a UEFA Women's Champions League away leg a goal down isn't ideal, but making history the hard way suited Iceland's Stjarnan just fine in the last 32, so their striking star Harpa Thorsteinsdóttir is full of faith as they head to Prague this Thursday.
Stjarnan captured some attention last month in becoming the first Icelandic team to ever make the UWCL's final 16. A Russian pin had burst their bubble at the same stage in all three of their previous campaigns in the competition, in the shape of Zorky Krasnogorsk (2012/13) and Zvezda Perm (2014/15 and 2015/16).
The fourth time was a charm, though, and what made the feat all the more impressive as they finally cleared the last 32 was that they did it in some style, winning 4-0 in Khimki against Rossiyanka after an unsatisfactory 1-1 draw back in Iceland. In buoyant spirits, a 2-1 home loss to Slavia Prague last week was certainly not what the blue and white team from Garðabær wanted from their last-16 first leg.
Nevertheless, their ever-reliable goal-getter Harpa Thorsteinsdóttir, who hit a double in that Rossiyanka win and began with the club at age 12, backs them to overturn the deficit in the Czech capital.
"Slavia is a very well-trained team with many good players who fight and they are tactically strong," said the experienced Icelandic international. "I think the game last week was well played on our part, but we were hoping for a better result."
"It will be difficult to go to Prague but we did better in Russia than in our home game last round, so we believe in the team to do well this week."
That optimism is justified, with the experience of 203 Scotland caps in goal, in Gemma Fay, and the likes of teenage attacking talent Agla María Albertsdóttir and captain Katrín Ásbjörnsdóttir from Iceland's Euro 2017 squad. Then there are players from various other nations bringing substantial know-how from different corners of the global game.
"We have players from all around the world and we speak English as much as we can during trainings and stuff, but mostly we speak Icelandic.."
In Harpa they also have a player whose ten goals made her the joint-leading scorer in the Euro qualifiers along with Norway's Ada Hegerberg and Scotland's Jane Ross. In amongst the Stjarnan ranks, you find midfielders from Jamaica (Donna Henry) and Tunisia (Imen Troudi), as well as defenders from the Netherlands (Kim Dolstra), United States (Lorina White) and Nicaragua (Ana Cate).
Harpa explains what that has brought to the team dynamic as she tries to pinpoint why they have gone at least one step further on the continental stage this season.
"Yes, we have players from all around the world and we speak English as much as we can during trainings and stuff, but mostly we speak Icelandic and some of the players have learned a lot of it during the season. I think it's important to have good players come and play in Iceland and the club has ambition to keep the standard high so we can keep improving and become a better team.
"It's great for an Icelandic team to get to the final 16 in the Champions League for the first time in history. We have put a lot of effort in to have the league at a high standard with good foreign players, so we are really glad to finally be able to go through the first round.
"Stjarnan has been in the Champions League four times and always had to face a team from Russia in the 32. For the first time in a long time we didn't win any of the big titles in Iceland and that was a big disappointment for us, so maybe we just put an extra effort to make a good performance in the Champions League count as success for the season."
For the ever-dangerous 31-year-old forward, it has been a more-than-eventful year. The 2014 Icelandic Female Footballer of the Year had her second son, Ýmir, in February, but still managed to return to make her country's Euro squad in the summer.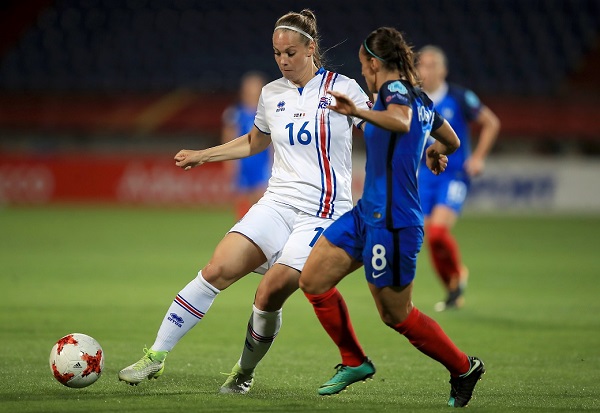 Freyr Alexandersson's team had stormed the qualifying stage, beating Scotland to top spot in their group and scoring 34 goals, with almost a third of those coming from Harpa. Despite what was a hugely admirable achievement to even make the squad, she accepted that the situation wasn't necessarily in her favour when play began in the Netherlands.
"It just takes time to get fit after giving birth to play at that level again. I had a different role for the team than before; I was aware that I wasn't in the shape to be a top scorer.
"A lot of players were dealing with injury and I think the coach was looking for my experience and confidence to contribute to the team."
Becoming a mother for the first time when her son, Steinar Karl, was born in 2011, she describes the process that led her to appearing at a major tournament just five months after having her second child this year.
"I think it was easier getting fit the first time, being younger and all, but mentally I knew more about what I was going through. Also, I had a bigger role for the national team with the Euros coming up, so I pushed myself harder to get on the field the second time.
"I worked with the physios and coaches to take the right steps at the right time; I had to keep myself from doing too much so I wouldn't have to deal with any problems later on. I started easy with just walking and getting strength in my body, and then I added a little more each week until I could run.
"When I could run without any discomfort for about 45 minutes, I started training with a ball. I had to be patient and it is hard when the season is ongoing and you really want to participate with the team.
"The first minutes were difficult but I just started off by playing 10-15 in a game and then added a little more each week."
A leg break had stolen Harpa's Euro 2009 place from her, but she played her part in Iceland reaching the quarter-final under Siggi Eyjólfsson in Sweden four years later. This year, she came on for the final 15 minutes in Tilburg as only a disputed 86th-minute Eugénie Le Sommer penalty beat them, in a game where they'd had a spot-kick appeal of their own waved away.
While Dagný Brynjarsdóttir (Portland Thorns) and Fanndís Friðriksdóttir (now of Marseille) had some impressive moments – none more so than their superb link-up for the latter to hit their lone goal of the tournament against Switzerland – Iceland looked a team missing a final piece in the puzzle. All-time leading scorer Margrét Lára Viðarsdóttir was one of their ACL-stricken absentees, and despite not yet firing on all cylinders again, Harpa was thrown into the mix late against the Swiss as they desperately tried to find an equaliser in a crucial second game.
One seemingly sure-fire penalty for handball was denied and nobody in the blue could find that telling touch. Harpa, who started the last game against Austria in Rotterdam as they sadly signed off with a 3-0 loss, still rues the big calls that went against them but admits overall they were comfortably below-par.
"With some luck, we could have gotten a better result, but I think with so many key players off their game – and we were having difficulty scoring – we just lacked self-esteem to keep the ball and do what we were doing in the qualifiers. It was good for me personally to be able to take part even though I had my four-month-old son to think about, although it would have been more enjoyable if we had a better result."
The 'dóttirs' made a huge statement with their 3-2 FIFA Women's World Cup qualifying win away to Germany last month – Germany's first loss in a qualifier since 1998 – and naturally harbour strong hopes of making the tournament proper for the first time. The campaign resumes in April away to Slovenia and will eventually end with three successive home games.
Harpa explains her absence from the recent matches.
"I had a talk to the coach in September where we agreed I needed more time to play for Stjarnan and get more time on the field and think about my family. I also have to give myself time to think about the next steps; how I can keep performing at the highest level."
"We are really lucky here in Iceland. Here, women's football gets a lot of respect.."
Harpa enjoyed a stint with Breiðablik in between her two Stjarnan spells, and even represented Charlton Athletic once upon a time. She joined the club as a 20-year-old midfielder during Keith Boanas' FA Women's Premier League tenure, in 2006/07, playing in that one campaign before returning home.
Given her international prowess (64 caps, 18 goals), some may wonder why she hasn't played more club football abroad in her impressive career. While happy in Iceland, it's not true to say she hasn't wanted to sample more of the game overseas.
"I have thought about it and even tried, but it seems like women's football is not a venue for families. There is a lack of money and so on.
"Hopefully there will be a change for that matter in the near future."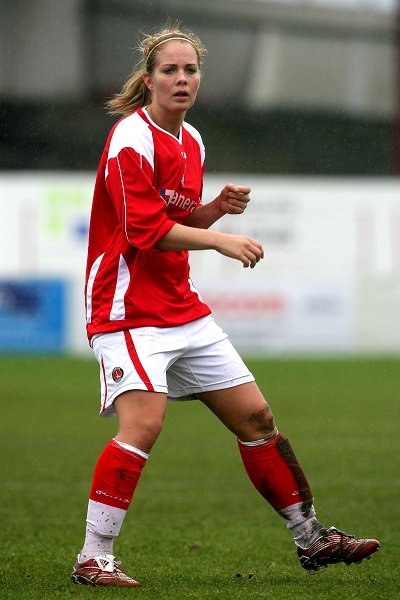 She does, however, feel somewhat unequivocal support from within Iceland's footballing framework. That ties in perfectly with the Nordic island's emphatic national pride for both the men's and women's team at a tournament, which was in perfect evidence as thousands ventured to the Netherlands for Euro 2017.
"We are really lucky here in Iceland. Here, women's football gets a lot of respect and I think KSÍ (Iceland's Football Association) has really done well for women's football the last few years.
"There is a lot more money in men's football but I think KSÍ is really making an effort in equal pay. Mostly we feel that the staff and the people are really doing their best and the support has been great for both teams."
Whether we see her go abroad again at club level or not, she has already been a key component in Stjarnan scaling new heights in women's football's prestigious European club competition. Domestically, she has been one of the most consistently lethal forward players for many years, hitting 20 goals in the top-flight Pepsi-deild kvenna in 2016 to finish top scorer as Stjarnan won the league for the fourth time in six years.
Ólafur Thór Guðbjörnsson's team are one of seven in the ten-club division this year to come from Iceland's Capital Region (Reykjavík and the six surrounding municipalities). Garðabær, where Stjarnan play, is one of Iceland's largest towns and is also where you find the studio that produces the children's TV programme LazyTown!
Life is, however, anything but lax for Stjarnan's right-footed penalty-area menace when she's not on the pitch.
"I train with the team five times a week, plus matches. I go to the gym sometimes in the morning but only when it fits.
"I have a lot going on but I'm not working at the moment, with the younger one who has not got into day-care yet. He is eight-and-a-half months old now, so soon I will start to work.
"My older one is six years old and just started school, so we have busy days now. I have a Master's in Public Health and I have been working mostly with children for the last ten years.
"It just makes it more important to be organised, but I always have time to think about football!"
Interview/article by @chris_brookes