It's been quite a few days in terms of the comments offered backwards and forwards between the English and French camps, via press conferences and interviews. Just minutes after England's 2-1 win over Portugal, Mark Sampson was asked for a response on France coach Olivier Echouafni's suggestion that the Lionesses did not want to face France, and certainly not so early in the competition. In fact, in some translations offered back at England, he and his players have been quoted as saying that France are 'the last team' England want to play at this stage.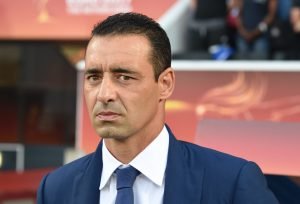 "England are a great team," said France's coach, "but believe me they did not want to face us.
"They play a fast attacking game, but we are more than equal opponents and they know it well."
The way that we in the media offer up little snippets to coaches and players – sometimes slightly out of context – running back and forth to fuel the narrative, is all part of the modern game now (for right or wrong, it certainly adds spice): 'He said this, she said this, he's just said this etc.'
Forgive me if this is obvious but it's worth emphasising that this verbal sparring is not a straightforward exchange between fighters at the weigh in. Still, the fact remains that this is a match up that has so many nuances and levels. France have not yet been firing on all cylinders and so psychologically have to play up how England fear them. It has shades of the arrogance with which they play their football (which it has to be said is breathtakingly good, when they are in full flow) but it also sounds a little like they are trying to convince themselves too. On the flip side, England are sick of hearing this line and so have to repeatedly state how they do not fear them. They are certain in their fitness, ability, unity and brimming with the belief that now is the time for that near 43 year streak (19 games) without a win against France to end. They are unwavering in their conviction – they have their first half performance against France at the She Believes Cup to back them up – but they are also empty words until we see the deed done.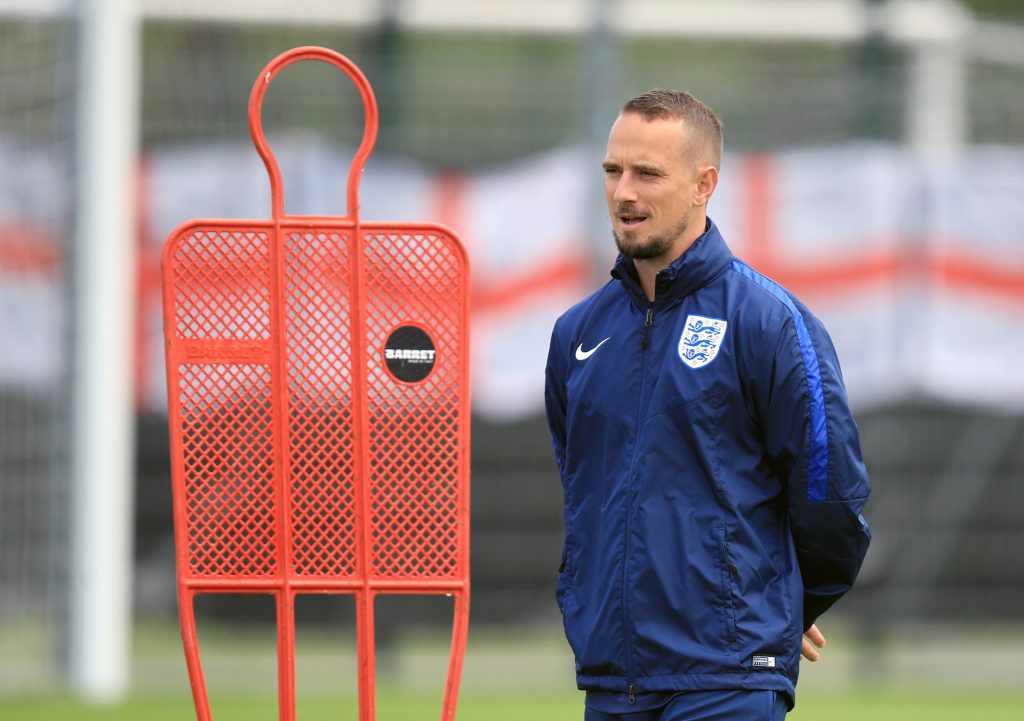 Sampson certainly bristled a little in that first exchange in the post match press conference, though he didn't bow down, he came back confident and combative (and made Player of the Match Toni Duggan, sat beside him, smirk and smile in approval). You've undoubtedly read his remarks made on Thursday night about Echouafni being 'wet behind the ears' and that he has more tournament experience than his French counterpart. Congratulating France on finishing second in their group,  was cheeky and playful:
"We go into the knockout phase with momentum and we know we've got more to give. We will work out a way to beat France. Congratulations to them for finishing second in their group. We finished top.
"It's a great challenge to play France because we want to win this tournament by beating all the best teams. We are fully aware of what they will bring. We're confident."
By yesterday, Echouafni came across as slightly less bullish and when asked about the 'wet behind the ears' comment he said:
"Sampson is right, it's good that I'm new. But I think that this is fair and square. It will be the second game between us since I took over this France team and I've got a lot of respect for this head coach. I think he's done a lot for English women's football so maybe we didn't expect to play each other at this moment in the competition but it is that way. We had a difficult group stage whereas for England it was maybe more easy with a lot of goals scored. So I expect a very good match tomorrow between two big nations of football."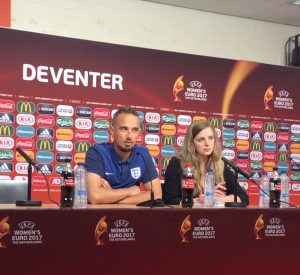 Behind the verbal sparring and rhetoric, Mark Sampson knows it's not about what he says, though he will obviously and publicly back his players to the hilt (and he is absolutely right to do that). So here's his unedited, un-nuanced and simple view of what has been made into a mini war of jibes:
"From our point of view, to be absolutely clear, whatever's said before the game between the managers, myself, the players, this day will be decided between the white lines, between the 22 players on the field, and which finishers can come on and claim the game. Our team have had to fight for everything we've ever got. We've had to earn the right to be here, had to work exceptionally hard to be the team we are, and if we are challenged. we're going to fight back, and that's the mentality we've got. Of course some people won't like it. But that's the type of team we want to be, we want to be the team that if there's a challenge ahead, we take it head on.
"We want to make sure that if there's a loose ball on Sunday we can scrap for it. We want to make sure we can outwork this France team and make sure we're ready for what's going to be a big challenge. But again, to be clear, whatever's said beforehand, this game will be decided by the payers on the field.
"Us managers like to feel we're significant but at the end of the day, we're not really. We're people who step back, give the players the best possible support we can, then let them go on the field and then when they need us we step back in and support. That's exactly what we are."
It's not just been the coaches dragged into this. France's players have reportedly said they are technically better footballers than the English, which England players have responded to politely but with steely determination. One of my favourite lines comes from Casey Stoney, who has been there and seen it all with England (and been part of some of those disappointing tournament losses to France):
"They stumbled through their group but we all know what France can do on their day and what great players they've got. But we don't fear them, we want to match them, we want to better them, we want to beat them.
"I look at our squad and their squad, and I'd want to be in my England team right now, not the French team and there's not been many years gone by where I could say that."
Touche.
#WEURO2017