Denham United and West Ham United both won through on penalties in the FA Women's Premier Reserve League Cup 1st Round.
Sunday 10th September
FAWPL RESERVE CUP 1ST ROUND
Brighouse Town Dev 1-7 Bolton Wanderers Res
Burton Albion Res 1-7 Leicester City Women's Res
Cardiff City LFC Res 3-4(aet) Coventry United Res
Charlton Athletic Dev P-P Southampton Saints Res
Denham United Res 2-2 Milton Keynes Dons Dev (Denham won 4-3 on pens)
Derby County Dev 6-1 Sporting Khalsa Dev
Guiseley Vixens Res 0-3 Blackburn Rovers Res
Hull City Res 0-4 Huddersfield Town Dev
Long Eaton United Res 1-6 Loughborough Foxes Dev
Middlesbrough Res 7-2 Sheffield United 2nds
Newcastle United Res 4-2 Bradford City Res
Portsmouth Res 2-0 AFC Wimbledon Res
Queens Park Rangers Res 0-2 C & K Basildon Res
The New Saints Res 0-6 Stoke City Res
West Bromwich Albion Res 3-0 Nottingham Forest Res
West Ham United Dev 4-4 Lewes Dev (West Ham won on pens)
Denham were held 2-2 at home by MK Dons but edged through in the shoot-out. West Ham did likewise after an eight-goal thriller at home to Lewes.
Coventry United came from behind to eliminate Cardiff City 4-3 after extra-time. Rachel Mason equalised seconds before the end of the 90 minutes and Katie Cornish won it 3 minutes short of penalties being required.
Blackburn Rovers, runners-up to Spurs last season, cleared the first hurdle in a 3-0 victory at Guiseley Vixens.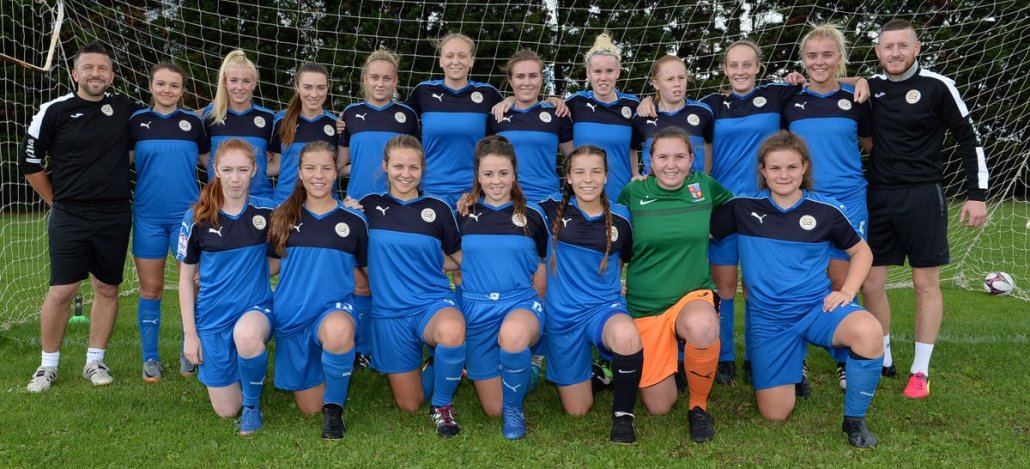 Three sides top scored with 7 goals, Bolton at Brighouse including a Shellby Wolstencroft treble, Leicester City WFC at Burton with hat-tricks for for Mai Moncaster and Kim Farrow, while Middlesbrough against Sheffield United, featured 5 goals for Abbey Loughran.
Stoke City stuck away 6 at TNS, Emily Curteis netting the first of her brace on 4 minutes, with Sophie Taylor getting the second moments later.
Six goals also for Loughborough Foxes at Long Eaton, half that tally for Tiana Hicks.
Newcastle United saw off Bradford City 4-2, Siobhan Jones bagging a brace, Christina Deverdics and Stevie Loraine the other goals for the Magpies.
West Brom ran out 3-0 winners over Nottingham Forest, Shannon Stamps, Shannon Roche and Natalya Pulver scoring.
Trophy photo – The FA via Getty Images