While we might not be able to discover or disclose exactly what players are earning in top leagues across the world – though we know there is a great disparity even within clubs and leagues, as well as nations – we can look at how the formal relationships with clubs, for some, are rapidly evolving… 
(THIS ARTICLE FIRST APPEARED IN OUR OCT/NOV '21 ISSUE #SK69)
WORDS: Chris Brookes 
IMAGES: Daniela Porcelli, FIFPRO; Natalie Mincher & Gerard Franco/Sports Press Photos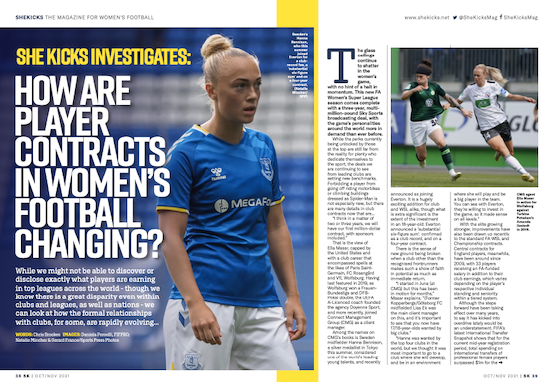 The glass ceilings continue to shatter in the women's game, with no hint of a halt in momentum. This new FA Women's Super League season comes complete with a three-year, multi- million-pound Sky Sports broadcasting deal, with the game's personalities around the world more in demand than ever before. 
While the perks currently being unlocked by those at the top are still far from the reality for plenty who dedicate themselves to the sport, the deals we are continuing to see from leading clubs are setting new benchmarks. Forbidding a player from going off riding motorbikes or climbing buildings dressed as Spider-Man is not especially new, but there are many details in club contracts now that are… 
"I think in a matter of two or three years, we will have our first million-dollar contract, with sponsors included." 
That is the view of Ella Masar, capped by the United States and with a club career that encompassed spells at the likes of Paris Saint- Germain, FC Rosengård and VfL Wolfsburg. Having last featured in 2019, as Wolfsburg won a Frauen- Bundesliga and DFB- Pokal double, the UEFA A-Licenced coach founded the agency Doyenne Sport, and more recently, joined Connect Management Group (CMG) as a client manager. 
Among the names on CMG's books is Sweden midfielder Hanna Bennison, a silver medallist in Tokyo this summer, considered one of the world's leading young talents, and recently announced as joining Everton. It is a hugely exciting addition for club and WSL alike, though what is extra significant is the extent of the investment in an 18-year-old: Everton announced a 'substantial six-figure sum', confirmed as a club record, and on a four-year contract. 
There is the sense of new ground being broken when a club other than the recognised frontrunners makes such a show of faith in potential as much as immediate return. 
"I started in June (at CMG) but this has been in motion for months," Masar explains. "(Former Kopparbergs/Göteborg FC midfielder) Lisa Ek was the main client manager on this, and it's important to see that you now have 17/18-year-olds wanted by big clubs." 
"Hanna was wanted by the top four clubs in the world, but we thought it was most important to go to a club where she will develop, and be in an environment where she will play and be a big player in the team. You can see with Everton, they're willing to invest in the game, so it made sense on all levels." 
With the elite growing stronger, improvements have also been drawn up recently to the standard FA WSL and Championship contracts. Central contracts for England players, meanwhile, have been around since 2009, with 33 players receiving an FA-funded salary in addition to their club earnings, which varies depending on the player's respective individual standing and seniority within a tiered system. 
Although the steps forward have been taking effect over many years, to say it has kicked into overdrive lately would be an understatement. FIFA's latest International Transfer Snapshot shows that for the current mid-year registration period, total spending on international transfers of professional female players surpassed $1m for the first time (upby51.4%), with31 transfers involving a fee (up 72.2%). 
**UPDATE: 1,287 international transfers of female professional players.
FIFA's report published on 15 Dec 2021 revealed that 1,287 international transfers of female professional players were completed in TMS, 300 of which (23.3%) involved at least one intermediary (ie a football agent). The number of transfers with engaging-club intermediaries in women's football increased by 12.9% in 2021 (70) compared to 2020 (62), with England (16) and Germany (14) the most active FIFA member associations in this category.**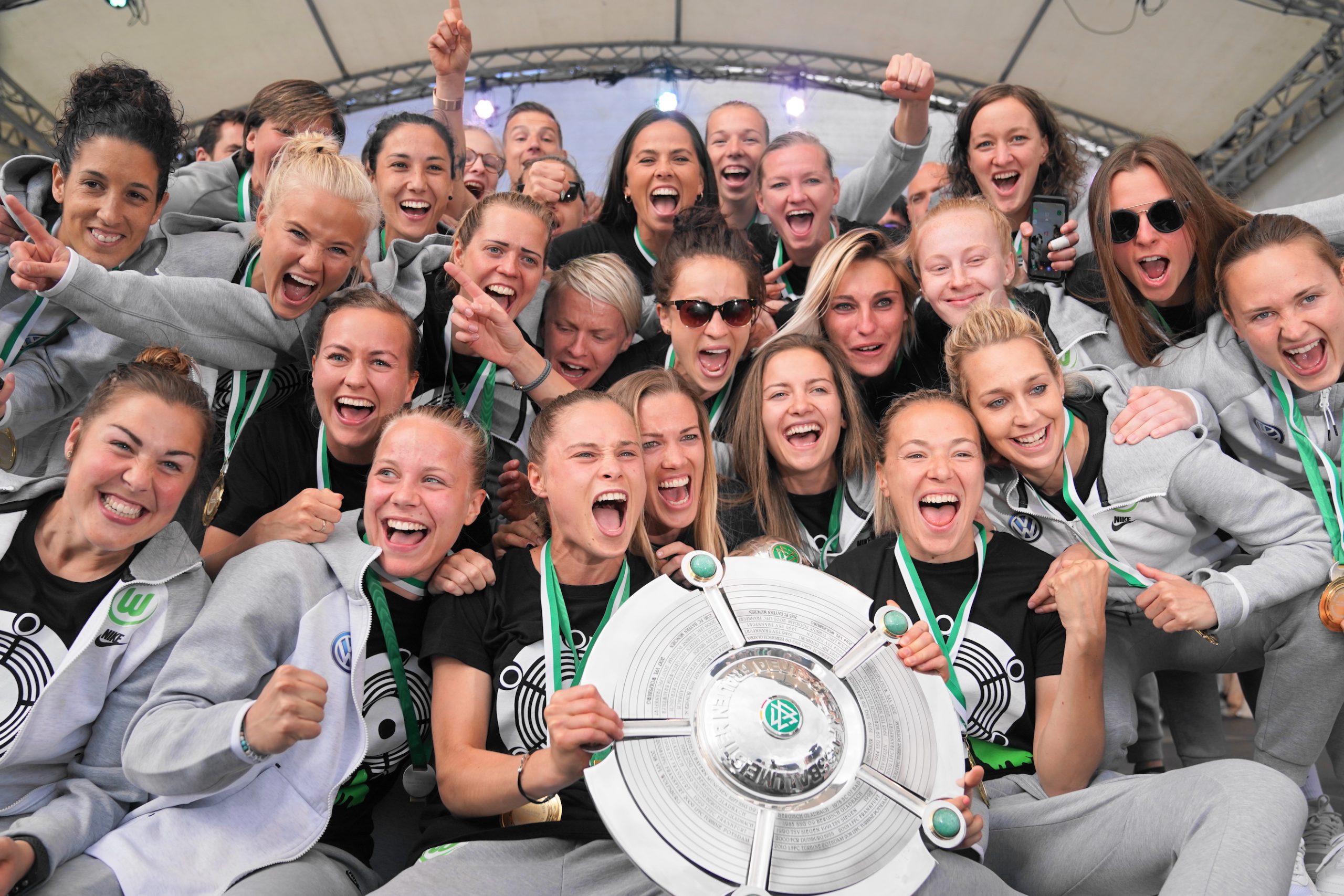 "I joke with my partner (ex- Germany international Babett Peter), who's at Real Madrid at 33, I'm 35, and even if I was four years younger, the money I could earn would be completely different," says Masar. "For example, we talked to somebody in the English league, and they said in the last six months, the contracts have doubled for some clubs." 
Landmark deals are something that Leoni Blokhuis, owner of Flow Sports, is familiar with. Some years before the Netherlands' emergence as a top national team, she already represented a number of their notable players, including midfield dynamo Sherida Spitse, who became the first Dutch player to move for a transfer fee, when joining Norwegians LSK from FC Twente at the end of 2013. 
Her clients include Arsenal star Vivianne Miedema and Wolfsburg's ex-WSL trio Shanice van de Sanden, Dominique Janssen and Jill Roord. She recalls a total of eight player moves she has been involved in that have included a club paying a transfer fee, which, across a decade representing players, she feels illustrates just how recent this area of growth is. 
One big change besides increased salary is the duration of contracts today. 
"My first contracts were all one-year deals, and nowadays, clubs are willing and able to offer long-term deals. That's the biggest difference between today and a couple of years ago, and I can say that almost all clubs, especially in WSL, prefer to sign players for longer than one year. 
"A couple of years ago, I received an offer for five years, but we didn't accept it, especially in that time, because the game is growing so quick; today it can be a good deal, but tomorrow, it's already outdated. That's a big challenge in the women's game, for club contracts and for commercial deals as well, so at the moment, the longest contract for us is three years." 
"European champion for a pound?!"

There was an especially interesting release clause involved when EURO 2017 winner and World Cup runner-up Kika van Es left Everton to return home to FC Twente last year.
"I negotiated a clause in the contract where she can leave at any time back to Holland for £1! Her value was much higher, of course, but then she was homesick, and the new club paid £1 to sign her." 
One experienced international, who eventually started to have a goal bonus in her contracts, says of the deals in her career: "(From my first WSL contract, to those that followed), things improved, but not enough to have security off the pitch. I lived with a family member for the first six months of one contract so I could save up a bit extra to rent, and between my time at two clubs, I used all my savings just to manage to pay the bills. 
"Accommodation was included at the start of my latest contract, which helped me out a lot. I think especially in the Championship, players need protecting. All clubs should have insurance to cover players for injuries, regardless of the club's status; players should not be having to Crowdfund to pay for operations." 
August brought the announcement that Republic of Ireland's men's and women's senior national teams will now receive equal match fees, following historic developments like the late-2019 deal which included Australia's Matildas receiving the same 40 per cent of tournament prize money as the men. 
Former New Zealand international Sarah Gregorius is director of global policy and strategic relations for women's football at FIFPRO, the worldwide representative organisation for professional footballers.

On the emergence of transfer fees and longer contracts:

"FOR A FEE TO BE TRIGGERED, THERE MUST BE A LONGER-TERM CONTRACT IN PLACE. THIS IS CERTAINLY A PROGRESSION WE ARE SEEING AND IT IS POSITIVE. HOWEVER, STILL TODAY IN MANY PLACES, THE WOMEN'S FOOTBALL PROFESSIONAL LANDSCAPE IS PRECARIOUS AND PLAYERS HAVE VERY LITTLE STABILITY. THE HISTORICAL TREND, EVEN FOR ELITE PLAYERS, IS TO GO FROM SHORT-TERM CONTRACT TO SHORT-TERM CONTRACT."

On how some clubs are still not fulfilling their obligations as players' employers.

"SOME CIRCUMVENT THOSE RESPONSIBILITIES BY SIGNING PLAYERS TO AGREEMENTS OR UNOFFICIAL CONTRACTS THAT MAY STIPULATE THEM ONLY AS CASUAL WORKERS, WHICH DENIES THEM BASIC WORKER RIGHTS, SUCH AS ACCESS TO SOCIAL SECURITY. THIS HAPPENED AS RECENTLY AS LAST MONTH IN SPAIN WITH A CLUB IN THE PRIMERA IBERDROLA. THE SPANISH PLAYER UNION (AFE) STEPPED IN ON BEHALF OF THE PLAYERS TO ENSURE THE CLUB MET ITS OBLIGATIONS. THIS IS EXTREMELY COMMON IN WOMEN'S FOOTBALL; PLAYER STATUS IS AN ONGOING GLOBAL ISSUE."
The likes of New Zealand, Finland and Norway have done similar, while the U.S. Women's National Team's lawsuit against U.S. Soccer over pay and conditions has made global headlines. At club level across the Atlantic, the NWSL has increased the league's minimum salary to $22,000 (maximum $52,500), though teams can pay a player higher than the maximum, via allocation money received in deals with other clubs. The increases each year have not been huge, but the minimum salary in the league's first season was just $6000 – not much of a 'professional' wage, eh?  NWSL players also have the added instability of knowing they can be released (waived) or traded at any time, unlike in other nations. Disturbingly, recent high-profile media reports have uncovered just how much that dynamic has been used by some of those in power at clubs as a constant threat to hang over players.
Such details are admittedly complex. The NWSL has traditionally had U.S. Soccer subsidising its allocated national team players' salaries, though some have started to break away, with deals solely paid for by their club. There are still a number of Canada players in the league with salaries subsidised by Canada Soccer. As with the USWNT lawsuit, it is not all complete success on the side of the women, but the collective steps forward for the game and its players are undeniable. 
That sadly does not happen without those involved carrying the fight, typically at the cost of considerable personal strain. In a general sense at least, it has all contributed to enhancing the negotiation stance of female footballers. 
"Right now, you can negotiate anything if you want," says Blokhuis. "A couple of years ago, you just said 'thank you for the contract, we really appreciate it', but times changed and players are becoming bigger and bigger, and the better the player, the bigger the influence, of course." 
"I think women are in a strong position, and this is a general development; women in sport have a stronger position and a louder voice than five or ten years ago. Brands like Nike contribute as well to putting women into the spotlight; there was a TV commercial two years ago, with all women, shown during half- time of the men's Champions League final, so that's a small part of it. 
"In the Netherlands, there are a few clubs with a collective agreement with basic terms, which a club must commit to. For example, maternity leave, that's also included now, and in the past, it wasn't. 
"This makes a strong position for having children during a career. Nike changed their contracts, so now when the athlete is pregnant, they will still support you." 
Ella Masar had her first child last year, though that was after stopping playing. She says that maternity leave was not included in any of her contracts. 
"I don't think it was even up for discussion. I don't think you could think about becoming pregnant and playing, at that point in time. 
"In Spain, they changed the rule for maternity and it protects the players, so if you become pregnant, you actually get one more year on your contract automatically. That's because Spain changed into a professional league last year and they put this in, whereas other places, they've had a professional league longer, so they have not adapted the rules yet. 
"So, Spain actually protects mothers more than most. There's a story that is not public yet, on a team that has not handled a maternity leave correctly, and it's actually going into FIFA, because FIFA has changed the rules recently, and a player got pregnant after these rules were changed, but now a club has not honoured that contract." 
"A PLAYER WON A CASE AGAINST HER CLUB AFTER SHE WAS CLASSIFIED AS A 'SPORTS INSTRUCTOR' WITH A SIX-MONTH PROBATION PERIOD AND THEN ATTEMPTED TO TERMINATE THE CONTRACT TWO MONTHS INTO THE AGREEMENT WITHOUT JUST CAUSE. A FIFA TRIBUNAL REJECTED THE CLUB'S ARGUMENT THAT SHE COULD NOT BE CONSIDERED AS PROFESSIONAL ON THE GROUNDS THAT THE BULGARIAN 'FOOTBALL SYSTEM' DID NOT ALLOW WOMEN TO BE CONSIDERED AS PROFESSIONAL FOOTBALLERS. THE FIFA RULES SAY THAT THE DEFINITION OF A PROFESSIONAL PLAYER APPLIES EQUALLY TO BOTH MEN AND WOMEN."
FIFPRO's Sarah Gregorius on a recent case in Eastern Europe 
It is crucial to appreciate the game beyond what we are told are the more 'important' leagues and nations. The likes of Mexico, Colombia and Argentina are all in their own stages of development, with notable examples in there of historic battles for even basic standards and respect. There is not the space in ten She Kicks issues to do justice to telling the circumstances of each of those countries and others. World In Motion's Chris Atkins, though, offers some insight into China, and more specifically, representing African players heading over there. 
"Dealing with markets such as China can often bring about unusual clauses in contracts, particularly with regard to the ability to end a contract. They pay well compared to other leagues, but in exchange, they on occasion attempt to protect themselves with performance- related clauses. 
"Most players are aware of the general terms that are available from clubs, and the only variations are often regarding their specific family or commercial situation. The most common thing you see in the women's game that you see less in men's football is a player requesting that another be signed together with them, but even this is becoming less common." 
Brand on the run 
Image rights have been part of men's football for many years now, and have even reportedly been the reason behind some transfers not being completed. Again, complex is certainly the word, but it relates to the use of a player's name or likeness etc. for commercial activity by the club and/or their commercial partners. 
Money is paid to the player for revenue generated via their 'image'. Deals can include a club limiting how much that player endorses a rival brand to one of the club's partners. 
So, how prominent are image rights becoming in female players' contracts? 
"They're quite rare," Masar explains. "I know, for example, Barcelona has nothing to do with rights, where Real Madrid has everything to do with rights." 
"Maybe in five or ten years, we're going to have a different conversation, but as of now, the women should have the rights to their own images." 
What can be earned away from the pitch is impossible to ignore. There are players now who may not have won a trophy in their career or represented a leading club, but their personal 'brand' is strong enough to earn any number of endorsements. 
Social media is understandably now central. 
"I think the reality is that, for many of the top players, they are still making more from social media than their actual cheque from their club," Masar explains. "I know for us at CMG, we now have people who are just solely looking out for sponsorship." 
"I do think that sometimes, maybe I'm wrong, a club will say 'this person has 8,000 followers, this person has 15,000, they're both decent players, who are we gonna take?' I think that is unfortunately the future of football."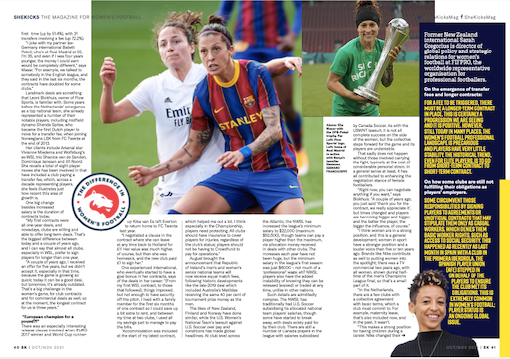 How typical does she now believe signing-on fees (a one-off sum paid to a player) are when someone joins a club? 
"They're generally a new thing; I'd say the last two/ three years. I joke that I got drafted for 2009 (by Chicago Red Stars in Women's Professional Soccer), number nine overall, and people were asking 'what did you get from WPS?' 
"I'm like 'what? I got a scarf and a hug!' Now you're seeing big clubs offering 10/15/20k sign-on bonuses, money in your pocket; obviously it's taxed, but that can change a player's opinion." 
There is plenty about the NWSL, the United States' third and by far most successful attempt at a professional women's league, that is currently so far ahead of its preceding WPS era (2009-11). Certain areas, however, such as player welfare at some clubs, remain under question. 
Masar played in the first three seasons of the NWSL, with Chicago Red Stars and then Houston Dash. There was back then, and still is, great disparity between what one player in the league might earn compared to another. 
"In the NWSL with Chicago, I had a deal with the owner and he would give me housing. Then I went to Houston, and they said 'we don't provide housing, but here's a host family'; it just turned out that I had my own house. 
"But then the third year, they said 'sorry, it's not in your contract for housing, you have to pay for your rent,' so then my 30,000 I was earning, as a captain, now I'm paying 2000 of that a month into my apartment. I remember calling home, as a 28/29-year-old, saying 'I'm done, I need to walk away from this, because I can't do it any more', because I was captain of Houston Dash and I was losing money." 
The first time she had any performance bonuses – for winning the league, the cup, and with each Champions League round reached – was at Wolfsburg, the final club of her career. It was also the only money she was able to actually set aside and save.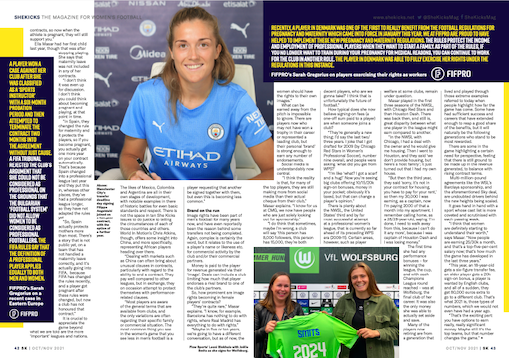 Many of the players now retiring are from a generation that lived and played through those extreme examples referred to today when people highlight how far the game has come. Some have had sufficient success and careers that have extended enough to reap a good share of the benefits, but it will naturally be the following generations who stand to be most rewarded. 
There are some in the game highlighting a certain need for perspective, feeling that there is still ground to be made up in the revenue generated, to balance with rising contract terms. 
Multi-million-pound agreements like the WSL's Barclays sponsorship, and the aforementioned Sky deal, are undoubted drivers behind the new heights being scaled. It goes hand in hand with a sport whose cast list is more coveted and scrutinised with each passing week. 
"I think that women are definitely starting to understand their worth," says Masar. "Now people are earning 25/30k a month, and that's a top-five-per-cent salary now; that's how much the game has developed in the last three years." 
"This year, an 18-year-old gets a six-figure transfer fee, an older player gets a 20k sign-on bonus, a player is wanted by English clubs, and all of a sudden, they get 80,000 euros extra to go to a different club. That's what 2021 is, those types of numbers, which we would not even have had a year ago. 
"That's the exciting part: you have options to earn really, really significant money. Maybe still it's the top teams, but that number changes the game." ● 
"RECENTLY, A PLAYER IN DENMARK WAS ONE OF THE FIRST TO REALLY BENEFIT FROM THE FOOTBALL REGULATIONS FOR PREGNANCY AND MATERNITY WHICH CAME INTO FORCE IN JANUARY THIS YEAR. WE AT FIFPRO ARE PROUD TO HAVE HELPED TO IMPLEMENT THESE NEW PREGNANCY AND MATERNITY REGULATIONS. THE RULES PROTECT THE INCOME AND EMPLOYMENT OF PROFESSIONAL PLAYERS WHEN THEY WANT TO START A FAMILY. AS PART OF THE RULES, IFYOU NO LONGER WANT TO TRAIN DURING YOUR PREGNANCY FOR MEDICAL REASONS, YOU CAN CONTINUE TO WORK FOR THE CLUB IN ANOTHER ROLE. THE PLAYER IN DENMARK WAS ABLE TO FULLY EXERCISE HER RIGHTS UNDER THE REGULATIONS IN THIS INSTANCE."

FIFPRO's Sarah Gregorius on players exercising their rights as workers.